So when I saw the MZ Wallace Farmer's Market Tote I willed it onto my shoulder. I'm a huge MZ Wallace fan thanks to all the compliments I get when I carry their Hayley bag on my shoulder. But when I found out their newest addition actually supports an amazing cause, well forget about it. That bag is so mine.
I love that they've teamed up with Provisions by Food52 to create a cool tote in navy (oh my, the navy) in their signature Bedford nylon and leather trim, so that $50 from the purchase supports Alice Waters' wonderful Edible Schoolyard Project. This great charitable organization teams up with educators to help bring an edible educational curriculum to schools.
And that beautiful navy color? It was actually crowdsourced and selected by MZ Wallace and Food52 fans. We knew they had good taste.
UPDATE: Please note this bag is no longer available, but you can shop MZ Wallace for tons of other wonderful handbags
CMP is an rstyle affiliate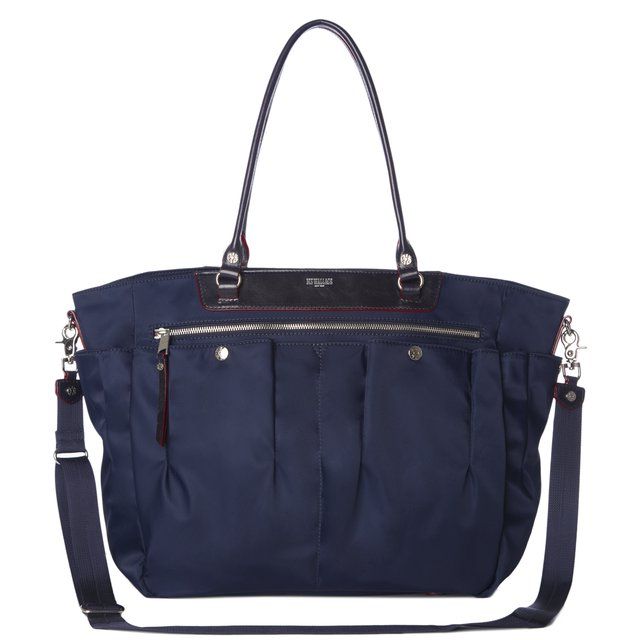 Now this is definitely a souped-up tote bag, with a zippered front pouch and plenty of pockets to fit all your belongings, or baguettes. Though I'll be honest with you, this is much more of a "Mama's carrying her computer and all kid's crap" tote than an "I'm carrying carrots and potatoes from the greenmarket" tote, given the price tag and the quality of the workmanship. Plus, I'd hate to get freshly picked carrot gunk all over it, as pretty as it looks in that photo.
But considering how fabulous it is and the cause it supports, I say carry whatever you want in it. It's bound to make you happy.
Find lots of wonderfully stylish, well-made bags on the MZ Wallace website.