I hate to admit it now, but I was one of those first time moms who didn't feed my son cookies until he was nearly two. I am proud to say that I was much more relaxed the second time around, and I'd like to think that I would have been more measured from the beginning had there been healthy cookies for toddlers when my kids were little like these two new options. It may be too late for me, but there's still time for you toddler moms and dads to adopt a healthy, everything-in-moderation approach to snacking thanks to these healthy cookies for little ones. Bonus for you–these cookies are tasty, too!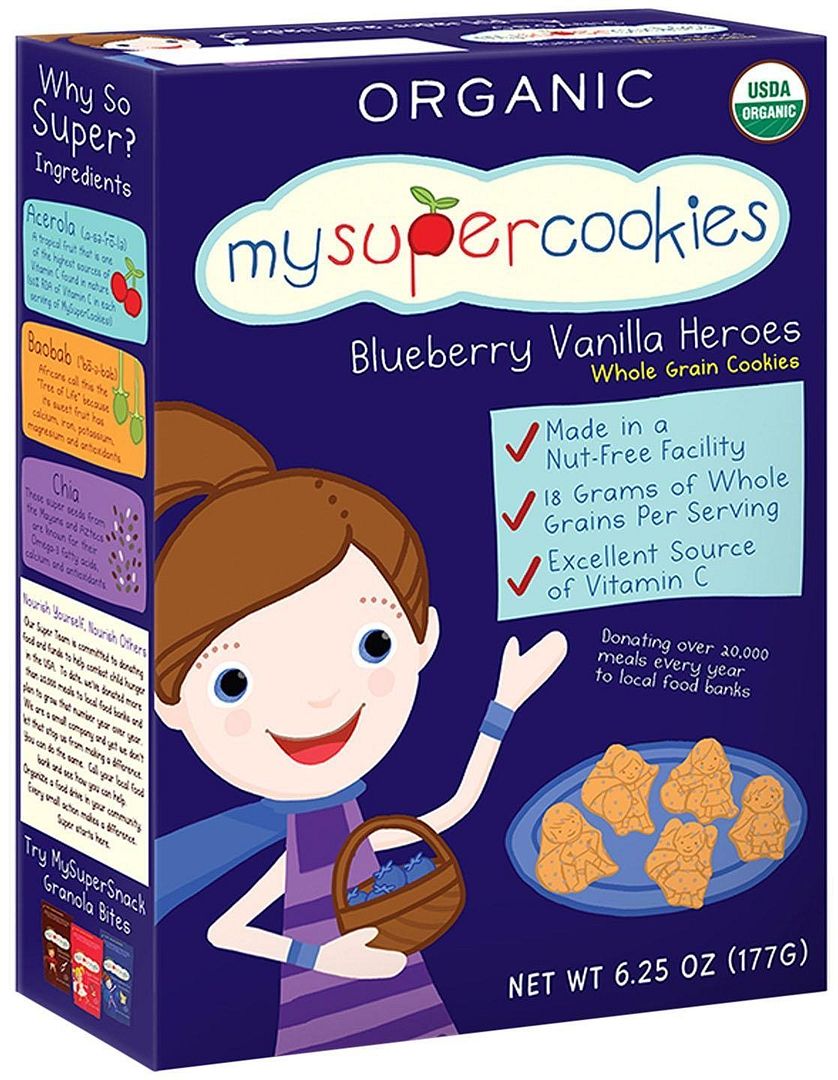 I love to super-fy snack time with superfruit snacks or treats packed with superfoods like chia, so MySuperCookies are right up my alley. These new organic cookies from the makers of MySuperSnack granola bites are made with wholesome whole grains and boosted with quinoa, superfruits acerola and baobab, chia seeds, and flax. I don't know about you, but I'm not exactly sure what baobab offers. Still, it's good to know that the my kids' cookies are bursting with as much good stuff as they are flavor. These snacks are also nut-free (aka every classroom safe!), kosher and made without high fructose corn syrup, artificial colors, or preservatives.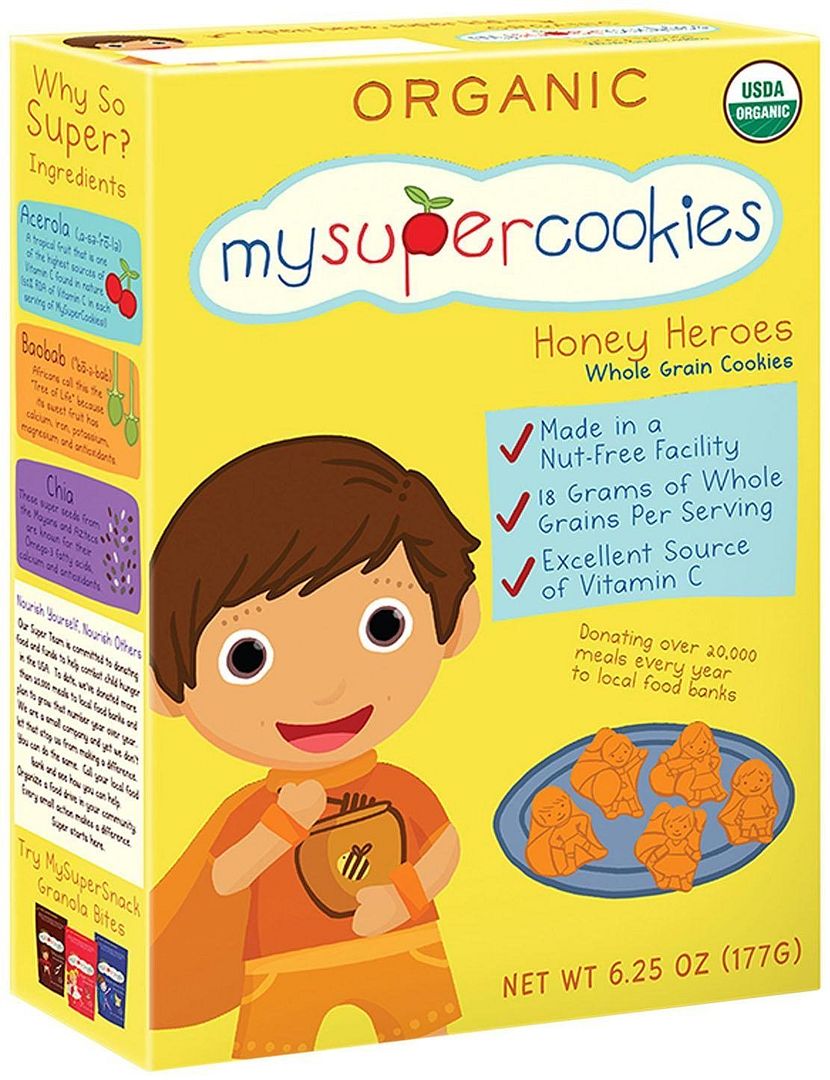 There is no doubt that MySuperCookies are a healthy alternative to most other cookies made for little kids, but the real question is how do they taste? Both of my kids enjoyed these cookies, especially the Honey Heroes and Blueberry Vanilla Heroes. The Chocolate Heroes passed their taste test, but didn't make the same impression. Though my 7 1/2-year-old would be happy to snack on these cookies if they are around, he definitely felt like they were for little kids. My 5-year-old, on the other hand, is super into these. (Lame pun intended, thank you very much.) In fact, we picked up a new box of Honey Heroes, because if I can turn snack time into an opportunity to get him to eat quinoa and vitamin-C packed acerola (who knew!), why not.
Find out where to buy MySuperCookies near you or through online retailers at the MySuperFoods website.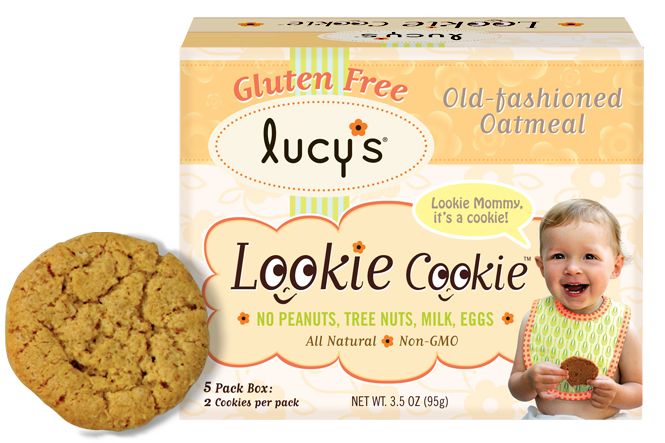 Lucy's is one of our favorite allergen-free brands, so we were psyched to learn that they are packaging their crunchy, gluten-free cookies for toddlers, too. Like all of Lucy's cookies, Lookie Cookies are non-GMO, vegan, and allergy friendly thanks to a recipe that turns out tasty treats without wheat, dairy milk, butter, eggs, casein, peanuts, or other tree nuts.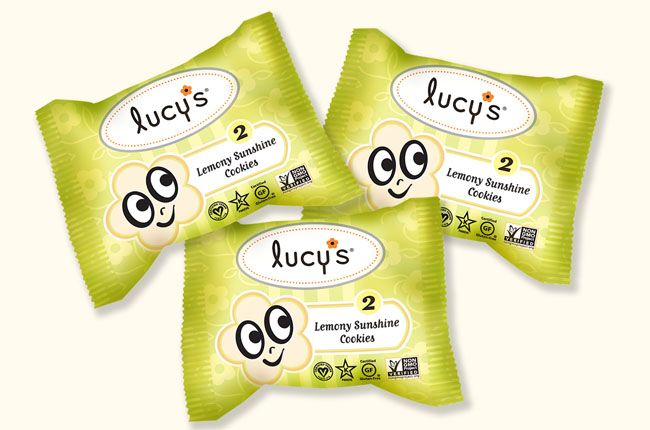 Lookie Cookies are baked slightly smaller than regular Lucy's to fit smaller hands. They also come packed in pairs, a perfect toddler serving size, with three individually wrapped pairs per box. It may not sound like a big change, but it is: No more opening a whole sleeve of cookies just to use up one or two and have the others go stale. Yay for reduced food—and money—waste.
If you're familiar with Lucy's, you'll recognize the Old Fashioned Oatmeal flavor, which also comes in the big kid size, but Lemony Sunshine is all new. The flavor was once offered as a limited edition, but it's here to stay in Lookie Cookies. My boys love this flavor so much that I might be opting for Lookie Cookies even for them—a little portion control never hurt, even for older kids.
Find out where to buy Lookie Cookies near you or through online retailers at the Lucy's website. 
Check out our archives for more healthy snacks and cookies. Yum!