I'm a sucker for new food trends, but I usually wait to see what sticks–and what I really like, of course–before spreading the word. Let's face it, not every new food product is worth reporting (looking at you, green ketchup). Sometimes, though, not-to-miss food trends emerge from the fray. I recently caught on to four that I think parents should know about, just in time for back to school snacks.
Some of these brand new foods may be hard to find in your local supermarket, but everything listed here–with one exception that I just couldn't resist–is available online and seriously worth your consideration. I know, because my kids and I tried every one. Sharing these food trends means healthier, tastier snack options for our families and supporting the indie companies that make them, so this time I'm jumping on the bandwagon and bringing you with me.
HEALTHIER CHIP ALTERNATIVES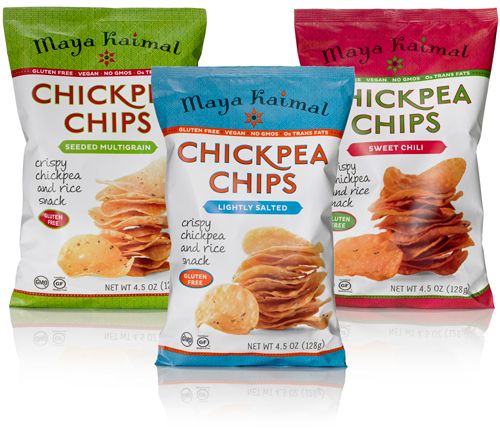 Maya Kaimal Chickpea Chips
There are so many good things about these new chickpea chips that it's hard to know where to start. I guess telling you how delicious they are is as good a place as any, and these are scrumptious. My family and I are going through bags like they are going out of style. Given that they are gluten-free, kosher, vegan, and free of trans fats and GMOs, I don't mind. Or it's possible that I'm just addicted. The Lightly Salted chips have 11 totally recognizable ingredients. The Seeded Multigrain and Sweet Chili have slightly longer ingredients lists, but just as natural. And all are made primarily with chickpea flour which is loaded with protein and fiber, not to mention flavor. So much flavor!
You can find out where to buy Maya Kaimal Chickpea Chips at a store near you or buy them online through the Maya Kaimal website.
Rhythm Super Food Chips
I found these crispy chips while searching for high-protein snacks, but Rhythm Super Food Chips offer so much more thanks to ingredients like pea protein, quinoa, sweet potato and even broccoli. Don't worry: these snacks don't taste like veggies. Like a cross between a wheat thin and a tortilla chip, these crispy, salty treats hit the spot like any veggie-free chip. No one will be the wiser.
You can find out where to buy Rhythm Food Chips at a store near you or buy them online on the Rhythm Super Foods website.
Simply 7 Quinoa Chips
These chips, which fall between a potato and tortilla chip, are also protein powered thanks to eight to nine grams of the stuff per one-ounce serving. Quinoa's no joke! More than being good for you, though, they are surprisingly tasty and, like a traditional chip, satisfyingly salty with a great crunch. Plus, they are gluten-free and free of GMOs, preservatives, artificial color, flavors and trans fat. Even Liz, who is reluctant to eat "chip-like things" said it was one of her top picks from the Fancy Food Show this year.
You can find out where to buy Simply 7 Quinoa Chips using their store locator or order them online through the Simply 7 website.
PEANUT BUTTER ALTERNATIVES

Nikki's Coconut Butter
Coconut butter is a magical spread made by pureeing the meat of a coconut in the same way you'd puree peanuts or almonds to make nut butter. Though not quite as creamy, coconut butter is just as snackable and, if you like coconut as much as I do, even more delicious. Nikki's Coconut Butters are made with organic coconut and sweeteners. They are also all-natural, gluten-, soy- and dairy-free. The plain is delectable, but I wouldn't kick the other five flavors out of bed. Think Honey Pecan Pie and Chocolate Hazelnut Brownie.
You can buy Nikki's Coconut Butter at a store near you or buy some online at the Nikki's Coconut Butter website.
Nuttzo Seven Nut & Seed Butter
There has been such a focus on nut-free peanut butter alternatives that it's nice to also see a brand embrace the nutrition of tree nuts and seeds. The original Nuttzo is a peanut butter-like super spread that combines the health power of peanuts, hazelnuts, brazil nuts, sunflower seeds, almonds, cashews, and flax seeds, offering seven grams of protein per serving. There is also a Power Fuel flavor made with a different combination of seven nuts and seeds that's packed with omega 3s and an out-of-this-world Dark Chocolate variety. All three come crunchy or smooth and, more importantly, have a rich nutty flavor with just a touch of natural sweetness.
You can buy Nuttzo Seven Nut & Seed Butters at a store near you or buy some online at the Nuttzo website.
Soom Sesame Butters
Soom Sesame Butter is a creamy sesame butter made with only one ingredient: roasted sesame seeds. Like other tahinis you may have tried, Soom can be used in dressings, baked goods and, of course, to make hummus. But if you ask me, the spreadable consistency sets Soom apart. This stuff is perfect on toast with honey. I bet you've never done that with another tahini before! If that doesn't appeal, the Soom Chocolate Sesame Butter surely will. A new twist on the more common chocolate hazelnut spread, this stuff is delectable as a spread, dip for pretzels, or baked into sweet goodies. Open sesame indeed.
You can find out where to buy Soom Foods sesames butters near you or hop on over to their Amazon store to have it shipped your way all through the Soom Foods website.
GLUTEN-FREE SNACKS EVERYONE WILL LOVE

Crunchmaster Kids' Crisps
If you're on a gluten-free diet, you probably know that Crunchmaster has been making gluten-free crackers for a while. Their new whole grain Kids' Crisps, though, are worth everyone knowing about. These aptly-named snacks are super crispy, more so than a cracker but with 70% less fat than fried potato chips. The Cinnamon & Sugar Grammy Crisps are finger-licking good, covered in tasty cinnamon sugar (but still with only five grams of sugar per serving) and the Cheddar Cheezy Crisps are reminiscent of a certain nacho cheese chip that this mama couldn't get enough of when she was young. Unlike my old, now-forbidden favorite, there's nothing too crazy in these cheddar-flavored crisps and they're not high in fat, either.
You can find out where to buy Crunchmaster Kids' Crisps at a store near you or buy them online at the Crunchmaster website.
Lucy's Cookies
Lucy's (formerly Dr. Lucy's) has been perfecting allergen-free cookies for years and we've been fans from the beginning. These crunchy, gluten-free cookies have just the right amount of sweet and the flavors are always spot on—even if you eat gluten. Lucy's has added two new varieties to the original lineup: Lemon Goodness and Berry Best. My boys and I love both! Lucy's will also be launching holiday flavors like Pumpkin Patch and Chocolate Mint later this fall. Like all Lucy's products, the fun new flavors are gluten-free, allergy-friendly and made without wheat, dairy milk, butter, eggs, casein, peanuts, or other tree nuts.
You can find out where to buy Lucy's Cookies at a store near you or find out where to buy them online at the Lucy's website.
YummySnacks Chips and Bars
This new snack brand created by a fellow parent has launched with two gluten-free product lines: cheesy chips and snack bars. I found these snacks while testing high protein snacks (I know, it's a tough gig) and my family is hooked, on the snack bars especially. I guess it's no surprise that we would be given that they are packed with good stuff and taste like candy.
You can buy these healthy, gluten-free snacks at the online store on the YummySnack website.
NO ADDED SUGAR TEAS FOR KIDS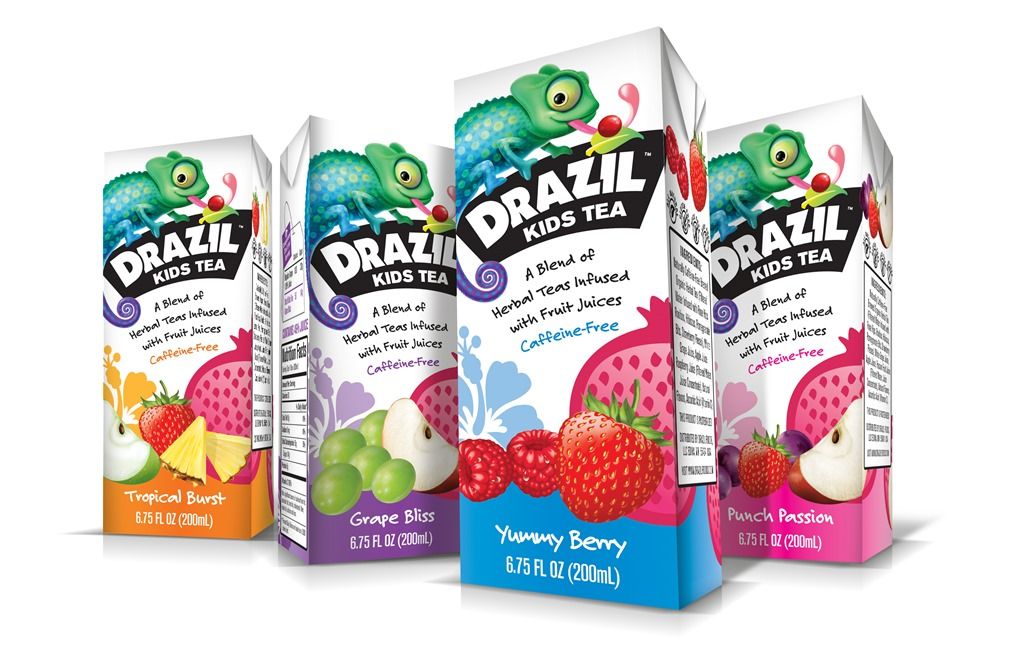 Drazil Kids Tea
An organic blend of herbal teas and fruit juice and nothing else, Drazil Kids Tea is a new drink box option that this mama can get down with. Juice is naturally pretty high in sugar, so it's always baffled me why so many companies add more. Not Drazil. All the sugar is from the all-natural juice, and guess what? It still tastes delicious. Sweet even—and, yes, my kids agree. Our favorite flavor is the Tropical Burst but we all agree that all three flavors are worth having around.
You can buy Drazil Tea at a store near you if you live in California or in the Southwest. Otherwise, find out where to buy these drink boxes online at the Drazil Kids Tea website.
Little Me Tea
Drazil Kids Tea is following in the footsteps of Little Me Tea, an herbal tea drink for kids that we spotted three years ago. Little Me Tea is also caffeine-free (phew!) and contains herbs as well as vegetable juices. Like Drazil, Little Me is fruity and naturally sweet enough to pass muster with the little ones. In fact, Cool Mom Picks writer Delilah's kids called this stuff Orange Drink and Purple Drink. If that isn't a sign of kid appeal, I don't know what is!
Find out where to buy Little Me Tea at a store near you or find out where to buy it online on the Little Me Tea website.
In/Fusion Iced Herbal Tea
After trying all these herbal, juice-infused tea drinks, I've come to acquire a taste for the stuff. Good thing In/Fusion makes teas in slightly more grown up (and big kid) flavors and box sizes. Like the other tea drinks, In/Fusion herbal teas are caffeine-free and all natural. Both flavors are organic and made with tea infused with fruit juice and rare herbal plants grown in the south of France. Ooh la la. Did I mention that these drinks are fancy, too? As fancy as a box drink can get, anyway. My kids and I love the Peach-Lemon-Verbena flavor. I think the Peppermint-Black Currant-Black Currant Leaf-Pomegranate flavor is outstanding, too, but it's a little much for my little one.
I know I promised that all of the products here would be available online, but this is an exception that was too good not to share. In/Fusion was just recently brought to the U.S. from France and is currently available only in limited stores throughout NYC. They expect to be available nationwide by the end of the year. Follow the In/Fusion Facebook page for updates.