So yeah, making your own baby food can become daunting and tedious surprisingly fast, even for people like me who love to cook, and even if we have awesome baby food gadgets like the excellent Beaba Babycook. But even with the Beaba (and other similar products), I often had to steam one ingredient at a time since each required different amounts of water and time to cook properly. Also, the smaller capacity meant spending double or triple the time to make a decent batch of food to freeze so I didn't have to do it all again the next day.
Problem solved, now that French company Babymoov has just launched their Nutribaby Zen food processor in the U.S. It makes steaming and pureeing food quicker with stackable baskets, plus it sterilizes and warms bottles, too. So basically, it's a baby food steamer, blender, bottle sterilizer, and bottle and food defroster and warmer all in one. Which? Well, wow.
One of the nice things about the Nutribaby is that you don't need to worry about how much water you need to steam various ingredients. Just fill the basin to the brim with water–enough for a 30-minute cooking cycle–and set the timer accordingly. The Nutribaby comes with two cooking baskets, which I also found you can turn into one giant basket if you just remove the tray from the top compartment. But assuming you're using both baskets, start by filling the bottom one with the ingredients that take the longest to cook (like sweet potatoes, carrots, or starchier veggies), then add the remaining ingredients to the top basket once the correct cooking time is left on the screen.
As someone who is not sure off the top of my head how much time it takes to cook every ingredient known to man, I'd say keep the Nutribaby manual nearby because it has a handy guide on ideal cooking times for some of the most common first baby foods. They even have a video tutorial that I found wildly helpful.
I also must say that there are a few more parts to clean than with other systems, but as long as you (or your partner) clean the baskets and blender relatively soon after you've finished using them, cleanup is fairly quick and easy. It takes me around five minutes to clean everything and all I use is a bottle brush, some dish detergent and hot water.
Some parts are dishwasher safe, but obviously not either base–in fact, I'd use a paper towel or cloth to wipe the cooking basin dry right after it's cooled down. However I do notice that you can't remove the blade to clean separately, or at least not easily, which is another reason to clean the blender right after you're done with it.
That said, you should be realistic about whether you're the kind of person who will follow through on the clean-up if you're considering a Nutribaby. It is a great way to potentially allow more new parents actually make all those homemade baby food recipes they aim for at first, but I totally get that the realities of life in those early weeks and months can put off the best laid plans–and suddenly you've got a dirty appliance in the sink for three days and you're making a run to the store for baby food.
(No judging. I totally get it!)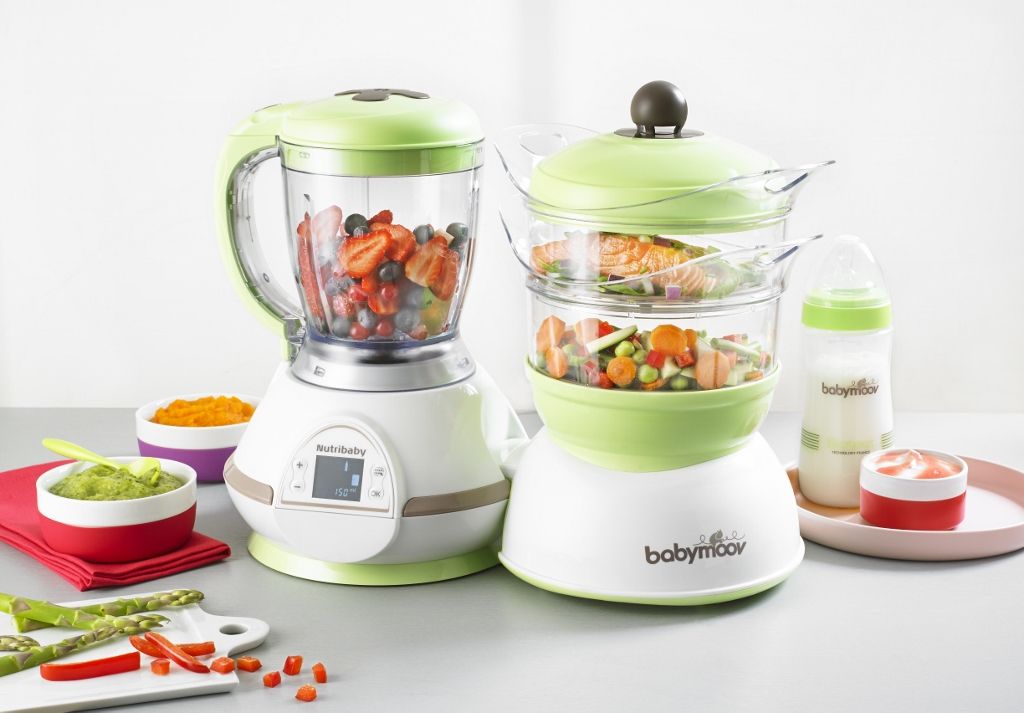 If you've got an eater on your hands like my little guy, then you're in luck–one of the biggest benefits (no pun intended) of Nutribaby is they claim to have the biggest capacity available, allowing you to make more than six cups of food at one time in its detachable blender. That's a pretty significant bump from other baby food processors on the market. And a huge huge time saver, for those days we new parents would rather be getting more sleep.
I could see the Nutribaby being especially helpful for families with twins or multiple tiny mouths to feed; or for working parents who really want to make the effort to cook homemade baby food, and will find it way easier to do a whole ton of it on a weekend day all at once so you can stock the freezer.
Steaming and blending aside, the Nutribaby also lets you sterilize bottles (perfect for you newbies who still do such things, ha) and it can warm or defrost bottles of milk and all that food you've got in the fridge just by pushing a button. But what makes this really special is the price point–less than $120. Pretty reasonable considering you can use this gadget before it's even time to start solids.
So go ahead, update your registry. I wouldn't blame you a bit.
Find the Nutribaby Moov Zen food processor for $119.99 and is available at our affiliate Amazon, at diapers.com and check your favorite local baby boutique too. Thanks to the company for providing one for review.
Find more baby food products and recommendations in our archives.