The long season of "eat, drink, and be merry" is almost upon us, so it's time for you pregnant, breastfeeding, or abstaining-from-alcohol mamas to consider what you'll be sipping from now until the ball drops on another year. Fortunately, there's Momosas: Fun Alcohol-Free Drinks For Expecting Moms , a brand-new recipe book that is filled with over 130 interesting recipes for mocktails, blender drinks, and other concoctions. They're so yummy, you won't miss the alcohol at all. Especially the next morning.
Despite the title and the cutesy drink names like Stork Choice, Rubber Ducky, and The Pacifier, Momosas is a smart, nicely designed book chock-full of gorgeous photos. It's one recipe book that the conscientious party host should have on hand—after all, who wants the designated driver to feel left out of the festivities? And it is helpful for non-drinkers, or those of us with kids who just want to mix up a little something special after dinner without falling asleep during the bedtime story.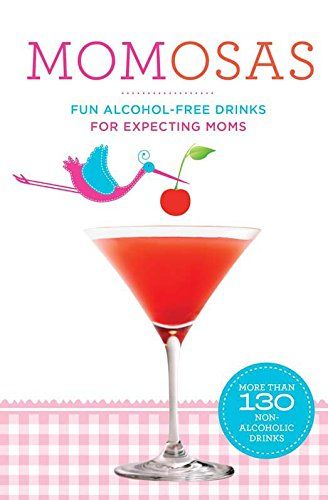 Paul Knorr has also authored books like The Vodka Bible and 10,000 Drinks, so he knows a thing (or several thousand) about cocktails. But despite his knowledge of spirits, I appreciate that Momosas doesn't feel like a bunch of standard drink recipes with just the alcohol cut off the ingredient list.
In fact, there's some interesting alcohol-free magic going on here: Momosas introduced me to a drink called a Shrub which is a tasty combination of vinegar, berries and sugar that was once popular during Colonial times. I also like that Knorr has created nine different recipes for sangria by replacing the red wine with brewed teas and fruit juices.
While many of the drinks are sweetened with fruits, juices, or simple sugar, you'll also find recipes that are a bit more savory like The Screamer, Tomato Patch, and Nighty Night which each get their kick from veggies. We can all toast to that.
You can order a copy of Paul Knorr's Momosas: Fun Alcohol-Free Drinks For Expecting Moms from our affiliate Amazon.
Keep your eye on our archives for more holiday drink ideas.