With 8 days of gift giving, Hanukkah is a time for creativity: Something they need, something they want, and so on and so forth until you get to something they can eat. These edible gifts for Hanukkah are a perfect addition to the holiday mix and also make great hostess and family gifts. There's a tasty little treat in here for everyone, from big to small, silly to gourmet.
Edible gifts for Hanukkah for kids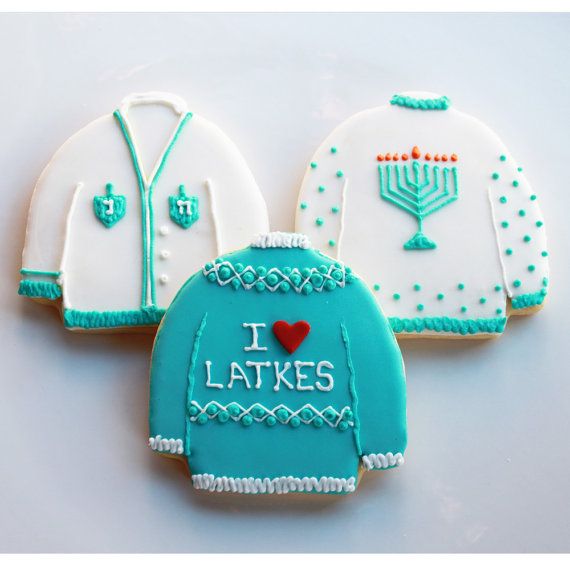 Ugly Hanukkah Sweater Cookie
Why should Christmas get all the ugly sweater fun? These adorable Ugly Hanukkah Sweater cookies are hysterical and, made with just butter, sugar, flour and love (awwww), surely delicious, too.
Find a 6-cookie, made to order Ugly Hanukkah Sweater Cookie gift set ($36) at the Whipped Bake Shop on Etsy.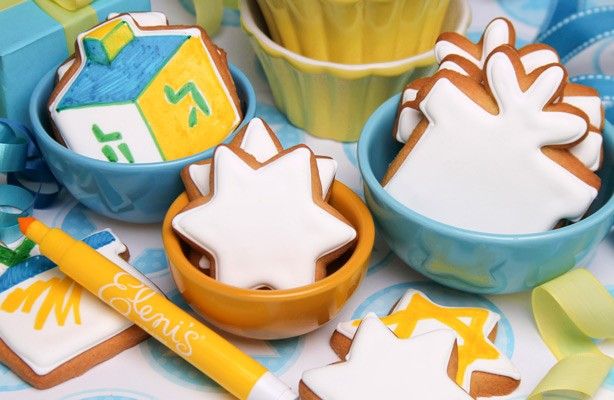 Color Me! Hanukkah Cookie Gift Tin
Looking for more of a DIY cookie gift without actually DIY'ing? These decorate-your-own Hanukkah cookies from Eleni's is perfect! It comes with 12 kosher, iced sugar cookies and five edible ink markers. You don't have to bake, but they get to decorate. Happy Hanukkah to both of you!
Find the Color Me! Hanukkah Cookie Gift Tin ($35) at Eleni's New York.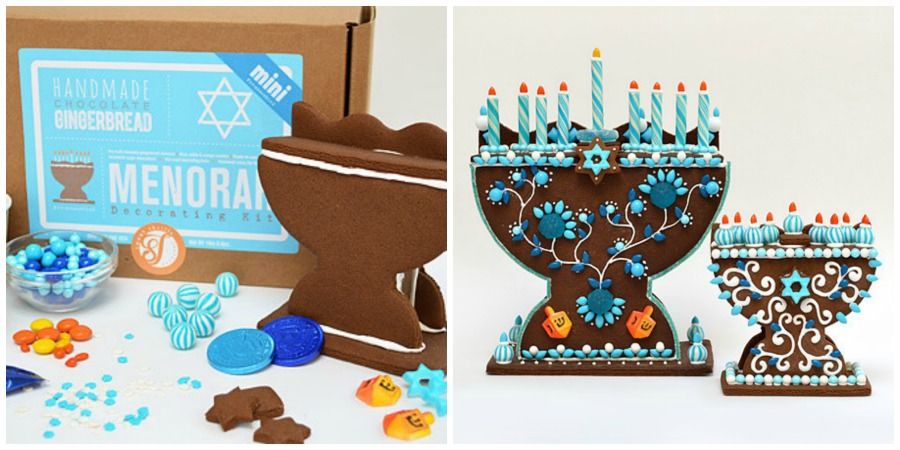 We spied this kit from Sweet Thrills Bake Shop last year, but this year it's made kosher pareve—a pretty major improvement considering the holiday! It still comes full and mini-sized. Last year we thought the mini would be good if you want to buy multiple menorahs as gifts. This year I'd like to suggest that the mini is also a good way to keep this DIY craft manageable. On that note, they also offer an assembled menorah.
Find the Gingerbread Menorah Kits ($21.95-29.95) online at the Sweet Thrills Bake Shop.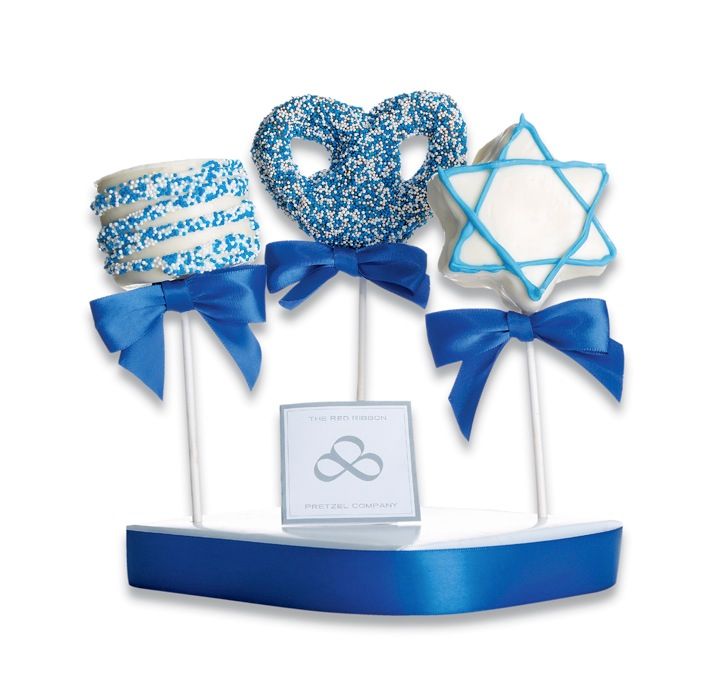 Cake pops are so last year (literally: Hanukkah cake pops were at the top of our gift list last year). This year is all about pretzel pops, marshmallow pops, and Rice Krispies treats pops from Red Ribbon Pretzel Company. The treats company makes the pops to order and you can get just one, one of each or, if you're having a Hanukkah party, a whole bunch.
Find these Hanukkah treats ($3.00-3.75 per pop) and other Hanukkah food gifts at Red Ribbon Pretzel Company.
Chanukah Pasta
Not all good food gifts have to be sweets. Case in point: this hysterical Chanukah Pasta. The package (which spells Hanukkah yet another way—oy) says that these festive pasta shapes will make meal time fun. I just like the idea of serving them up as a gift to see the look on my kids' faces.
Find Chanukah Pasta (2 bags for $5.98) at WorldMarket.
Edible gifts for Hanukkah for Grownups
Vosges Festival of Lights Chanukkah Gift Set
The Festival of Lights Chanukkah Gift Set from Vosges gourmet chocolate is super swanky at $160. If you ask me, though, it's a splurge worth the cost of the gorgeous modern lucite menorah paired with eight nights of mouthwatering chocolate. The catch is that the candies aren't kosher, so this gift may not be for everyone.
Find the Festival of Lights Chanukkah Gift Set and other chocolate gifts online at Vosges.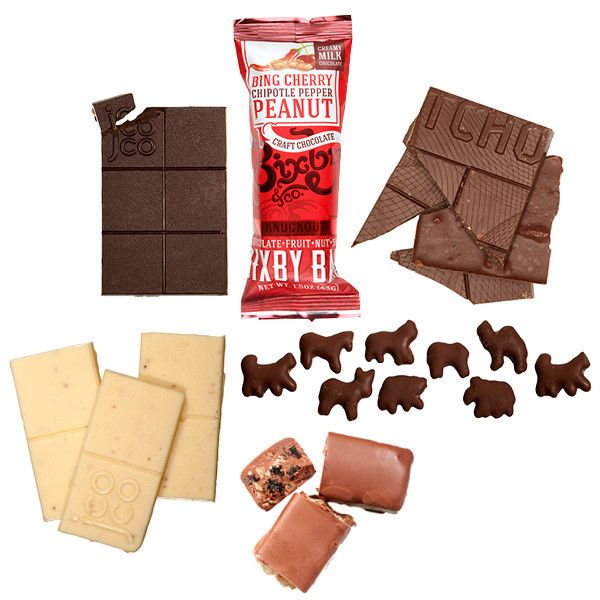 Disappointed that the Vosges chocolates aren't kosher? Fret not, as our friends at Mouth are offering a Kosher Chocolate Taster. The pack includes an orange white chocolate chili bar, a peanut and cherry mini milk chocolate bar, a black fig and pistachio dark chocolate bar, and more. Even better, it's a great introduction to awesome kosher chocolate brands for the kosher chocoholic in your life.
Find the Kosher Chocolate Taster and other tasty Hanukkah food gifts at MOUTH. Best of all, your purchase is 15% off with COOLMOMPICK15
Linda's Gourmet Latkes
Latkes may not seem like a particularly great gift but, if you know someone who celebrates Hanukkah and loves food, believe me: She'll be happy to receive a box of Linda's Gourmet Latkes. Don't be scared of frozen latkes—or at least not these frozen latkes. The reviews of these vegetarian, handmade potato pancakes are stellar. Our editor Liz has tried them and recommended them to everyone; even Oprah is sold on these babies.
You can find a large variety of latkes—from curry to gluten free, bite sized to extra large—at the online Linda's Gourmet Latkes store.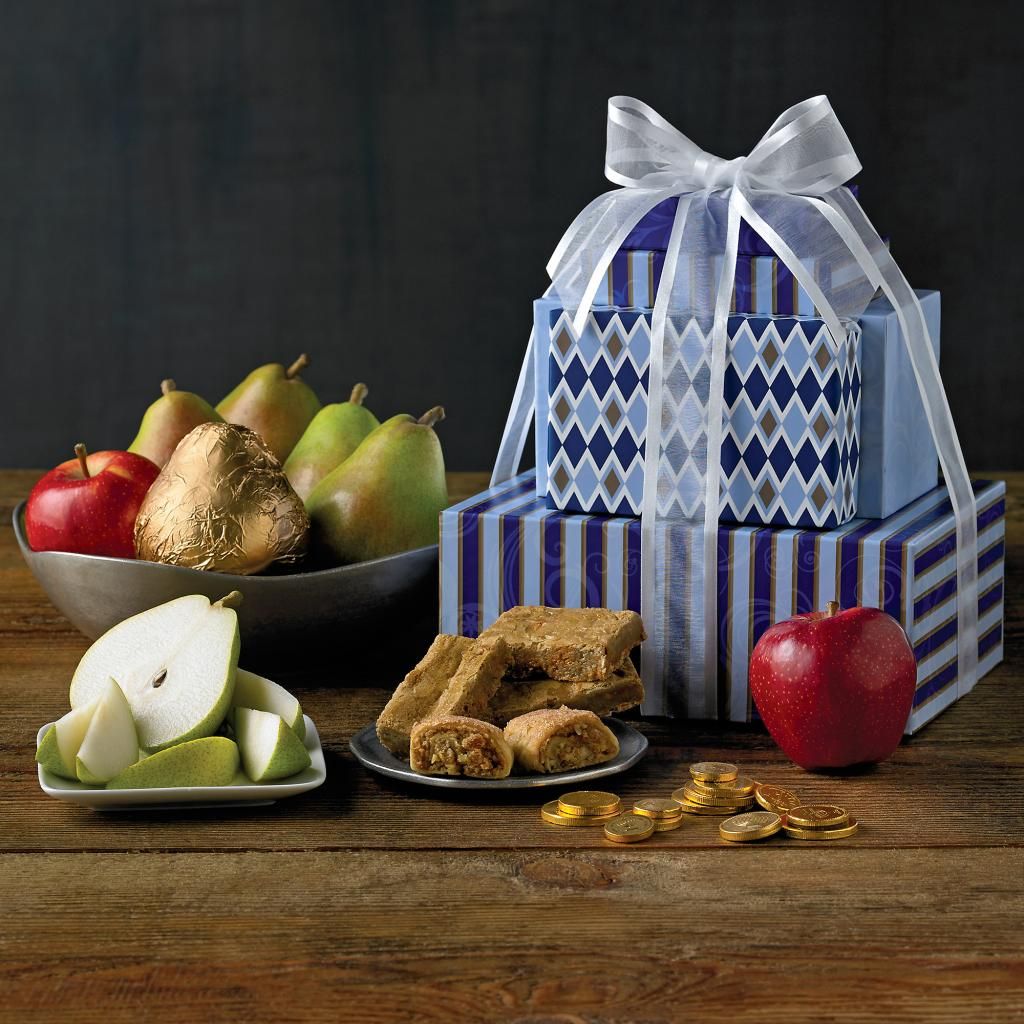 Harry and David may be old school, but it's the kind of old school that I can get down with. They don't disappoint for Hanukkah, with a selection of goodies including this Kosher Gift Tower which comes with pears, apples, a butterscotch blondie, rugelach, and chocolate coins—oh my!
Find the Kosher Gift Tower ($39.95) and other Hanukkah gift baskets at Harry and David.
Find more Hanukkah gift ideas for kids in our Holiday Gift Guide. (Plus, don't miss our huge giveaway!)