Confession: I'm still using the not-so-clean plastic Caboodle I got as a high school graduation gift. (Editor's Note: Noooooo!) So it's clearly way past time for me to look for some fresh new ways to keep my makeup organized. There are plenty of those lucite cosmetics organizers out there in the drugstores, but I've been looking for some more creative, unexpected makeup storage ideas that will give my vanity a needed pop of personality. But of course, it has to keep my stuff accessible too all without making my bathroom look like the MAC counter at Nordstrom.
So I spent a ton of time searching the web, and finally landed on these 9 smart (and pretty fun) DIY ideas and product hacks for storing your makeup. Hope you like them too!
1. Roll up brushes in a sushi mat
I could definitely use a little zen in my bathroom, and these repurposed Asian cooking tools are so clever. This simple DIY from Creme de la Craft (at top) has instructions on how to roll up cosmetic brushes in a sushi mat. All you need is the mat, and some elastic that you weave through and stitch together at the ends. So easy.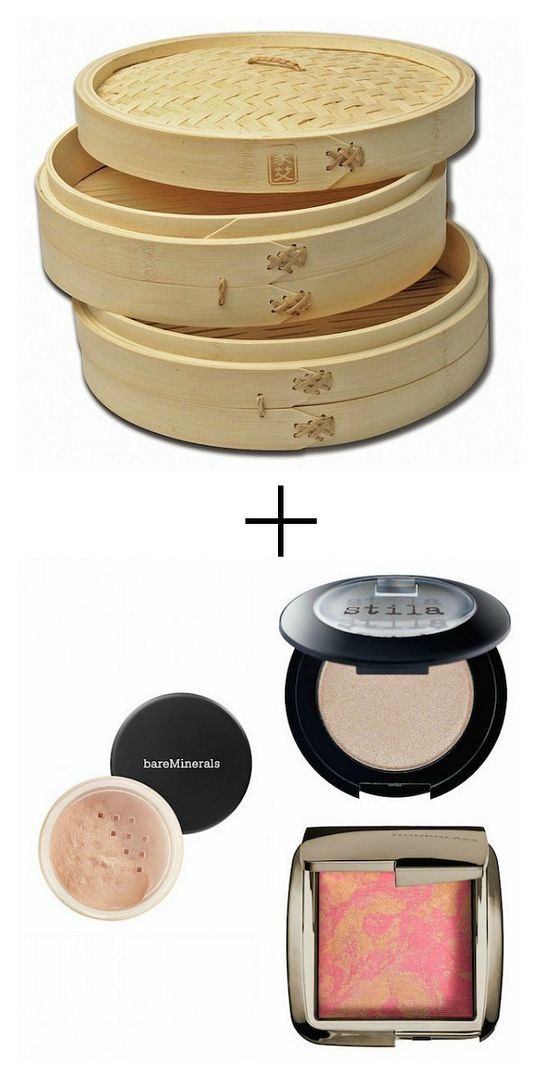 2. Store makeup in a bamboo steamer
Our editor Liz suggests this trick she's used for years–she stores her flat makeup items, like compacts and eye shadows, in a bamboo steamer. I like this one by Joyce Chen found at Amazon, or these bamboo steamers in two sizes at Sur La Table.  Stack them up and pop the lid on to keep that cosmetic clutter contained and stashed somewhere natural and pretty. (And psst…it's also great for chunky bangle bracelets.)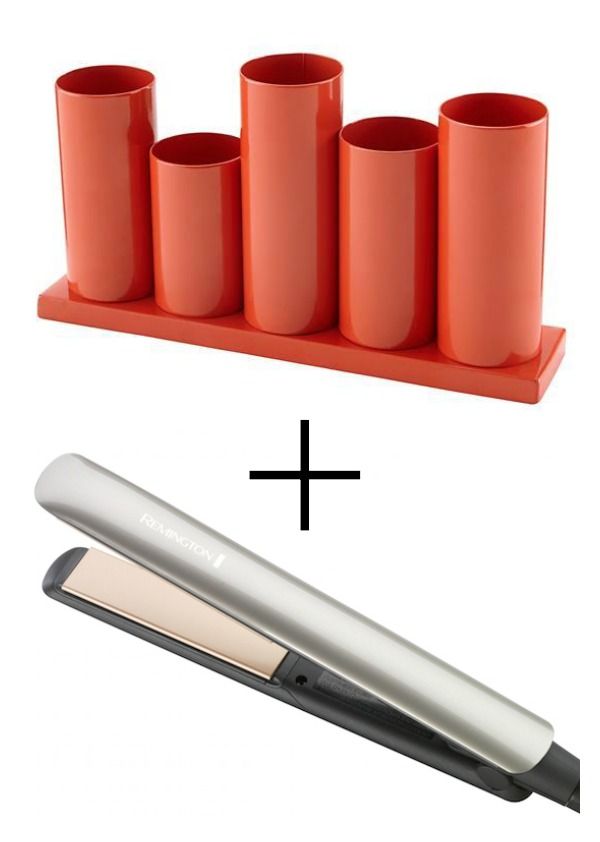 3. Kids' desk accessories can double as affordable cosmetic tool storage
I think this is a great unexpected storage idea for your thin flat irons, hair brushes, makeup brushes, eye and lip liners. Anything long and skinny, really. Bright colors make these a fun accent in the bathroom. I love the bold orangey-red metal on this Pitch Perfect Storage Caddy, $15.95 at Land of Nod. Just be aware that this item is on backorder until February. If you can't wait, try their I Could've Bin an Art Caddy instead.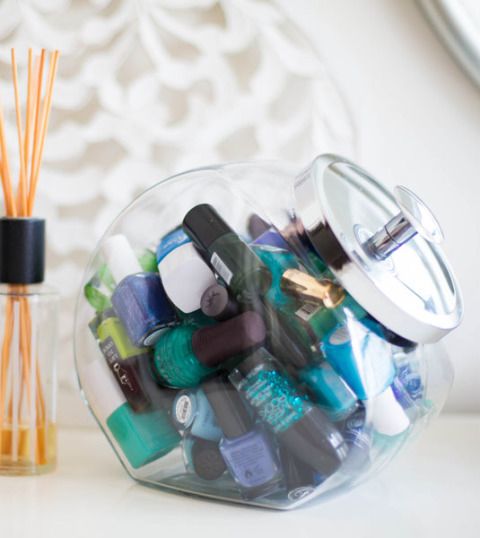 4. Store nail polish in a candy jar
Nail polish colors are so pretty that you may want to show them off, but without your vanity looking like the neighborhood nail salon. This creative solution for nail polish storage from Cosmopolitan is perfect. You can find a similar one-gallon glass candy jar at Amazon for under $20 (or a whole set of four jars if you have tons of polishes) although I found one at my local home goods store for less than $4. Just keep the glass out of reach if you have grabby toddlers, or look for a less breakable alternative like acryllic.
5. A vase with coffee beans or marbles can hold makeup brushes upright.
Mmm, coffee. Even if you're trying to cut back on your caffeine intake, you can still experience that yummy smell by storing your makeup brushes in a vase of coffee beans, like this idea spotted at Fashion Diva Design. If the scent isn't for you, switch to marbles, pebbles or florists' stones instead. It's all the same idea, and a great way to keep those brush tips clean and off the counter.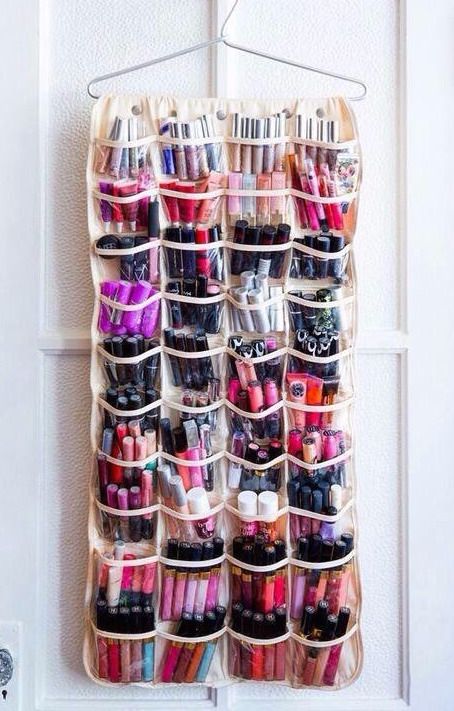 6. Store lipstick and glosses in a hanging shoe bag
An over-the-door shoe organizer is a smart, out-of-sight way to store your makeup when you've got loads of it, like this lip gloss fanatic did at Bustle. Hang it inside a your bedroom closet door or on a dedicated hook if you have the space. When you need the perfect lips, you can see all your options and access them quickly, all while preserving counter space–or a few shelves in the bathroom. Also: wow, that's an impressive lip gloss collection.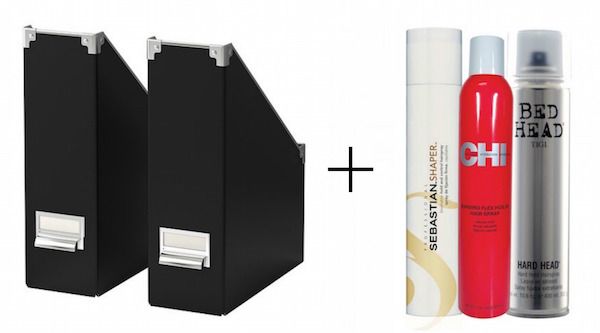 7. Hide hair products in magazine file boxes
Having lots of different sized bottles is a fast way to make your space look cluttered. Instead, hide tall bottles of hair products, lotion, and even unwieldy tools like flat irons or blow dryers in sturdy magazine file boxes, like these from IKEA. I like that they're on the tall side, to hide what's inside. Or for something a little prettier, check out the colorful magazine files at See Jane Work. Label them if you need, then stash them in your linen closet or on top of a bathroom etagere for a streamlined look.
8. Keep everyday makeup in a dedicated storage bag
There are tons of pretty cosmetics cases you can keep by your mirror, but Lay/N/Go Cosmo has taken an idea we love for LEGO storage and applied it to our day-to-day makeup. Isn't it cool? It lays flat when you're ready to use it, then wraps up with a pull of a drawstring when you need it hidden. I think it would work best for those with a minimalist makeup routine, or for your everyday stuff. Also, be sure to have plenty of counter space—it's deceptively spacious with a 20-inch diameter when it lays flat.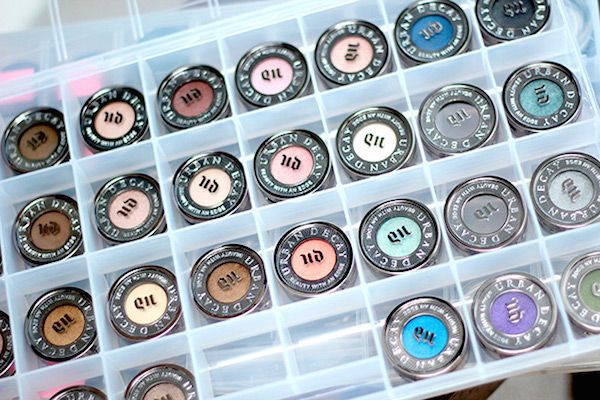 9. Use a bead organizer box for eyeshadows
It's hard to find a way to keep small items neat, but I like Makeup and Beauty Blog's idea to use a bead organizer box to organize individual eye shadows. The small compartments are the perfect size to fit those discs of color, and they won't move around when you snap it shut. Plus–it's easy to toss in your suitcase when you travel. You can find a bead organizer like this one at Amazon. Just be sure to measure your shadow brand of choice against the slots so you don't end up with something even messier than what you started with.
Don't stop with your makeup — if you're in organization mode, we have creative storage ideas for jewelry too.