For those of us still digging our way out of winter, it's hard to believe that spring is nearly here — and that Easter is less than a month away. Which means it's time to start thinking about swapping our kids' Sunday sweats for their Easter best. Thankfully, the big mid-season sale from our partner, Jacadi Paris, happens to be timed perfectly with our kids Easter outfit and other special occasion needs.
Considering the Jacadi 30% off sale going on right now, if you were planning on putting together a little something fancy for the kids, this is the time to do it at a welcome discount.
Need a little guidance as you're browsing through all those sweet florals, pretty pastels and sporty stripes? We've gone through the Jacadi sale ourselves and put together a few Easter outfits we love for both babies and big kids. We hope you love them too.
Easter Outfit Idea for a Baby or Toddler Boy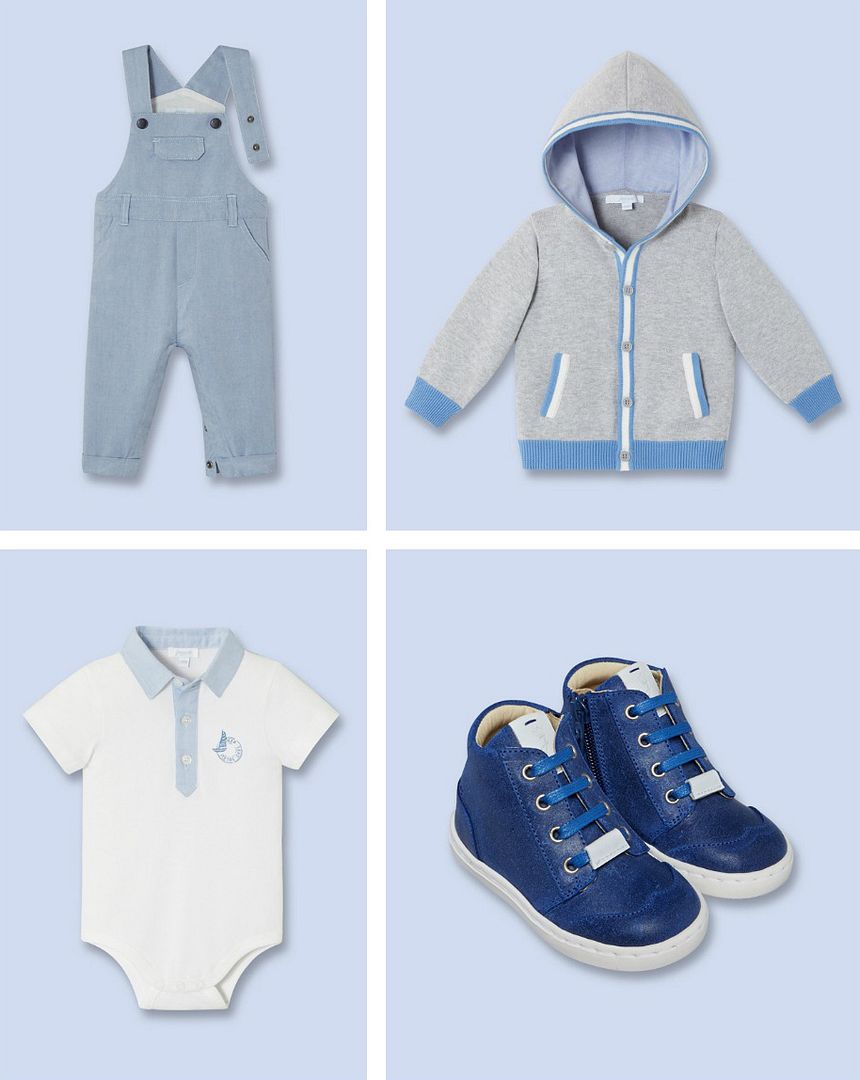 Oxford overalls | Contrast trim cardigan| Coated leather sneakers| Spread collar bodysuit
We know that no one puts baby in a corner, but there's no need to put him in a stuffy jacket and tie, either. Especially if things are warming up where you live. We love the soft blue of these coveralls which feels springy, but just short of pastel. That heather grey cardigan is so gorgeous we could eat it. But it's that smashing pop of blue in Jacadi's amazing high top sneakers that hold it all together in such a fun, contemporary way.
Easter Outfit Ideas for a Baby or Toddler Girl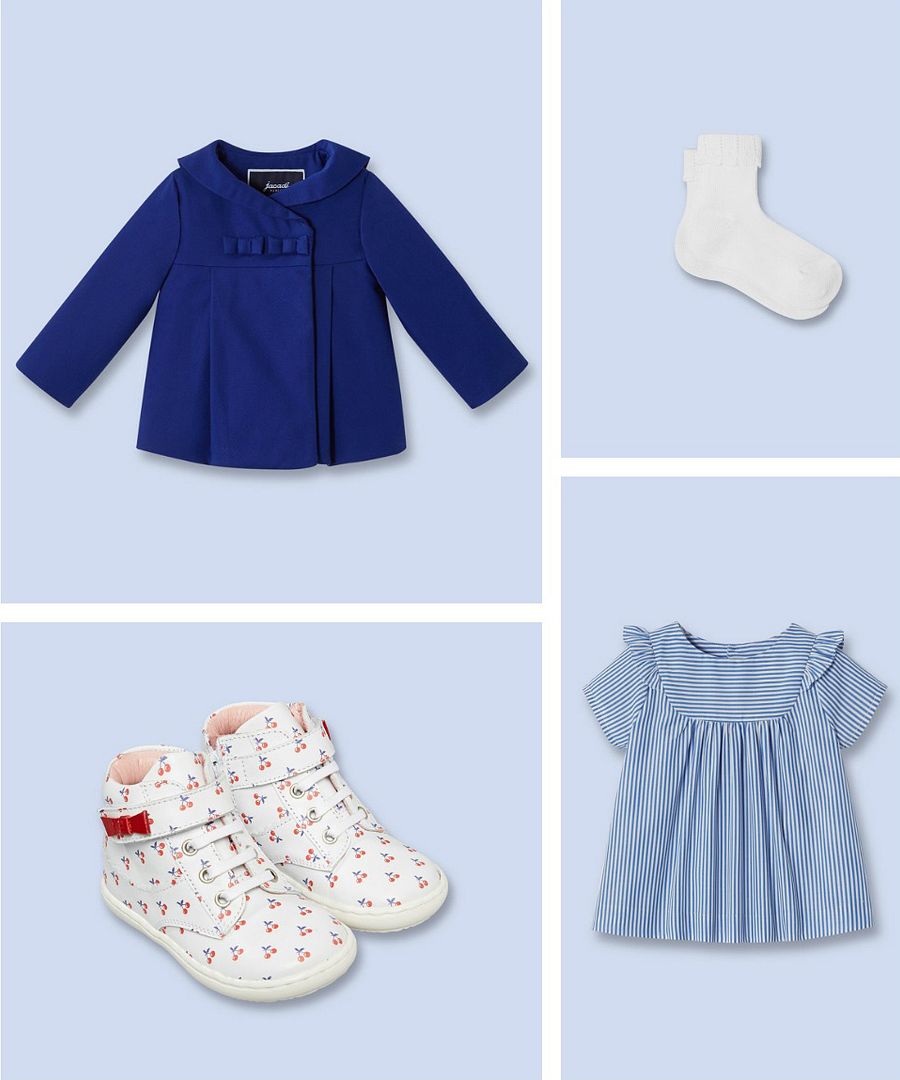 Bow trimmed coat | Scalloped edge socks | Cotton striped dress | Cherry print leather booties
Take a photo of your little girl in this stunning bow-trimmed coat, and that will be the item she always thinks back on in later years. (Can you tell we still have our own beloved fancy-clothing photos from when we were little?)  The cotton striped dress is beautifully feminine without being fussy, and we're swooning over those cherry-print booties with the little bow detail. She might even catch the Easter Bunny in them.
For something a little more sweet and traditional, we couldn't resist sharing this gorgeous little Liberty print dress in a bright, fun floral. A baby girl wearing this sweet thing could shake the winter blues off of anyone.
Easter Outfit Idea for Boys
Contrast stripe cardigan | Cotton gabardine trousers | Nylon quilted vest | Striped poplin dress shirt
Older boys can handle a dressier look, and we think oxfords always look so dapper on young men. Pair it with those blue trousers which are less casual than jeans, and pull it all together with a gray cardigan. If you're going for layers, you can opt for a more traditional jacket of course; but this quilted vest is a smart wardrobe addition for a more casual Easter Sunday. Plus he'll get so much use out of it all spring and again in the fall.
Easter Outfit Idea for Girls
Stretch cotton gabardine dress | Open knit cardigan | Classic ballet flats
There's something so elegant about the classic French styling of this sunny dress, and yet it would look amazing with a jeans jacket and black engineer boots too. The cardigan is a perfect staple piece, and those ballet flats? We love them. If you do too, they're on sale in bright blue, sun yellow, a red-orange melon, and a pretty pale pink (shown at very top). Hard to go wrong.
While these are all still definitely designer clothes, keep in mind that one of the great things about Jacadi is that that nothing is so precious that it can't be worn again to springtime birthday parties, Mother's Day brunch, weekends with the grandparents, or even dressed down for school.
Although truth be told, we do still make sure the kids won't be playing with permanent markers on days they're wearing Jacadi to school.
Thanks to our sponsor Jacadi for always having the perfect outfits for our children's special occasions including Easter outfits. Shop their 30% off mid-season sale now through March 19th.