Let's be honest: Easter candy is pretty much sugar and more sugar mixed with high fructose corn syrup with a dash of artificial food coloring. And we love every bite. I'm a believer in everything in moderation and am all for Easter being one of two days a year when we throw moderation for candy out the window. That said, if we can add a few all-natural options to the basket, I'm all for that, too. When all-natural Easter candy is as good as these 7 finds, why not.
Related: Outrageously gourmet Easter treats that are not for sharing with the kids
Little Secrets Candy Coated Chocolates
Little Secrets is a brand new line of candy-coated chocolates made with fair trade certified chocolate and no artificial ingredients. Premium chocolate without anything bad is good enough as is, but Little Secrets takes it further with scrumptious flavors. In addition to their milk and dark chocolate varieties (similar to M&Ms), they also offer dark chocolate peanut butter and dark chocolate raspberry flavors, both as natural as their plain counterparts. They also come in gorgeous colors perfect for Easter.
You can find out where to buy these all-natural candies at a store near you or online at the Little Secrets website.
Equal Exchange Dark Chocolate Easter Eggs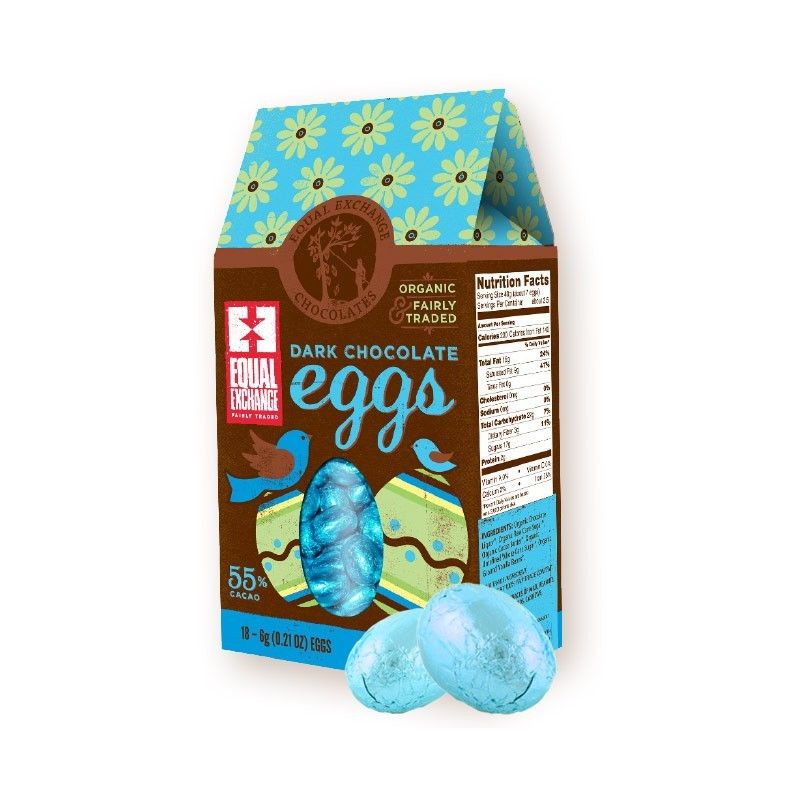 Equal Exchange is dedicated to fairly traded food including tea, coffee, and chocolate. Their organic cocoa is sourced from farmer co-ops in Latin America and combined with sugar from co-ops in Paraguay and fairly traded vanilla from Madagascar. In other words, you can feel good about eating this stuff. For the upcoming holiday, Equal Exchange is selling dark chocolate Easter eggs that are delicious and vegan, soy, and gluten-free to boot.
You can buy these dark chocolate Easter eggs at the Equal Exchange website.
Unreal Peanut Butter Cups
We've been fans of Unreal candy from the day they launched. Since then, the company has overhauled the original line of all-natural, lower-sugar, no-artificial color or preservative candies to focus on their peanut butter cups and chocolate coated candies. The bad news? Right now, only the peanut butter cups are available online. But the good news is that they've added amazing new flavors. In addition to milk and dark chocolate peanut butter, they've added milk chocolate crispy quiona peanut butter cups, dark chocolate coconut peanut butter cups, and dark chocolate almond butter cups. All the dark chocolate is dairy-free and vegan, and every single flavor is Easter bunny — and Cool Mom Picks — approved.
You can buy the new, expanded line of peanut butter cups through the Unreal website and find the chocolate-coated candies in Super Target and select Whole Foods around the country.
Justin's Peanut Butter Cups
There's no way to talk about all-natural peanut butter cups without also mentioning another Cool Mom favorite, Justin's peanut butter cups. Though I'm a die-hard for their new, dangerously munch-able mini chocolate peanut butter cups (which come in a ridiculously good milk chocolate and a more sophisticated dark chocolate, thank you very much), I'm also a fan of their white chocolate peanut butter cups for Easter. The color is perfect!
These are seriously outrageous, and Liz tells me that package of minis in her home lasted for only a few days. She doesn't know why, but she did wake up with some mysterious crumpled foils around her bed one morning.
You can find out where to buy Justin's peanut butter cups at a store near you or purchase them online through the Justin's website.
Surf Sweets Jelly Beans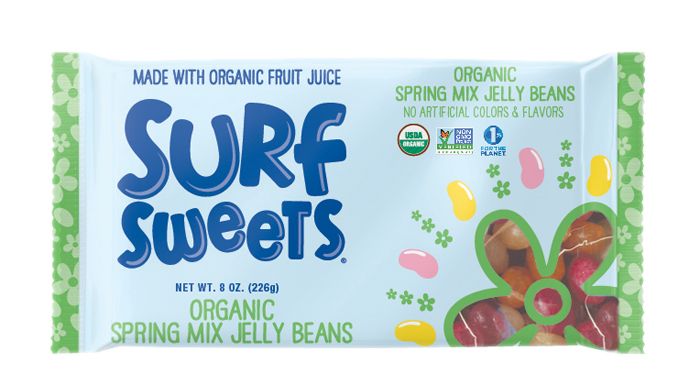 For me, it's not Easter without jellybeans. As a jellybean lover who grew up on the classic high-fructose kind, I'm not willing to sacrifice taste to avoid icky ingredients—not on Easter. I would normally be too embarrassed to admit that except that I don't have to sacrifice taste to avoid icky stuff thanks to Surf Sweets. Their jelly beans are made with organic fruit juice and are free of artificial colors, flavors, and corn syrup. They're also free of gluten and the 10 most common allergens, which makes them allergy-friendly, too. Jelly beans for all!
You can find out where to buy Surf Sweets jelly beans at a store near you or purchase them online through the Surf Sweets website.
Indie Candy Allergy-Free Creme Egg
There's no replacing Cadbury Creme Eggs, but for those with allergies that usually means skipping them all together. Not this year! Indie Candy is offering a gluten-, dairy-, soy-, nut-, and egg-free  allergy-friendly Fancy Creme Egg. Made with dark chocolate and creamy vanilla fondant, this treat is beautifully close to the real deal, with a yellow "yolk" and all.
You can buy allergy-free creme eggs at the Indie Candy website. And darnit, they're currently not avail, but ask the company if an order is expected in before Easter.
Zillions more options at the Natural Candy Store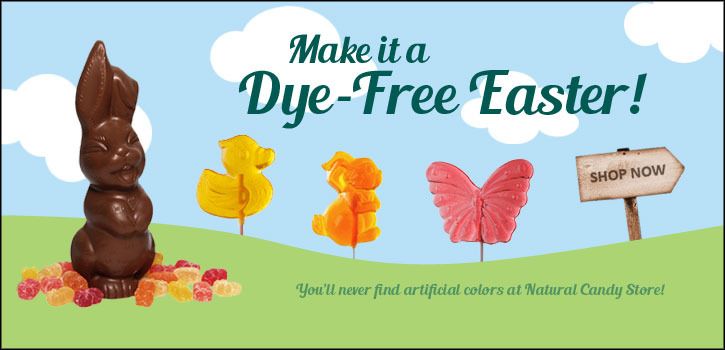 If none of these options appeal or you're looking for even more all-natural Easter candy to get excited about, check out the all-natural Easter candy selection at NaturalCandyStore.com. Our favorite source for better-for-you candy doesn't disappointment this Easter with loads of all-natural (and allergy-friendly) options to mix in with your very not all-natural candies. Moderation, little bunnies. Moderation.