My kids still recall with disdain the house that gave out unsweetened popcorn balls and apples one year for Halloween. I understand the desire to offer something less junky, but a safer bet against toilet paper in my trees might be some of the all-natural, Vitamin C-packed gummy candies we've found.
No, they're not a substitute for vitamins. But a better alternative to straws filled with pure sugar? You bet.
Yummy Earth is no stranger to Cool Mom Picks, and this Halloween, add their treat-sized Organic Gummy Bear Snack Packs (above) to your trick-or-treat stash. These little guys are super-chewy—something my kids loved but I sweated over with all my fillings— and come in fresh flavors like pomegranate, strawberry and sour apple. Plus, they are tree nut, peanut, gluten, soy and dairy free, so you may make it through the night without hearing, "Oh, I can't eat those".
My kids inhale anything sour, so they are pushing for me to buy organically sweetened Surf Sweets Sour Berry Bears so they can eat the leftovers. They're so tasty I did a little happy dance when I found the bigger pouches in my supermarket. They're also free of all the common allergens, and they are Stage 2 Feingold approved—if you know what this means, you're probably doing a happy dance as well.
(Psst, you can also download Surf Sweets' Green Guide for ways to live a more eco-friendly Halloween)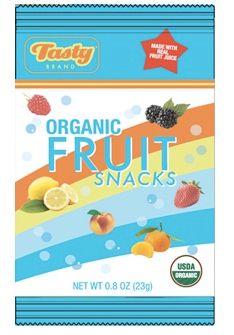 For the littlest ghosts and goblins, grab a few boxes of Tasty Baby's Organic Fruit Snack Pouches which are far easier for little teeth to chew. Made without gelatin, Tasty Baby's Fruit Snacks are also vegan.  CMP's Liz and Betsy swear by how delicious they are although at almost a dollar a serving, they are also the most pricey treats listed here. But earning the love of all the toddlers on the block? Priceless. Edited to add: Unfortunately, this product has been discontinued.
Organic Gummy Bear Snack Packs are sold in 24-pack cases on the Yummy Earth website. And, from now until November 20, get 20% off when you spend $25 or more with coupon code COOL MOM PICKS.

You'll find Surf Sweets Sour Berry and Natural Fruit Gummy Bears at Naturalcandystore.com.
Congratulations to Catherine G., lucky winner of the organic candy assortment!