As my family's Petronella Cottontail, I'm here to tell you that grown-ups like Easter treats, too. Gourmet Eater treats, ideall. My kids can keep the Peeps and cheap candy eggs nestled in plastic grass, while I stick with the fancy stuff. I like my chocolate smooth, high quality, and with packaging that makes me feel special and indulged. And if it comes with a birdcage, all the better. So here are some top gourmet Easter treats from our favorite candy makers and chocolatiers.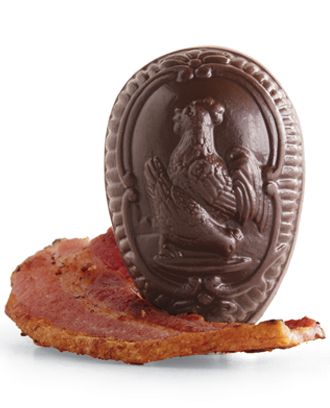 Vosges is one of my all-time favorite chocolate shops. I mean, did you see that Hunger Games truffle collection we featured? Drool. Their spring and Easter offerings are luscious, from that stunning and indulgent Easter Birdcage (pictured above) filled with peanut butter bunnies, Enchanted Toadstools, Wandering Rabbit Caramel Bonbons and more to the Goose's Golden Eggs filled with bacon and caramel. I've never had a bad chocolate from Vosges, and their posh purple packaging is the next best thing to unwrapping a little blue box.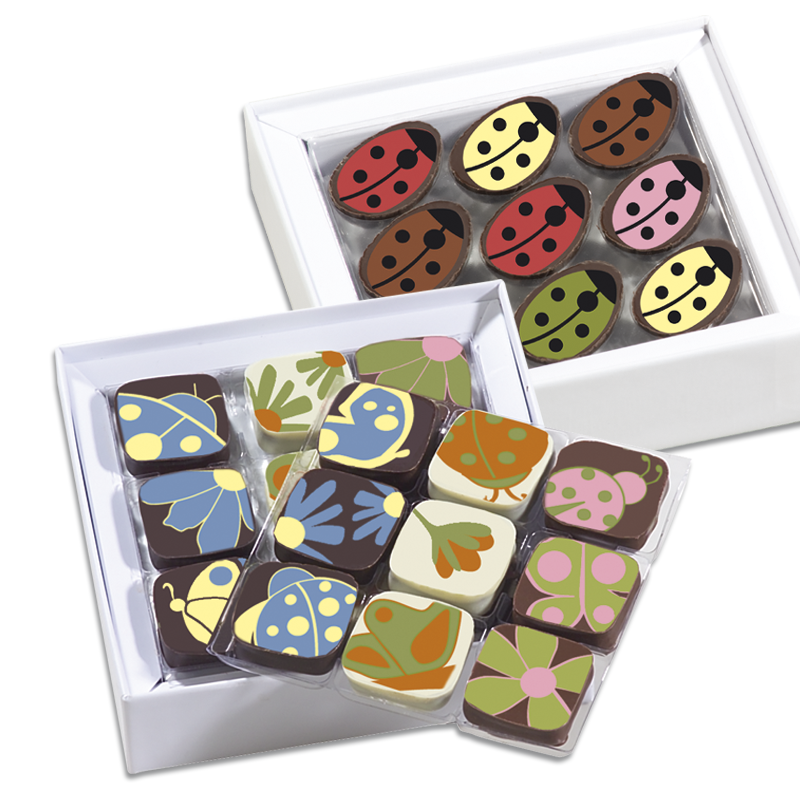 Richart, considered "the most refined chocolate company," is a favorite of Cool Mom Picks publisher Liz, so you know they're amazing. This Spring Ladybird chocolate assortment is a serious gourmet Easter treat. It combines two star collections for a mouth-watering variety of flavors, including dark chocolate ganache from Venezuela, raspberry caramel coulis, 3-mint ganache, cinnamon praline…need I say more? It's a little challenging to browse the site and find all of their Easter goodies, so try searching for terms, like Easter, bunny, or spring.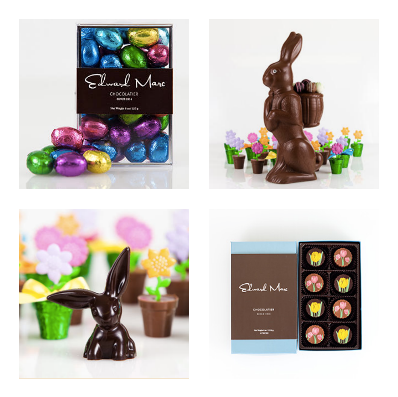 The love of chocolate has been handed down through the Edward Marc Chocolatier family for nine decades, so you know their recipe is more than a passing fancy. Now they're known for high-quality, handcrafted gourmet chocolates, including their yearly spring offering of Foiled Milk Chocolate Easter Eggs or Dark Chocolate Eggs, which are buy-one-get-one-free right now.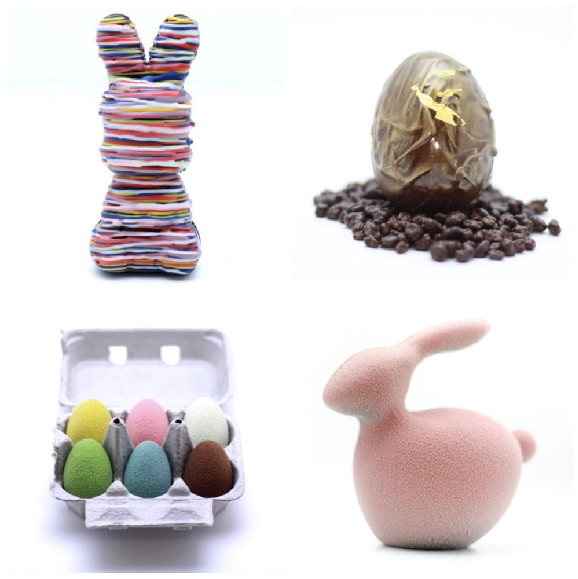 When I asked Twitter about their favorite gourmet chocolate treats, Hudson Chocolates was too pretty to leave off the list. These gorgeous chocolates are all handmade from hormone-free milk from the Hudson Valley and filling ingredients bought fresh and locally. Their boxes are each signed and numbered by the chocolatier before shipping to you. But it's the artistry that really grabs me– the rainbow bourbon vanilla glaze on The Proud Bunny and the lush velvet texture on the Easter Eggs and Velvet Bunny. Beautiful things just taste better, don't you think?
Our pals at Mouth are obsessed with finding local, small-batch treats. And of course they've managed to find sparkly purple Chocolate Bunnies made by hand in Portland, Oregon, of 74% cocoa. If you go directly to the Alma Chocolate shop, they also have sparkly silver Hazelnut Hedgehogs. While they look like something for the kids' Easter Baskets, we imagine you'll want to keep a secret stash on a very high shelf.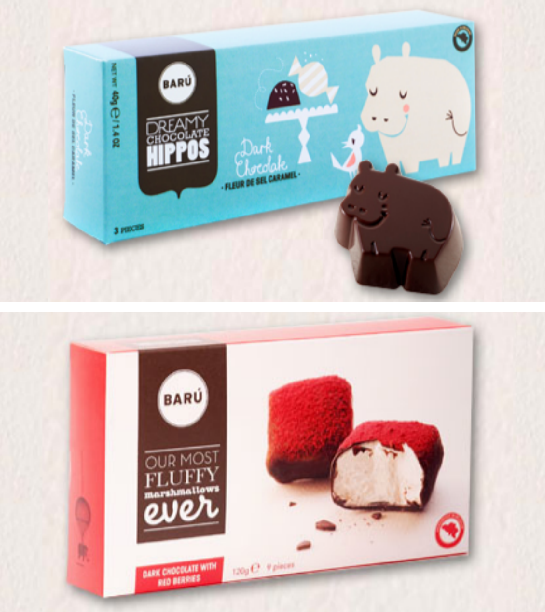 Hippos are the new bunnies, as far as my family is concerned. And when a British friend sent me two boxes of Baru's Fleur de Sel Caramel Hippos, I grew to love them even more. Baru is in Belgium, but you can order oodles of delicious goodies in the Baru online shop, including fluffy, flavored marshmallows, those amazing hippos, and even gourmet cocoa, for chocolate fiends who prefer the liquid form. If there's anything in the world better than an adorable chocolate hippo full of sea salt caramel, I need to find it and eat a bunch of it.
If you're over 21 and lucky enough to live in a state that allows the shipment of liquor, settle in with this superbly gorgeous Oregon Distillers Collection from Moonstruck Chocolate Co. to unwind from a long day of egg hunting. Don't they look just like little planets? But inside each truffle, you'll find a different flavor directly from Oregon distillers. I'm piqued by the Bull Run Temperance Trader Bourbon Whiskey Truffle (a.k.a. The Gold One) and the House Spirits Aviation Gin Truffle which is lavender with red stripes.
If you don't want to spend Easter tipsy on chocolate, Moonstruck has tons of non-alcoholic Gourmet Easter chocolate ideas for spring, too, including Toffee Pigs, hand-painted eggs, and solid chocolate bunnies.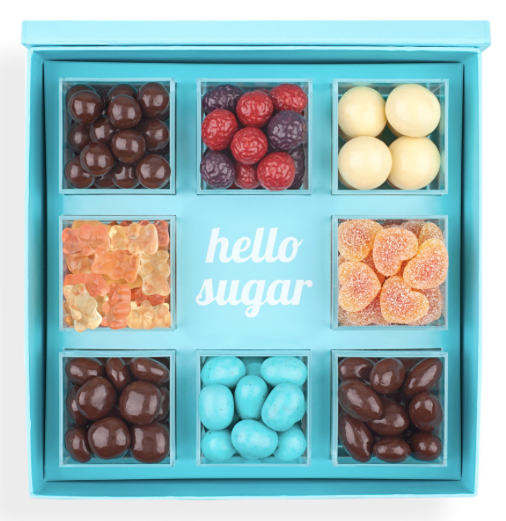 We recently flipped for the vibrant green Absinthe Chocolate Cordials from Sugarfina, and I love this bright robin's egg blue Sugarfina Faves Bento Box just as much. If your favorite foodie isn't only about chocolate, this box includes popular but veddy veddy grown up candies like Champagne Gummy Bears, Vanilla Bean Malt Balls, Marshmallow Eggs, Chocolate Cherries,  Dark Chocolate Sea Salt Caramels, and Dark Chocolate Coffee Toffee.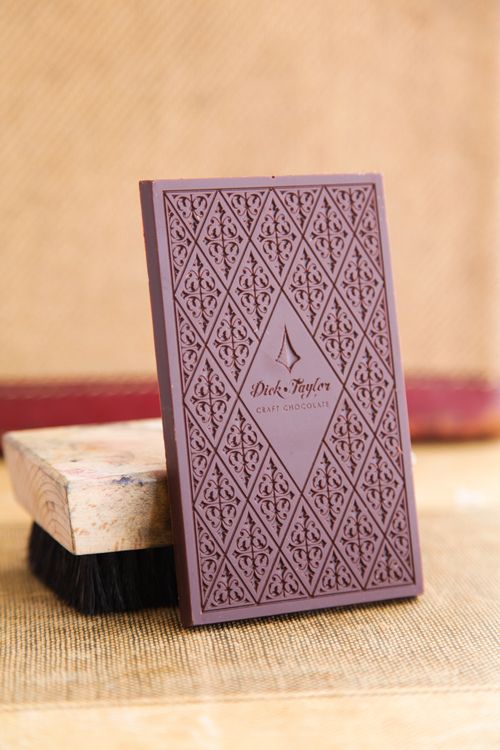 Full disclosure: that insanely beautiful chocolate bar has nothing specifically to do with Easter or spring. And yet, I'd be happy to find one in my Easter basket anyone. This  72% Madagascar, Sambirano Valley chocolate bar hails from Dick Taylor Craft Chocolate, a California company that focuses on fair-trade, single origin chocolate without any fillers. After my recent descent into coffee geekery and the joy of single origin coffee beans, I want to know if this chocolate bar is as delicious as it looks. If you aren't into coulis, bunnies, pralines, purple glitter, and all those other fancy Easter chocolate bells and whistles, this bar is as pure as you can get. They have a full assortment of chocolate bars that reads a lot like a coffee roasting list, although I'm sad the Fleur De Sel is sold out for now.
Please tell the Easter Bunny that I've been good this year and his ears are looking very fetching. I'll leave my basket outside the door.