We fell so in love with Candylab Toys and their gorgeous, modern-looking wood cars when we saw them over the holidays last year, they easily made 2014 Best Toys, Dolls, and Games list. Now our engines are all revved up again to see that they are adding to their fleet of vehicles with five new styles of handmade wooden cars.
Like their original cars, these new Candylab vehicles run not on batteries, but on the imagination of the kids playing with cars like the iconic yellow cab, a mini tow truck that actually tows, or a 1970's era Woodie station wagon which comes with a groovy little surfboard that attaches magnetically to the roof.
And try not to squeal when you see the smooth, oh-so-cool camper that is ready to attach to the Woodie, for epic roads trips across the living room of course.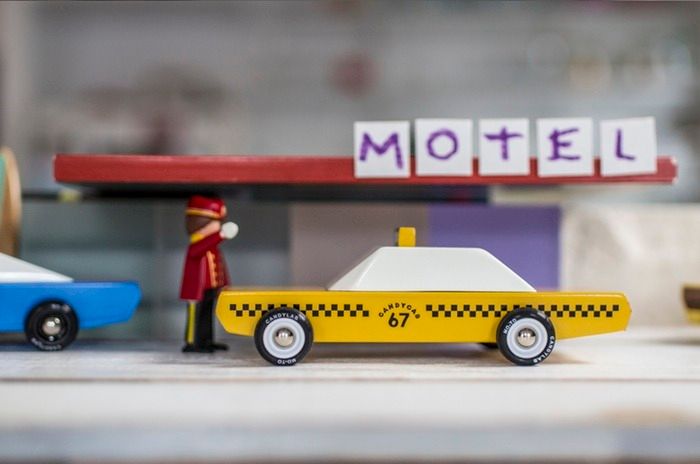 Kids will appreciate how fast those little rubber wheels go and that the size of the vehicles works so well with LEGO Minifigs should they want to create an entire scene to go with their cars. And parents will appreciate that any magnets in the cars are embedded safely into the high quality wood.
Details like these do cost a lot more than the vehicles you'll find in the toy aisle of your local giganto-store, the heirloom quality definitely makes the sticker price worth considering. We can even see these cars parked on a nursery bookshelf as decor even before the baby is ready for her own set of wheels.
Check out the growing collection of Candylab Toys wooden cars with new ones being added all the time.