The Day the Crayons Quit, written by Drew Daywalt and illustrated by the amazing Oliver Jeffers, has been sitting on my kids' bedside table — and getting read every night at bedtime — since the day it came home from the bookstore. It's quickly become a classic that teaches kids to challenge the "rules" when it comes to creativity. No coloring inside the lines here. Daywalt encourages kids to think outside the (crayon) box in a really fun way.
So when the sequel — The Day the Crayons Came Home — showed up in my mailbox, my kids immediately grabbed it to find out what happens next.
And it's pretty awesome.
Related: 2014 Best Books for Kids: All the lists, in one place.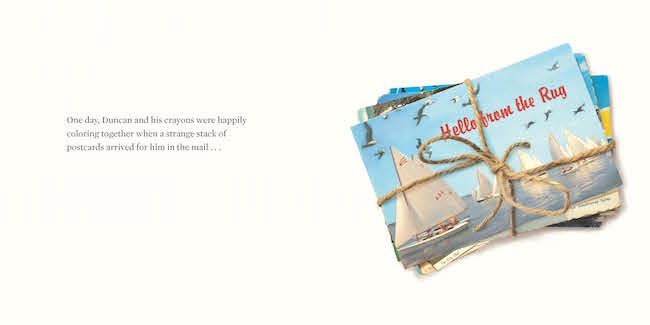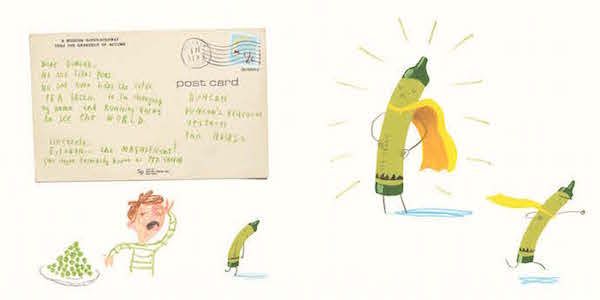 Duncan has successfully gotten his cranky crayons to work together again, and they're coloring at the kitchen table when a stack of postcards arrives. Turns out, there's a whole other set of crayons missing from the box.
Maroon has been stuck in the couch for who knows how long. Pea Green ran away, because who wants to color with pea green? Neon red: he got left behind on vacation and is now walking home.
It's Duncan's job to help these crayons get back to the crayon box, and their journey is pretty funny. Your kids will giggle their way through this one. Warning: you might too.
A little extra coolness: Penguin Young Readers Group (the publisher) is partnering with Crayon Collection to collect gently used crayons — like the neon red and pea green in the book, and hopefully some others too — to donate to Title I schools and Head Start preschools which are in dire need of good art supplies. Check it out, and maybe your kids can help their own crayons find their way to a good home too.
Pre-order The Day the Crayons Came Home by Drew Daywalt and Oliver Jeffers at your local bookstore or from our affiliate Amazon. A few pages even glow in the dark. Very cool. Thanks to Penguin for providing a review copy to CMP.