Thousands of books are published for children each year, and it seems like there are thousands of "best of" lists published too. If you're shopping for kids books for Christmas like we are, you'll want to check these lists out for some great book ideas you might not have heard of yet. We've put together the collections here with links to all the 2014 Best Books for Kids awards, and highlighting some of our own faves.
We're definitely celebrating the huge number of women writers who won prizes, the focus on diversity, the growing trend of non-princessy science-loving heroines, rabbits–lots of rabbits–and, of course, incredible, moving illustrations and stories we just can't put down.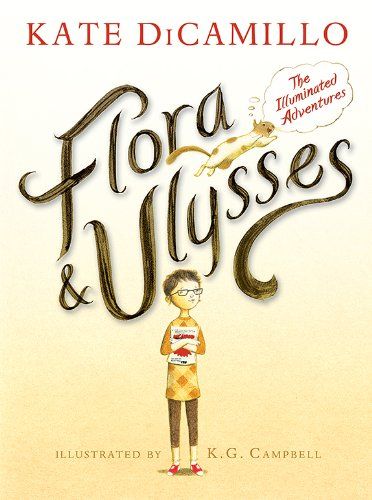 This year the Newbery award for the most distinguished contribution to American literature for children went to one of our favorite books, Flora and Ulysses: The Illuminated Adventures by Kate DiCamillo (ages 8+). Flora is our type of girl–a cynical comic book fan who teams up with a poetry-writing squirrel for a memorable adventure.
But I also have the Newbery Honor book The Year of Billy Miller by Kevin Henkes on my reading list. It's the story of second-grader Billy and his friendships and rivalries, and it reminds me a lot of my favorite Ramona books from childhood. My nine-year-old who can't get enough of the Wimpy Kid or Timmy Failure books will likely love this one. (ages 8+)
The Caldecott medal is awarded to the most distinguished picture book of the year, and I love looking through these illustrations every year. They range from realistic to fantastical to abstract, and it's so fun to see which ones my kids are drawn to. This year's winner is Locomotive by Brian Floca; it's the story of a family's cross-country trip by train, and the illustrations will capture the minds of any child with a fascination about how machines work. Or any kid who loves trains, for that matter, which seems to be all of them at some point, doesn't it? (ages 4+)
My favorite on this list, however, is Molly Idle's charming Flora and the Flamingo, a simple, wordless story about a girl who wants to dance with a flamingo. I love her round tummy and the graceful-ish dancing that takes place on these sparse pages with lots of flaps to lift. Since the award came out, the author has also released the equally delightful Flora and the Penguin. (age 3+)
The National Book Award's mission is to honor the best in American literature—no small feat. Their prize this year went to Brown Girl Dreaming by Jacqueline Woodson, who was also included in our 2013 best books of the year round-up.  It's a memoir of growing up in South Carolina and moving to Brooklyn during the Civil Rights movement.
The story is told in poems, and in each verse we see more of her understanding of racism but also her growing love for writing, even though she struggled as a reader in school. This is a book that more people need to read during these days of racial tension here in the US, as it gives us insight into the way racism affects children. Powerful, this one. (ages 10+)
This award is given to the writer and illustrator whose books best portray and affirm the Latino cultural experience, but we think all kids will love them, no matter what their culture or skin color. The young adult novel winner this year is (wait for it) Yaqui Delgado Wants to Kick Your Ass by Meg Medina. It's the hard story of a bullied girl, set in NYC, and contains some violence, sex, and language. But readers say the story is very powerful for teens. (ages 14+)
The 2014 Illustrator Award winner and honorees look so great, I'm tempted to drop everything and head to the bookstore now. Niño Wrestles the World by Yuyi Morales (ages 4+) has energetic, action-packed images and fun phrases like Fwap! and Slish! that kids will enjoy reading along with. The Spanish-language twist on the nursery rhyme Mary Had a Little Lamb that is Maria Had a Little Llama, by Angela Dominguez (ages 3+), is so charming. And yay for three female authors recognized in this category!
This award recognizes excellence in books that capture the African American experience, which has been especially poignant to us this year. 2014's illustrated book award goes to Knock Knock by Daniel Beaty and Bryan Collier. It's a heartbreaking, powerful story of a son longing for his absent father. It's sad, but excellent for showing kids that they can have a beautiful life even in hard times. (ages 3+)
It's not often that you see a new book for tweens set in the 1960s. In P.S. Be Eleven by Rita Williams-Garcia (the Coretta Scott King author award winner this year), Delphine and her sisters head back to NYC after a summer with their mom (and the Black Panthers) in California. They come back changed and more independent, but Delphine's mom encourages her to "be eleven" as long as she can. (ages 9+)
The Stonewall award recognizes a children's book each year that highlights the GLBT experience for kids and youth. Some heavy topics were recognized this year, like Branded by the Pink Triangle by Ken Setterington, the non-fiction account of the gay experience in Nazi Germany (ages 14+). Or Fat Angie, by e. E. Charlton-Trujillo, a novel about an overweight girl in high school that deals with issues like kidnapping and war (ages 14+).
Better Nate than Ever by Tim Federle is a light-hearted adventure novel in the middle of these darker topics. Young Nate heads to NYC to audition for the musical version of E. T. It's small-town boy in the big city, with some coming of age and sexual identity questions thrown in too. (ages 10+)
One of my most-trusted sources for all book reviews is The New York Times, and I appreciate their best-of-the-year list for children with categories for picture books, middle readers, and young adult books. Each title links to their review of the book for a more in-depth description.
Neil Gaiman and Lorenzo Mattotti's Hansel and Gretel has been giving us chills, with Mattotti's scratchy black-and-white illustrations that make it feel like the picture is moving and the forest is enveloping you. But it still manages a joyful reunion at the end that makes your heart soar, which is why Neil Gaiman is just so cool. (ages 7+)
And I can't wait to read Sisters, the second graphic memoir by Rania Telgemeier that finds "humor and difficult truths" in her family's road trip to a family reunion. Ah, the memories of my own days in the back seat of the station wagon with my sister. (ages 9+)
Publisher's Weekly divides their list up by picture books, middle readers, and young adult literature as well, and I see so many fantastic books on this list that my kids and I have loved this year. In picture books, we've been reading and re-reading Sam and Dave Dig a Hole by Mac Barnett with wonderful illustrations by Jon Klassen. All the "they've almost got it" moments that Sam and Dave experience in this book send my kids into a fit of delighted giggles. (ages 4+)
Knowing how much we all loved Mr. Tiger Goes Wild by Peter Brown, I can't wait to pick up a copy of My Teacher is a Monster (No, I Am Not), his new book that aims to show that teachers, even mean ones, are regular people too. (ages 6+)
For middle readers this year there's lots of fantasy, including West of the Moon by Margi Preus, a coming-of-age story with hints of Norwegian folk tale (Frozen, anyone?) (ages 10+) and The Witch's Boy by Kelly Barnhill, about the magical union of the daughter of a powerful bandit and a boy with a stutter and powerful abilities. (ages 10+)
There are stories about rabbits, including El Deafo by Cece Bell where the deaf main character is an anthropomorphic rabbit. (ages 9+)
And there are fantasy stories about rabbits, like Operation Bunny, the first in a series by Sally Gardner (illus. by David Roberts), in which 9-year-old girl Emily escapes her terrible adoptive parents and finds herself in a world where an evil witch turns people into bunnies. Hmmm, interesting. (ages 7+)
For parents who want a milestone-by-milestone breakdown of the best books for your young kids, check out Amazon's best books list. They break their lists down into 2-3 year age groupings, which we find really helpful since our kids' tastes in books change so much year to year. You can also see their top-selling books too, so your kids can stay up with what their friends are reading these days.
For kids age 2-4, Leslie Patricelli's Toot is their top choice. Mo Willems' Pigeon Needs a Bath is their best book for kids age 3-5, but we also see some of our other favorites on this list that we've featured this year, like Little Humans by Brandon Stanton, Mix it Up! by Herve Tullet, and the adorable elephant who stars in Little Elliot, Big City by Mike Curato. We also highly recommend The Princess in Black by Shannon Hale from their list for kids age 6-8–my own daughter is addicted to this one.
We're hearing great things about the NYT choice for 9-12 year olds: The Fourteenth Goldfish by Jennifer Holm, a warm and funny book about an 11-year-old girl who explores science, friendship and immortality when she investigates whether the pimply boy from her class could actually be her grandfather, who may have found the secret of eternal youth. Meanwhile, our kids are tearing through the Heroes of Olympus series by Rick Riordan and, of course, Timmy Failure by Stephan Pastis.
Reading through BrainPickings's list of the best books of the year, you'll see a lot of new books here that aren't mentioned on other lists. She's sorted through the bestsellers and the critical favorites and found some really beautifully illustrated books with wonderful stories for our kids. This is a great place to look for some fresh, new ideas with a strong literary bent.
Their list includes some books we've loved this year too, like Sophie Blackall's The Baby Tree (ages 5+) and Maira Kalman's Ah Ha to Zig Zag (ages 4+). But there are others here that we can't wait to pick up and read to our kids, like Larry and Friends written by Nat Jasper and illustrated beautifully by Carla Torres. It started as a Kickstarter campaign and is now an incredible collection of images celebrating immigration and diversity, which we need more of in kids' books. (ages 7+)
The gentle The Lion and the Bird by Marianne Dubuc looks like a lovely story for bedtime. The calm compassion that emanates from these illustrations will make my kids feel warm and safe, while learning that real power is caring for others. So sweet. (ages 4+)
And in contrast, Wild by Emily Hughes is the story of a baby girl raised by wild animals. Humans find her and try to make her civilized, but it just doesn't take. (ages 3+)
Goodreads is a reader-driven site where people like you and me can post reviews of the books we're reading and keep bookshelves of those we plan to pick up next. They have young adult fiction, young adult fantasy, middle grade and children's, and picture book categories that readers voted on to choose their best. This collection captures the opinion of 3.3 million everyday readers, not just the literary critics and publishing experts other lists rely on.
We Were Liars by E. Lockhart is their YA winner this year, and it looks really fascinating and suspenseful. The story of four privileged friends, a revolution, a secret, and a crazy surprising ending (they say). This one is going on my to-read list (ages 13+).
Like Amazon, they ranked Pigeon Needs a Bath by Mo Willems their top picture book, but we're also excited about all the buzz around The Book With No Pictures by The Office's B. J. Novak. True to its title, it has no illustrations. But if you read with lots of energy, you'll keep even your youngest listeners captivated. For inspiration, watch B. J. read it to a group of kids. (ages 3+)
NPR is my connection to the real-world outside of carpool and the kids' basketball practices, and I almost always choose the next novel I'll read myself from their recommendations. So it only makes sense that they'd have great taste in kids books too. It's fun to see that they also loved The Odd One Out by Britta Teckentrup (ages 2+) and You Are (Not) Small by Anna King and Christopher Weyant (ages 2+), two of my kids' favorites.
Gaston by Kelli DiPucchio and Christian Robinson has been on many of these best-of lists, and it's the book I bought for my four-year-old animal-loving son this Christmas because the illustrations and story of the out-of-place French bulldog were so charming. (ages 4+)
In the picture book The Adventures of Beekle: The Unimaginary Friend by Dan Santat, Beekle is patiently waiting for a child to choose him as an imaginary friend. This book looks so fun and whimsical, I just might have to order it too. (ages 3+)
Not exactly a best-of list, the fun graphic flow charts from We Need Diverse Books help us find just what we're looking for when picking a book.
This chart covers their recommendations for YA books, and they have similar ones for middle readers and picture books. They are a grassroots group that focuses on books with characters that embrace diversity, with the belief that acceptance will follow. We're raising our glasses to that.
When you finish all these wonderful stories, you can catch up on our Best Books of 2013 lists too.