As busy mamas, we admit we don't always find the time to shop for ourselves. As we've heard more and more about Stitch Fix from friends posting photos of themselves in cute outfits from the online shopping service on social media, we've grown intrigued. We also had heard some controversy about the style choices, the return policies, and the mark-ups on the items they send, so we wondered whether paying fees for a service like Stitch Fix is worth it.
So we thought it would be helpful for our readers to have two of our editors, each with different tastes and different lifestyles, try it out for review.
We didn't work with the company, nor did they know our editors were involved in trying this. No special treatment, no extra special little press goodies. Just the real deal, the same way any customer would experience the service.
So where did Delilah and Christina come out on Stitch Fix? You might be surprised.
This post may contain affiliate links
STITCH FIX: THE OVERVIEW
Stitch Fix is essentially a virtual personal shopping service, and the way it works pretty simple: After you fill out a style questionnaire (you can also set up a Pinterest board of favorite looks to add to it), you have an "assigned stylist" who will personally pick out articles of clothing and accessories based on your personal preferences, sizing, and prices you want to spend. Kind of like True & Co for lingerie, Rock Box for jewelry.
Every few weeks, you'll receive five items neatly packaged in a box, along with nicely made "styling cards" that feature tips to help you make the most of each item. After trying everything on, you pick what you love, pay for those items, and send back what you don't — but you only have three days to do it or you're charged for the entire shipment.
(Anyone remember Columbia Record and Tape club?)
You also pay a $20 styling charge for each shipment, however it's credited back to you if you purchase any of the items in this box. However if you send the entire box back, you're out $20. On the other hand, you save 25% if you purchase all five items.
The service is currently available for women in sizes 0-14 including petite sizes, plus they just added maternity clothing earlier this year.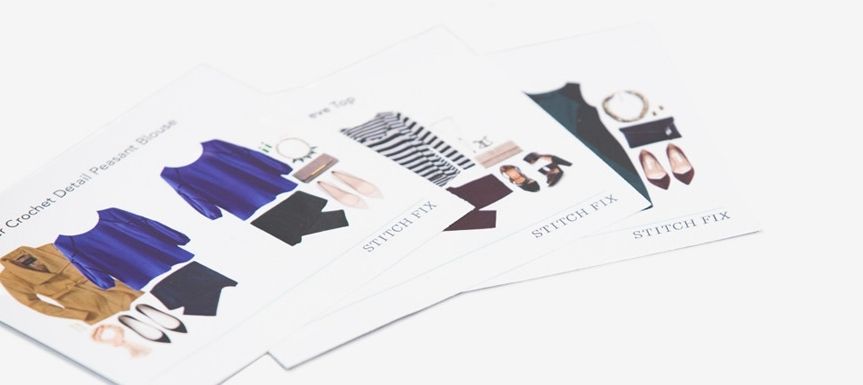 So, can a stranger "stylist" really pick out clothes for us that we are going to love enough (and that will fit well enough!) for us to buy? And what is the quality of the clothes they send?
Delilah's experience with Stitch Fix
Delilah: I have always had trouble with style, but now that I'm a professional writer who does speaking gigs, it's even harder to find clothes that fit my Mom Bod and still express my edgier style. And it doesn't help that I live in the mountains, 37 miles from the closest Target or outlet mall. You can see how Stitch Fix could potentially be the answer to my prayers.
Let me tell you–unwrapping that box felt like Christmas. I told Stitch Fix that my style is "goth boho cowboy" and that I'm an author who has a lot of speaking gigs but wants to look cool. How is that for a torture test?
They sent me two tops, a maxi dress, a pair of jeans, and a statement necklace.
I kept all five pieces.
Seriously, I was amazed at how well they nailed my style and fit. One of the dresses is as comfy as pajamas and can be styled so many different ways; and I love that the cut-outs in back show off my tattoo… but not my bra, a detail I was pretty explicit about.
"This just in": A popular feature on the Stitch Fix Instagram to help you request specific items.
This necklace from ethically made, fair trade Soko jewelry
Are there negatives? Of course. I think the pricing is high unless you buy the entire box and get that 25% discount. You're definitely paying for the service and convenience. In my style profile, when they asked how much I wanted to spend, my answer was "As little as possible," which leads me to believe that wow, other options for women with other budgets can get really expensive, maybe beyond their expectations.
Also, one of my two tops, which I was really looking forward to wearing to a conference this week, turns out to have been sent to me with a torn seam I didn't catch at first, so I sent it back for an exchange. Now they were super responsive, so props to customer service, but it did mean I had to wait another week before I could wear that awesome top and I may have been incredibly lucky that they even had another one in my size still available.
Other pluses for me: I like that you can provide very specific feedback on each individual piece– why it worked, why it didn't, if it fit weird — which will help them make better choices for your next box. It's also very easy to return the picks you don't want with an online form and the enclosed, postage-paid bag you receive.
Just know that if you are the type who sucks with returns, you're going to be charged for the entire cost of the box if you don't have it postmarked three days business days after receipt.  So this may not be so great if you travel a lot, or if you're a full-time working mom with extremely limited time to build post office runs into your workday.
I admit I've seen a wide range of feelings about Stitch Fix on my Twitter and Facebook networks, so this clearly isn't for everyone. But I've got to say: I loved it, and I'll definitely get more boxes in the future.
The stylist's ideas have helped me get out of my jeans-and-a-tee rut and opened me up to new styles, brands and colors that I wouldn't have previously thought to choose for myself. If nothing else, a single great-fitting pair of jeans (especially after having kids) is worth its weight in gold, and I didn't have to set foot in a single fitting room.
Delilah loving her Lady Loki dress from Stitch Fix
Christina's experience with Stitch Fix
Christina: Unlike Delilah, I'm not as geographically challenged when it comes to finding stores near my home in a Boston suburb, but as a working and homeschooling mama whose kids also do a lot of extra-curricular activities, I struggle to find the time to go shopping for myself. Instead I've fallen into a bit of a style rut, wearing a very simple look nearly every day of the year, consisting of simple jeans/shorts plus solid colored top.
Oh, and a lot of gray which is pretty forgiving around a forever-shedding black lab.
My hope was that Stitch Fix would help me add a little excitement to my wardrobe, like some patterns, skirts, and even — gasp — color.
Stitch Fix colorful handbags available for fall, via Instagram
The problem I discovered almost immediately upon opening my first box is that I'm also incredibly picky, with a list of likes and dislikes a mile long. Cap sleeves? No way. V-neck? Yes, but only if it's the exact right V and not too low. I want patterns, but not that pattern. And while I like fun wardrobe pieces,
I'm also practical; there's no way I'm going to be able to keep a $68 pair of light blue linen shorts looking fresh, clean and pressed while caring for three kids and a dog.
Unfortunately, I sent back everything in my Stitch Fix box except for one statement necklace. And I'll be honest, I hung onto it mainly because I didn't want to lose my $20 styling fee entirely and pay for nothing.
It's very possible I may not have been explicit enough in my instructions, so I fine-tuned my input for a second round. I wish I were cool enough to be able to specify a look like "goth boho cowboy" like Delilah! But, I'm not. So I did my best, the way I think most of us would do.
While box #2 came closer to my style — in fact, one sweater was impressively almost identical to one I have in my closet —  either the colors or the fit were just off for me, and wow, the prices were so much higher than what I would pay for a similar item in the store.
Plus, maybe it's because I just konmaried my closet, but  I refuse to keep anything that won't "spark joy" in my life right now. Especially when I am paying for it.
I sent all five items back, forfeiting my entire $20 fee. I figured while psychologically, no one wants to do that and feel like they've lost money on the service, I also don't want to pay $65 for a sweater that I don't need because I already own its identical cousin once removed.
Related: The Konmari Method: Does it work for families?
Stitch Fix offers easy returns. Maybe too easy, if you hate everything

At this point, my Stitch Fix account is on hold as I reassess, but I really am skeptical.
Perhaps I'll give the service another shot this winter when I need some cold-weather pieces to jazz up my jeans and v-neck uniform. It's hard to resist the feeling that maybe this time, I'll get a box filled with clothes I love.
But honestly, for me, I think the solution is to periodically schedule in a quick seasonal shopping trip to freshen up my wardrobe by picking out the things I like…all by myself.  There's no benefit in paying a fee to receive things I don't like, then remember to race to the post office within three days to return them.
Or, maybe I'm just the kind of person who knows what I want and what I look good wearing, and no one else is going to be able to pick stuff for me.
That is, with the exception of Liz and Kristen who somehow always seem to manage to get me some awesome accessory or handbag each holiday, which I love. Maybe they need to be Stitch Fix stylists?
Metaphorical representation of Christina, still wearing gray, still searching for the perfect new clothes
The CMP Stitch Fix Verdict
We think as with any personal shopping service, Stitch Fix is hit or miss. There are just so many variables.
It could be great if you're the type with a clear idea about what you like and what looks good on you, provided you can describe it accurately. While the average item is $55, you have to accept that you're paying a markup for the clothing and fees for the service; and you might be better off if you're actually spending more and looking for higher end stuff. That's when a $20 fee is relatively not quite such a loss.
If you really have no time to shop for yourself — even online — or you don't live near the kinds of boutiques that sell what you love, this could be a great option for you. Also, if you can afford the time that it may take for stylists to "get" your style after lots of feedback, you may end up with some really fantastic items. Plus, let's be honest, moms are busy, and it's kind of nice to have someone else do the work for you, especially if they're nailing your style.
On the other hand, if you're picky about what you wear, if you have a body that's hard to fit, or you really enjoy the experience of selecting your own items, you're probably better off finding other options. It's exciting and fun to receive a whole outfit that you would not have picked out for yourself and love it!
Just keep in mind that so many online retailers offer fantastic return policies coupled with huge discounts; it might be easier just to pick out five items from Zappos or Target or Nordstrom or TJ Maxx (online if you're too busy to go to a store) then return what you don't like yourself.
You may not get the postage-paid return label or the "surprise and delight" experience of opening a box containing who-knows-what; but you do have weeks (or sometimes months) to make returns — three days from Stitch Fix is pretty fast! — and you can probably save money yourself just by carefully combing the virtual sales racks, and not being tempted to keep an item you don't need just so you don't lose an extra $20 in the process.
Again, psychology.
Check out Stitch Fix to see if this online shopping service is a good fit (ha) for you.  If you have questions  leave them below and we'd be happy to answer them based on our own experiences.