Have your kids been slacking on their daily chores lately? Or really, have you been slacking on enforcing them? First, give yourself a break; summer just unofficially ended. Second, I've got help for you: download one of these cool printable chore charts for kids. They will help.
I find this time of year is perfect to introduce (or reintroduce, as the case may be) daily chores and tasks, as kids are in adjustment mode. The new school year means new routines — at home, at school, and on the field.  And yes, even toddlers and preschoolers can be tasked with daily chores. Kids that age actually love helping out, and an illustrated chore chart they can adorn with check marks or stickers or scribbles is an easy way to encourage their participation.
For older kids, printable chore charts might not motivate so much as remind them of what needs to get done and when. Which is fine, as long as the result is still a clean house.
As for whether you should pay kids for chores or not? Check out Kristen and Liz's recent discussion about whether you should you pay your kids for chores which is very helpful — but also entertaining!
Related: Free labor! A helpful guide to chores for kids by age
TODDLER-APPROVED CHORE CHART DESIGNS
I wish could create a beautifully designed chore chart for my kids, but since I have no graphic design skills whatsoever, I'll be downloading this free printable chore chart from Dandee Designs instead. Designed by a mom for her toddlers, this free download features the basic daily tasks that kids under four can do with minimal assistance — making the bed, getting dressed, setting the table (or clearing the dishes), brushing teeth, and putting away toys. Because not being able to read shouldn't be an excuse for skipping out on chores.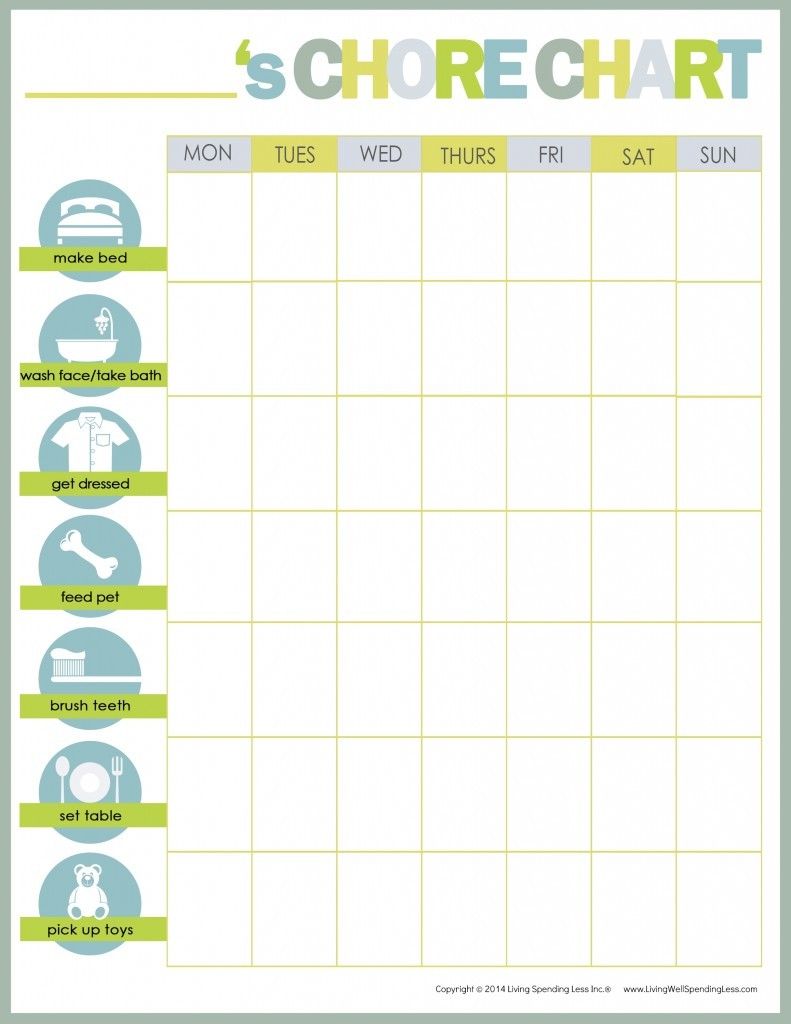 For little kids just learning how to read, here's another free printable chore chart for kids from Living Well Spending Less, which combines simple graphics with text and includes space to add your child's name. It also has a row for feeding the dog, so if you don't have a family pet (or if your pet is a goldfish), this may not be the most perfect chore chart for your family. Aesthetically-speaking, leaving it blank would totally bug me, although I doubt my kids would care.
Or hey, maybe you can put a patch over "feed pet" and write in "finish dinner." It kind of works with that bone illustration.
Related: A free printable chore chart for preschoolers too young to read.
CHORE CHARTS WITH KID-FRIENDLY ILLUSTRATIONS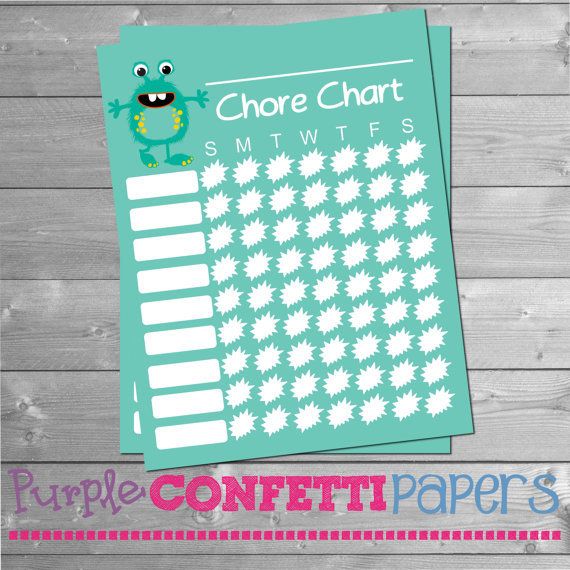 If cartoon monsters, aliens, snails, or flowers might be enough to motivate your kids to tackle their daily tasks, head over to Purple Confetti Papers on Etsy to purchase a $5 printable chore chart. The illustrations are cute without being too cutesy, and the colorful backgrounds are sure to catch a little one's attention.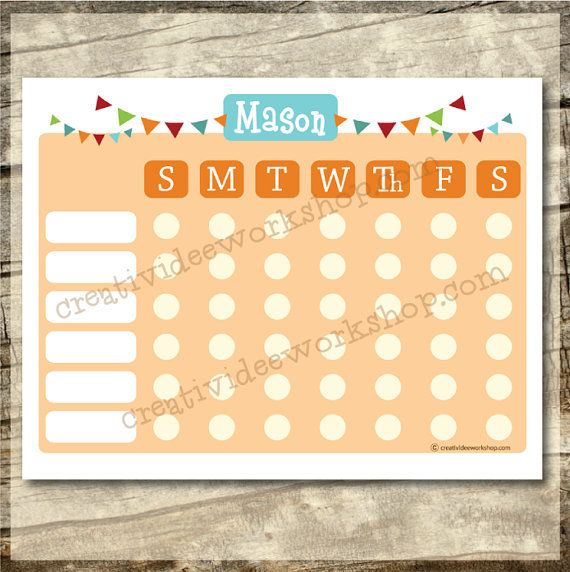 If I were going to laminate any of these printable chore charts, I'd probably chose this bunting banner design from Etsy simply because you can personalize it. Besides adding your child's name, CreativiDee Workshop will include up to six chores that you can specify all for $6.50 a pop. Or leave it blank, and just change it up every time your kid is ready to take on bigger responsibilities.
Related: 15 of the coolest back to school printables: Back to School Guide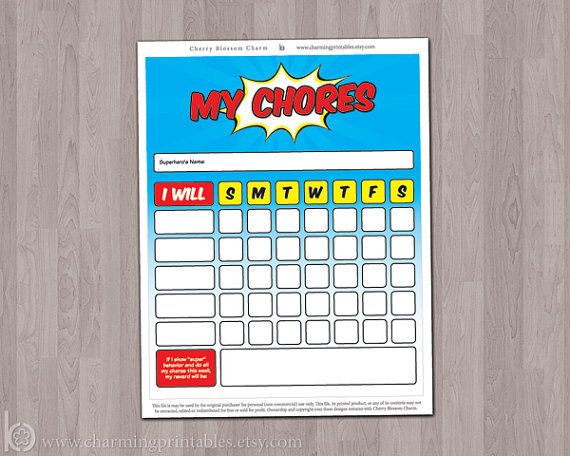 Yes, even superheroes have to do chores. Superman, Batman, and Wonder Woman wannabes will get a kick out of checking off their daily tasks on this comic-inspired printable superhero chore chart. And if you're so inclined, there's even blank space on the bottom to jot down a reward for a job well done.
If Rifle Paper Co., one of our favorite stationery brands, designed a chore chart for the elementary-age crowd, it might look something like this weekly jobs printable chart. Adorned with illustrated flowers that remind me of Anna Bond's color palette (but not so close that it feels like a knock-off, which we hate), this darling design has room for just the basic — or most important — chores. I can totally picture myself as a little girl wanting to hang this in my bedroom.
CHORE CHARTS FOR OLDER KIDS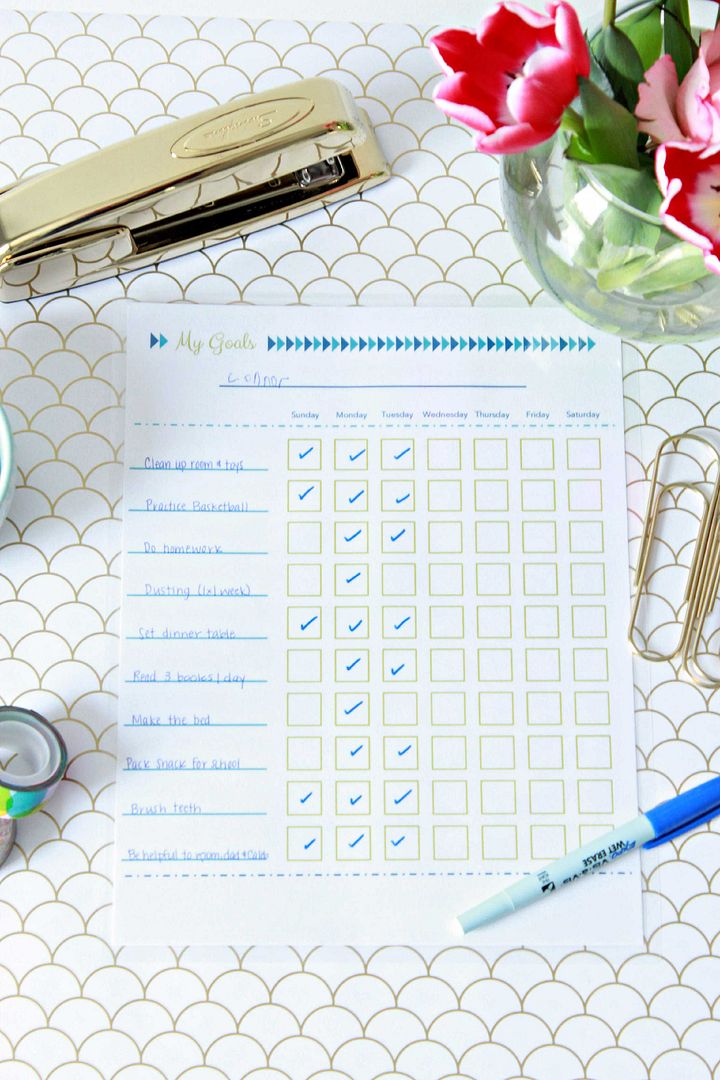 Older kids can handle more responsibilities than their younger siblings — if only they can remember what you asked them to do. An unfussy printable chore chart like this one from Just A Girl And Her Blog with triangle accents can help keep your teens on task, so to speak.
Related: The Design Mom book: How to live with kids and still love your home.
Admittedly, eleven daily chores sounds like a lot to me, but I'm pretty lazy. If your kid is super helpful around the house, or if you've got 11 chores to divide among multiple kids, you'll want to download this free printable chore chart to keep track of day-to-day responsibilities.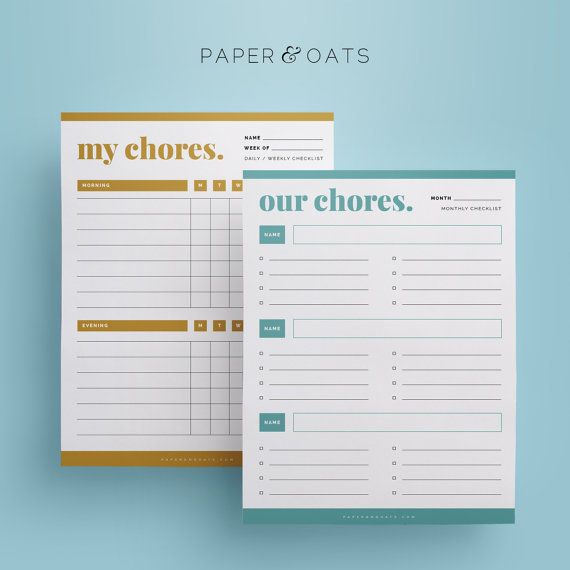 This is why I love Etsy: For $5, you can download an entire pack of editable printable chore charts and goal trackers, including these daily/weekly and monthly chore charts. If you're even somewhat savvy with Adobe Acrobat, Adobe Reader, or Preview, you can personalize the kit for each of your kids easily. High schoolers will appreciate their simplified design, or I'd even print out copies for myself. 
A CHORE CHART FOR WEEKDAYS ONLY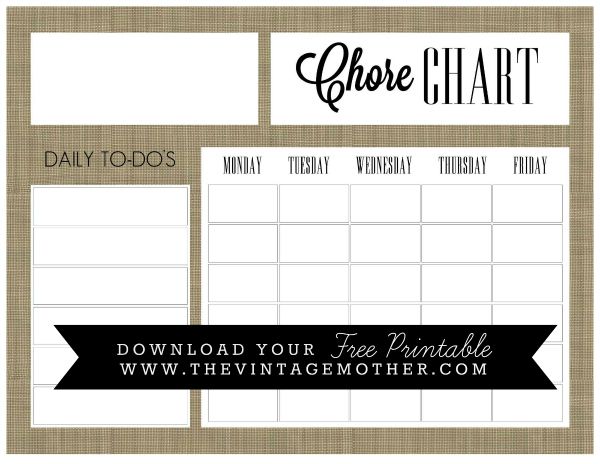 If your kids have certain weekday tasks — say, making their lunches — that they don't have to complete on the weekends, consider printing this free Monday-through-Friday chore chart. Separating the school-related from the everyday chores might make your children's responsibilities seem more manageable, and as parents, we should do our best to set them up for success. Even with something as small as a chore chart. And hey we all deserve a rest on the weekends, right?