We imagine a whole lot of parents out there are starting to plan some amazing Star Wars birthday parties and are going to be looking for some creative, cool ideas. After all, in just a few months, Star Wars VII: The Force Awakens will be released and a whole new generation will get the thrill of seeing their first Star Wars film on the big screen. Get ready for the onslaught of Star Wars toys and gifts and food and everything else under the sun. Or is that, under the suns?
#tatooinereference
So if you need a little assistance in planning the best Star Wars birthday party for your kids, we've pulled together a whole lot of Cool Star Wars party ideas -- more than 40, in fact -- that even us Humans can do. Or not do. As we all know, there is no try.
-Christina and Liz
Related: Where is Rey? We found 19 of the coolest Rey toys + gifts for Force Awakens fans.
Star Wars Birthday Party Invitations
If you're handing out invitations around the neighborhood, you could always attach a little tag to a lightsaber toy to hand out, or check out what Melissa Lester of A Little Loveliness did! We're impressed by her DIY Star Wars lightsaber invitations, and she's got some great DIY tips on her site, though you can make them as simple or as detailed as you'd like. You just may want to warn parents to jot down the party details before their kids take them into battle.
We think you'll also blow kids' minds before the party even begins if you send out these amazing Lightsaber Star Wars Party Invitations we found at Invites by Crystal. With custom copy printed on the retractable cardstock lightsaber, they also come with yellow envelope for mailing.

If you're sending digital invitations, Punchbowl has a series of Star Wars Rebels online invitations that you can personalize and customize. There are six designs, but we love the Stormtrooper best. And best of all, they're totally free! You can upload a photo with a Plus membership but...you know. The free one is pretty great.
We totally love the idea of these movie ticket birthday party invitations! Unfortunately we can't find the original source for these (grrr...scrapers) so if it's you? Let us know, because we don't like featuring items without proper credit. In the meanwhile, similar printable Star Wars movie ticket invitations that you can customize are available from Twenty Toes Designs, or Michelle Tera 90 who offers 12 different designs. Or if you're handy with design, try and make your own. (Fortunately that's not on the Jedi parent test or we'd fail.)
For younger kids, we like these kinder, gentler kawaii Star Wars birthday party invitations from Kawaii Kids Designs. Just the right touch of adorable to let the little guests know that they come in peace. Just send in your info, and a customized printable file will be sent back so that you can print out a few -- or enough for the entire galaxy.
Related: Super cool May the Fourth Star Wars party ideas
It should definitely not be so hard to find cool Princess Leia party invitations, considering our girls are totally into Star Wars too. But Chewie, Darth, and Yoda seem to get a whole lot of the love. That's why we are digging these cool printable invitations from Etsy's Paper Willow Designs, which you can edit yourself to fill in the details for your little Princess of Alderaan. Or New Jersey. Wherever, really.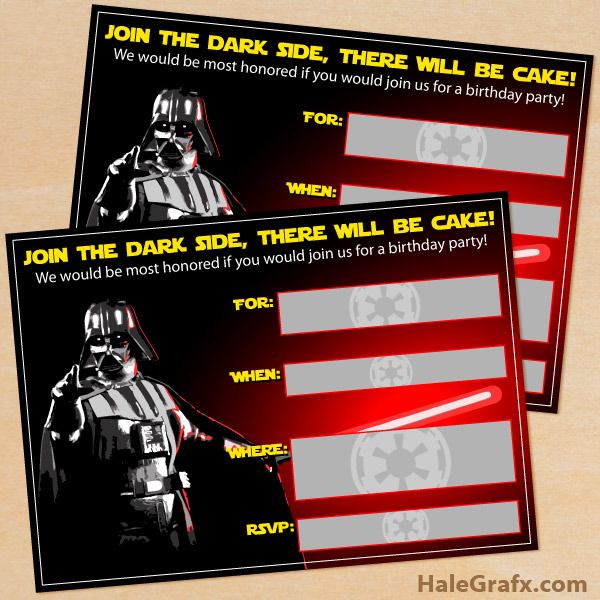 I am laughing at the headline: Join the dark side, there will be cake!  If you want just a simple, printable Darth Vader birthday party invitation, we've found a nice clean design from HaleGrafx that lets you add in your own party detail in pen, or do it right on the PDF file before you print. Just make sure you have plenty of cake on hand when the guests arrive or you may find yourself dealing with a rebellion.


For something totally different, check out the digital service offered by StarWarsIntro.com. How cool would it be for your guests to receive an email, then open a cinematically produced invitation that scrolls on screen to mimic the original Star Wars title sequence, complete with John Williams' theme song.  We suggest you go for the $35 custom flash version which is truly impressive. You can email your guests, view it on mobile devices, even upload to YouTube and send the private link out. Wow.
Related: The coolest Minion party ideas for kids
DIY Star Wars Birthday Party Decorations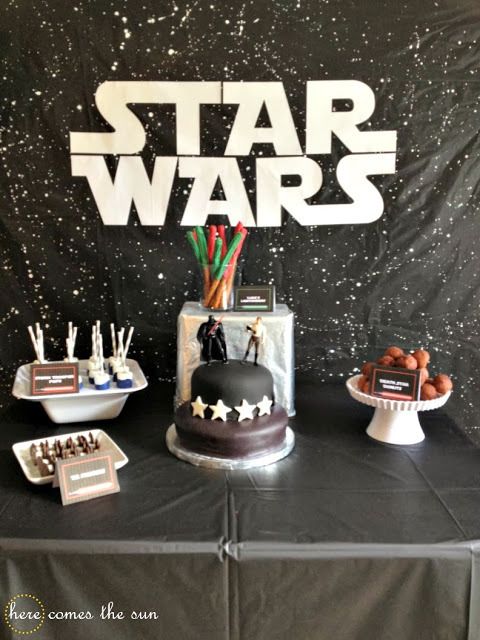 Most of us do not have the time, energy, or money to completely redo a room to suit a Star Wars theme, which is why I love the simplest ideas that make big impressions. Here Comes the Sun creates a cool DIY Star Wars party outer space backdrop with just a black plastic tablecloth and white paint splatters for stars. So smart and easy! Check out her instructions for the backdrop, which looks great behind the dessert table, or hang it as a photobooth backdrop for your Jedis-in-training to pose in front of, looking fierce of course.
Related: How to make your own photobooth on your laptop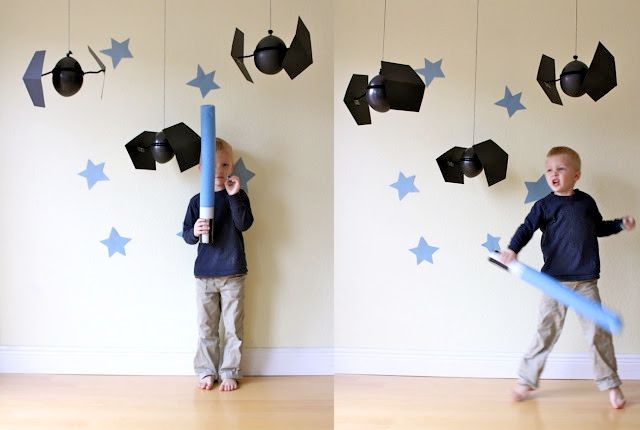 These super-easy DIY Balloon Star Wars Tie Fighters from Dana Made will look awesome hanging from the ceiling. Her instructions are for making Darth Vader's fleet, though with the slight modification she offers, you can also create some to support the Rebel Alliance. Either way, they're bound to make a big impact without costing a fortune. Whether you hang them low enough for kids to whack them, that's up to you.
I love using a simple color scheme to tie everything together ,as Michelle from BKreativeDesigns has done with her Star Wars birthday party decor. Blues and greens against a simple white tablecloth look amazing, and no need to buy loads of licensed Star Wars party decor from a party store this way. A few of the printables and ideas here and a couple of bright colors actually do the job quite nicely.
We're not responsible for any battles that break out when your kids sit down at their plates and see these super clever DIY Star Wars lightsaber napkin rings. There's a printable file and tutorial at Catch My Party, which doesn't take a lot of crafting skills or supplies to pull these together either.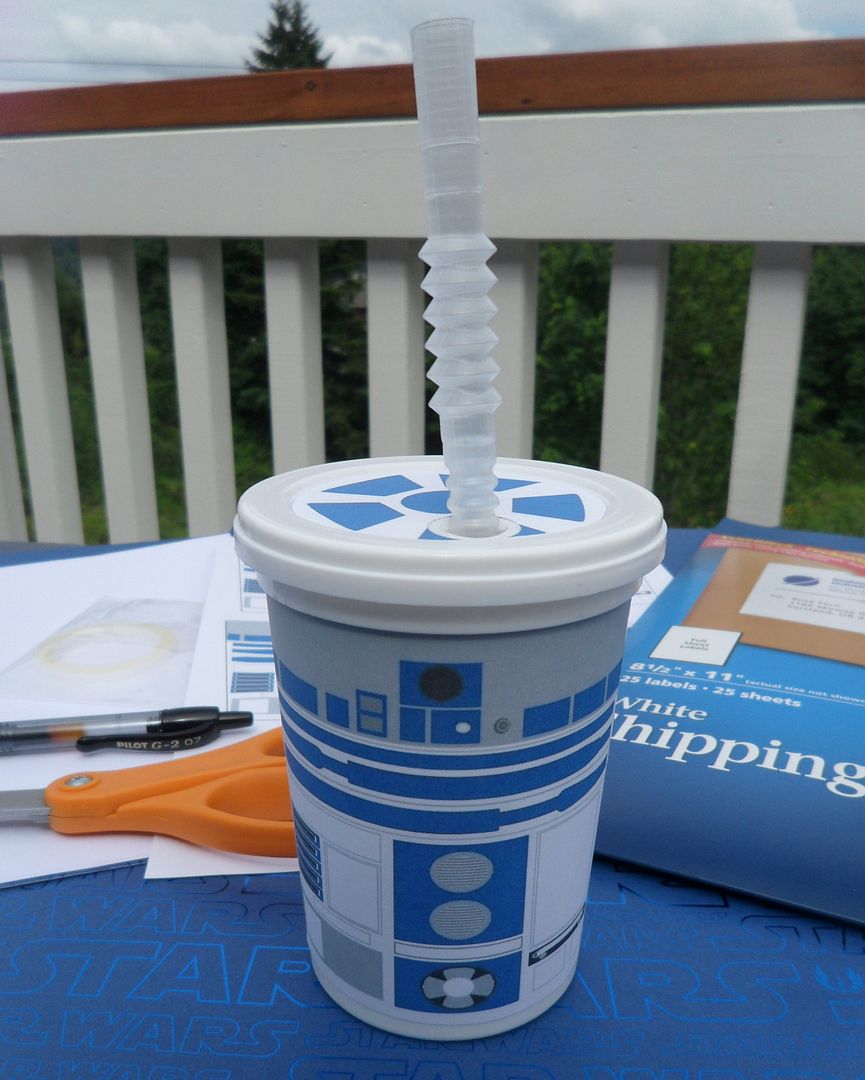 This is the droid we are looking for, especially when it's on all of our party guests' cups. There's a free printable and tutorial for R2D2 party cups at Catch My Party, though it may take a wee bit of time to pull together. But the finished cups are so cute, each child is sure to keep an eye on their own so they don't lose it. Or then again, there's always Sharpies. They existed a long time ago in a galaxy far, far away, right?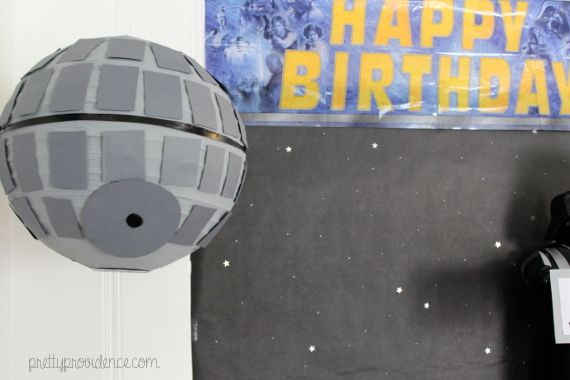 It wouldn't be a Star Wars party without the Death Star somewhere on the scene.  I love how Pretty Providence transforms a paper lantern into a DIY Death Star decoration with some spray paint and construction paper. Scroll through her photos to see how she uses other paper lanterns to make planets and a black tie fighter too. At only around $5 for eight lanterns, this is an affordable way to add some Star Wars authenticity to even minimalist decor. After the party, your child may even want you to hang these in his or her room -- or you can send one home with each guest.
Star Wars Birthday Party Activities
Make Star Wars ID badges
When kids walk in, start out the festivities by letting them fill in their own info in these free printable Star Wars ID badges courtesy of Libbie Grove. They can even color in Yoda and we won't even complain if he's purple or yellow or blue. Jedis get points for creativity, right?

If your guests don't already come dressed as their favorite Star Wars characters, make sure you have plenty of fun masks on hand to encourage their silly side. I like Etsy's Amazing Party Shop which features downloadable Star Wars character masks so you can print out as many as you'll need for your party guests. Make sure you go through their shop to see the great selection of Star Wars characters they have. And by the way, you can also use these as invitations by just writing all the info on the back. Kinda cool.
Design Jedi training challenges
Young Jedi hopefuls can compete in an obstacle course as they try to make it through "Jedi Academy Training" in your backyard or home. We love the ideas for Star Wars Jedi training party activities at Kara's Creative Place which include a tricky laser beam challenge in a hallway, and even a game of lightsaber baseball safe enough to play indoors.
Make your own lightsabers
Soft lightsabers made from either pool noodles or pipe insulation found at the hardware store make both a great craft project for the kids as well as an energy-burning activity as they harmlessly whack each other. At my son's party, we simply put out rolls of red, green and bright blue duct tape along with safety scissors, and let the kids design their own lightsaber, as seen here. It was a great craft while they waited for the rest of the guests to arrive, and since each one was unique, it was easy for them to claim them at the end of the party.
Related: 10 birthday party craft ideas that can double as party favors
Make an easy Star Wars pinata
Admittedly low on detail, the Death Star Piñata I made for my son's sixth birthday was so easy to create. I started with a basic store-bought piñata, colored it gray with spray paint, then simply affixed a small tin pie plate to represent the indented circle. If you're a purist, you can add black lines in Sharpie. Though my version won't win any design awards, the kids loved it.  My feeling is, why spend more than a few minutes on a piñata that will be hacked to pieces in no time at all? It's really all about the candy inside anyway.
Star Wars coloring pages and activities
We love the fun Star Wars coloring pages from Becka Doodles on Etsy. ItSos cartoony and fun, and just $3 for the PDF so you can print a ton of them. She has lots of adorable designs including Leia and Han in the carbonite chamber, the droids, Yoda riding a Bantha and the whole Galaxy.
Also, leave it to Disney (the Star Wars overlord) to have tons of official printables and coloring pages on their site, to spare you from the coloring page websites that are filled with malware and virus warnings. Seriously, we spared you from that. Here are just a few we like:
-Draw the other half of Darth Vader free printable activity page
-Free printable R2D2 and C3PO coloring page
-Free printable Star Wars Battle Droid coloring page
-Free printable Yoda crossword puzzle
-Free printable Star Wars Jedi Training Quiz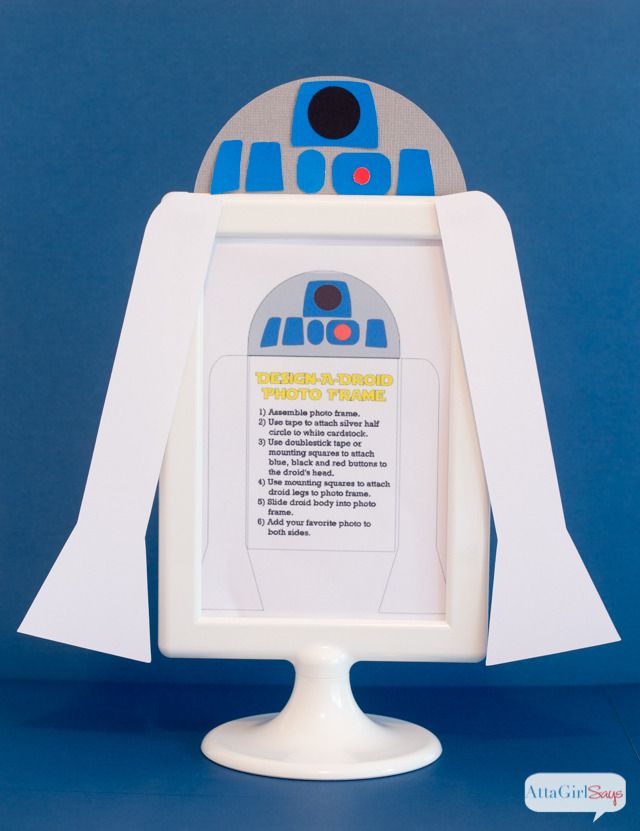 Make an R2D2 frame
I love this craft idea that older kids can make on their own: A neat DIY R2D2 frame from Atta Girl Says that uses a $.99 IKEA Tolsby frame as its base. It'll be even more special if you can send each child home with a printed picture of themselves with the birthday boy or girl too.
Make your own papercraft characters
You can find five free downloads of DIY Star Wars LEGO characters at Cubeelog, a fun craft activity for kids too old for coloring pages. You can see how they came out at this cool party at Kara's Party Ideas, where by the way, she also has some hilarious ideas for themed treat names, like The Hunger Destroyer pizza, Yoda Soda, and our favorite, Vader Tots.
Hand out Jedi Certificates
When activities are over, you can hand out Jedi Certificates, like these free printable Jedi certificates for birthday parties from Libbie Grove Design. Sometimes kids value that even more than the slice of cake.
Star Wars Birthday Party Food and Drink Ideas
Turning grapes into lightsaber kabobs is so easy, like these cool ones spotted at Bridgey Widgey. She's got the full tutorial at her site. If you've got slightly older kids this can be a fun craft for them to do themselves, or just serve one for each guest or put a whole bunch on a plate on the food table. I'd just discourage light saber battles at the table. Instead, encourage healthy snacking. Padawans need their strength.
Related: Seriously amazing but easy Star Wars recipes for parties big and small
For another healthy treat, we're still blown away by the Death Star Watermelon we first featured in our roundup of Star Wars party ideas for May the Fourth. Hope you're handy with a paring knife!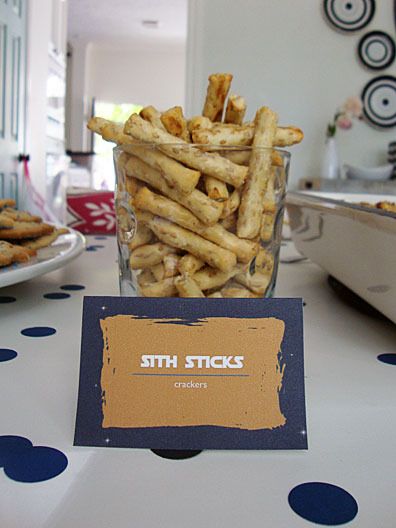 No matter what kind of Star Wars treats you decide to set out to represent X-Wing Biters, Jedi Juice, or Clone Cakes, these nicely-designed printable Star Wars Party treat labels from Libbie Grove Designs will make your snack table look super pulled together. Even nicer, all 12 labels are free for you to print out at home, so you can spend your valuable time doing important things. Like whipping up a big batch of Droid Dip.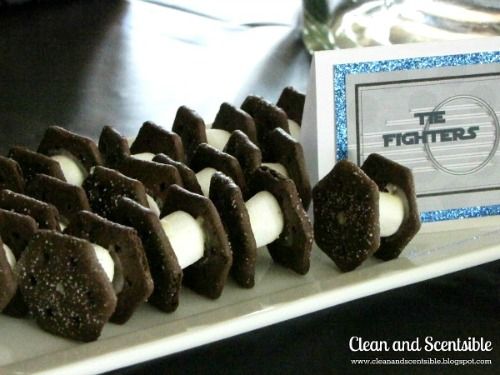 I love this Star Wars trea idea from Clean and Scentsible that turns Oreo cookie wafers and a mini marshmallow into black Tie Fighter cookie ships. I'm sure the party guests will have no problem making these fly from the serving plate right into their mouths.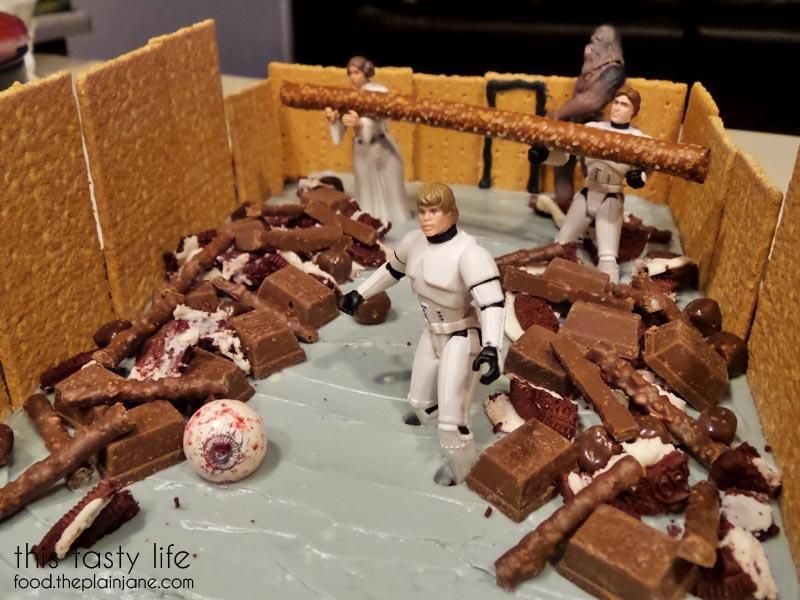 We're big fans of saving time and money by decorating your own store-bought cakes. And you don't need mad cake decorating skills to make this clever Star Wars Trash Compactor Cake for the birthday boy or girl. Though it was originally made as a Valentine's Day cake -- because nothing says love like near death in a pile of space trash -- we think it's perfectly hilarious as a birthday cake too. Check out the Plain Jane site for details on how she put this cake together.
Related: 18 easy cake decorating ideas that make a store-bought cake something super special.
If you're going with something as simple as cupcakes, make them a little more fun with some toppers. On Disney's site we found these cool free printable Star Wars cupcake toppers which are so realistic. We suggest printing out two sets -- one as is, then one with the photos reversed so you can glue them together and have the cupcake toppers be double-sided.
You can also wash off some of the many LEGO Star Wars minifigures your child probably has lying around and use them as decorations, as shown on Rust & Sunshine's graham cracker crumb covered Star Wars birthday cake. With minifigs standing on the "sand of Tatooine," the planet's two suns make an appearance too. Clever!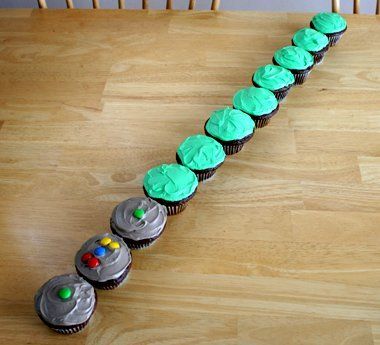 This edible cupcake lightsaber idea from Make and Takes is so easy to create and yet so perfect for a bunch of Star Wars enthusiasts! Though take it from me, you'll want to have a bowl of extra M&Ms on hand to pass out to those kids who get the top of the lightsaber and not the handle.
Related: Star Wars treats: how to make Rey's Instant Star Wars Bread
Star Wars Birthday Party Favors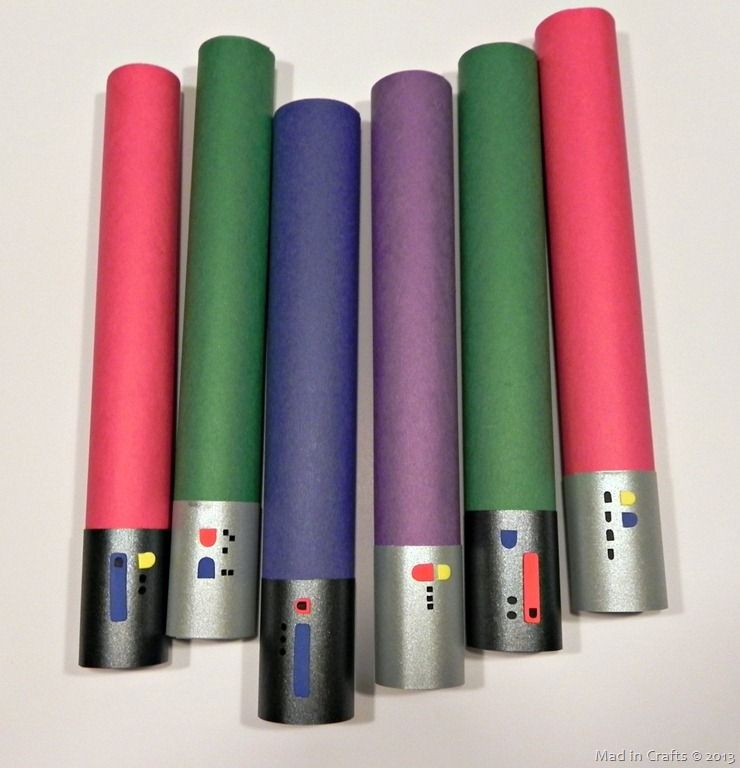 Want to turn a basic Star Wars coloring book into a favor they can't wait to get their hands on? Check out Mad In Crafts' awesome tutorial for DIY Star Wars lightsabers made from coloring books or even small comic books. This doesn't look hard to do at all; it just might take a little time depending on how many kids need party favors, so plan accordingly. We think it's worth the effort.
Little Star Wars soaps also make fun party favors. Provided you're not making your own soap at home (though if you do, more power to you), we found the cute Etsy shop Wizard at Work which features all kinds of options from X-wing fighters to Han Solo in Carbonite, to favorite characters and even this cool Millennium Falcon.
Prefer your favors to be edible? At Petite Party Studio, we found these smart candy tube lightsabers filled with green Sixlets and a printable for the handle.We think these printable lightsaber napkin wraps from Etsy's Jayne's Art would be perfect. Take a look at Petite Party though, because Rebecca through one heck of a Star Wars party for her son, and she has plenty of ideas.

You can either DIY or buy individually wrapped lightsaber pretzel treats to hand out as the Jedis head off to their next adventure. The instructions from Geek and Sundry look pretty self-explanatory. But if you'd rather buy your sweet edible lightsaber themed treats premade, check out Pretzels Please which offers their own amazing looking option. Though keep in mind that there is no Force strong enough to keep chocolate from melting on a hot day in the mail.
If you've got your own idea for little treats and trinkets, you can always wrap them up in these adorable Star Wars favor bags, handmade in Michigan by Charley's Cache. You can get seven assorted characters or pick a single character, and even personalize them any way you'd like. How do you say thanks for coming in Shryiiwook?