The house is decorated, there's candy in the pantry for trick-or-treaters, and your children's Halloween costumes have been planned for a month. Think you're set for October 31? Well, have you considered what your kids will use for Halloween treat bags?
Plastic pumpkin-shaped pumpkins and spare pillowcases from the linen closet are fine, but if you're putting in all that effort to make creative costumes for your kids, I think it's kind of nice to make their bags just as special.
Also, good way keep the kids busy when the pre-Halloween excitement hits a fevered pitch.
I'm not suggesting you splurge on some designer treat bag (if those even exist). If you can follow instructions, you can make any of these nine DIY Halloween treat bags for kids that I found, and some of them are easy enough for older children to work on themselves. No matter how much Halloween loot you anticipate your kids schlepping home, there's sure to be a perfect bag for every trick-or-treater in this roundup.
Related: 5 last-minute DIY trick-or-treat bags you can whip up at home
DIY HALLOWEEN TREAT BUCKET USING FREE PRINTABLE STICKERS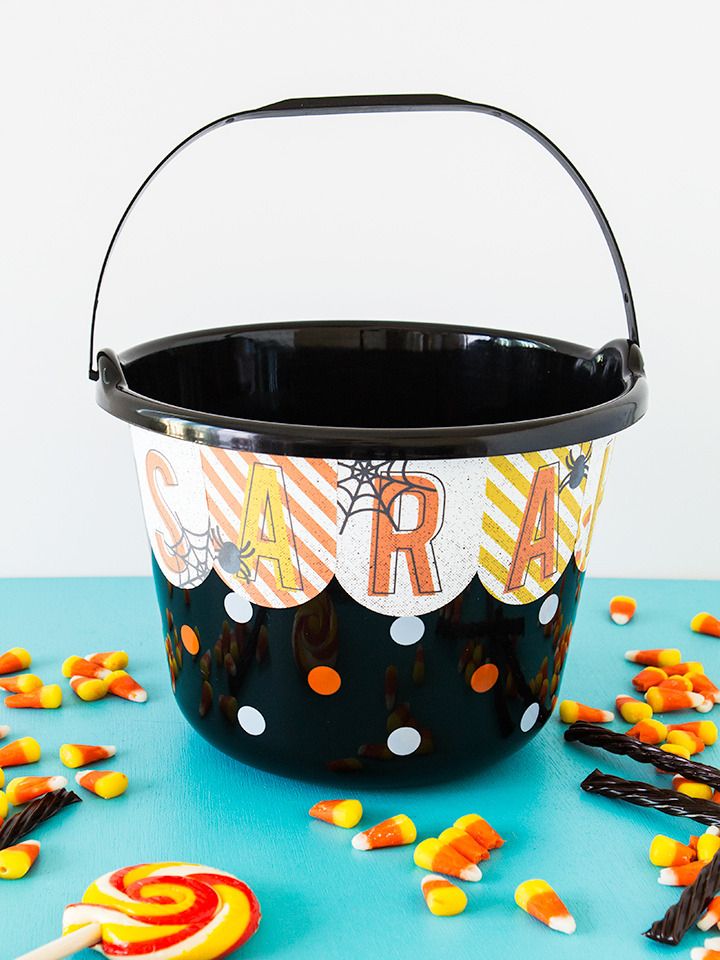 If there's one thing I've learned as a mother, it's that little kids love seeing their name on things, and these Halloween letter stickers are an easy way to customize your child's trick-or-treat bag. If you're not into personalization, you could always spell out spooky words like BOO and EEK! First, you'll need to pick up some sheets of arched labels, then download the free printable treat bag stickers on Sarah Hearts, for your plastic buckets. Sarah has tips for where to find them, and hey, there's always online.
NO-SEW DUCT TAPE HALLOWEEN TREAT BAG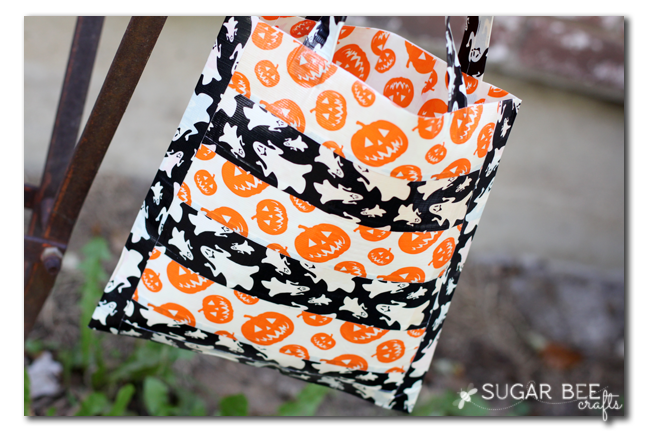 At first glance, I assumed this was one of those freebie canvas tote bags decorated with Halloween tape. Turns out, it's actually way cooler than that. This no-sew duct tape Halloween treat bag comes from Sugar Bee Crafts, and all you need for the DIY is a some colorful duct tape and a pair of super sharp scissors. I could see a group of crafty middle schoolers getting together to make their own bags, and since the tutorial is so easy, and nobody will be too bummed if the bags happened to get damaged during a wild night of trick-or-treating. As in, too much candy collecting.
A STICKY SPIDERWEB HALLOWEEN TREAT BAG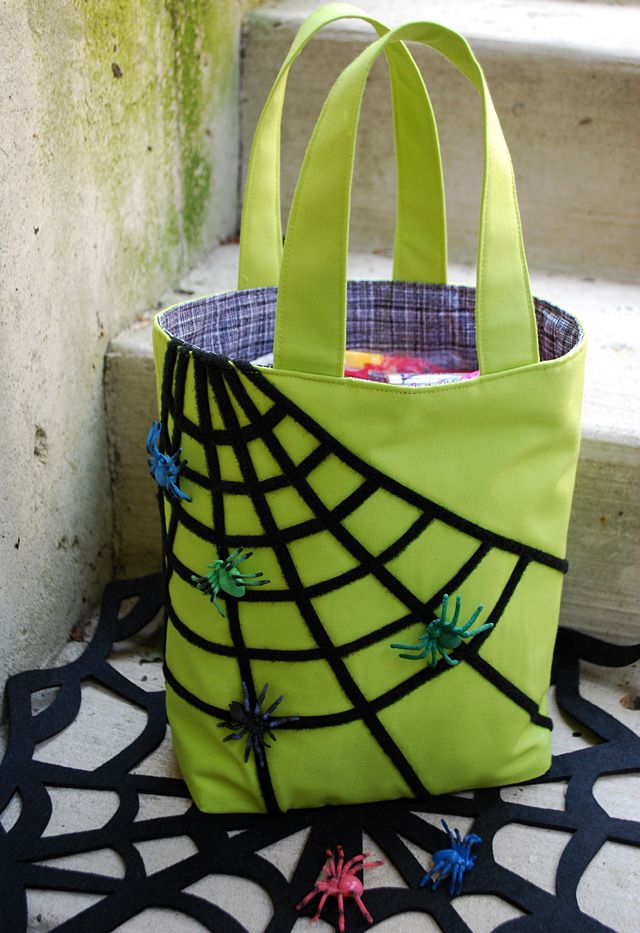 Forget the water spout; itsy bitsy spiders want candy on Halloween, and thanks to the magic of Velcro, your kids' plastic arachnids can make their way toward their Halloween loot. The full DIY spiderweb Halloween treat bag tutorial on Merriment Design starts with making the actual bag itself, but I would totally use an existing canvas bag at home, then just skip ahead to the Velcro spiderweb part. For more realistic (read: spooky) spiders, spray paint them all black and freak out the neighbors. Younger kids might prefer theirs in pink and orange.
DIY SILHOUETTE HALLOWEEN TREAT BAGS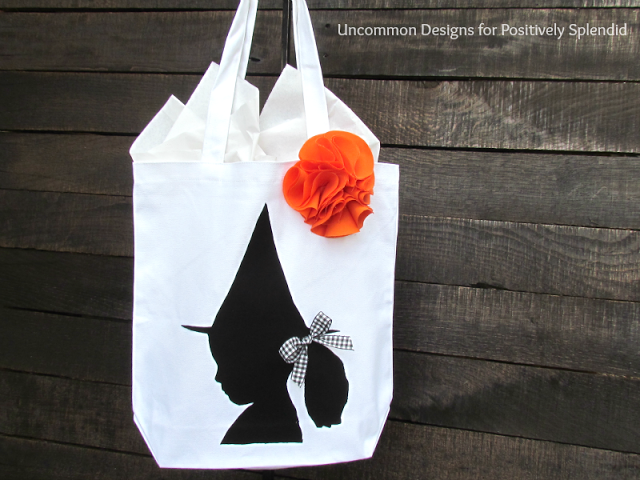 You don't need a spendy electric cutting machine to create this homemade silhouette Halloween treat bag...although admittedly having one might simplify the process. You will, however, need some iron-on adhesive and a plain tote bag, plus embellishments like ribbons or rhinestones; the tutorial at Uncommon Designs has lots of detail and really helpful hints. Since I'm more of a minimalist, I'd probably leave my kid's silhouette as is, but the properly placed hair bow on this bag  is pretty brilliant. I think this bag would make a cool keepsake long after the candy is gone — or at least until it's time to make an updated one next year.
Alternate idea: Find an image of a creepy zombie, a witch, or another Halloween character and turn that into its own silhouette if your older kids want something more cool than cute.
CUSTOM STENCILED HALLOWEEN TREAT BAGS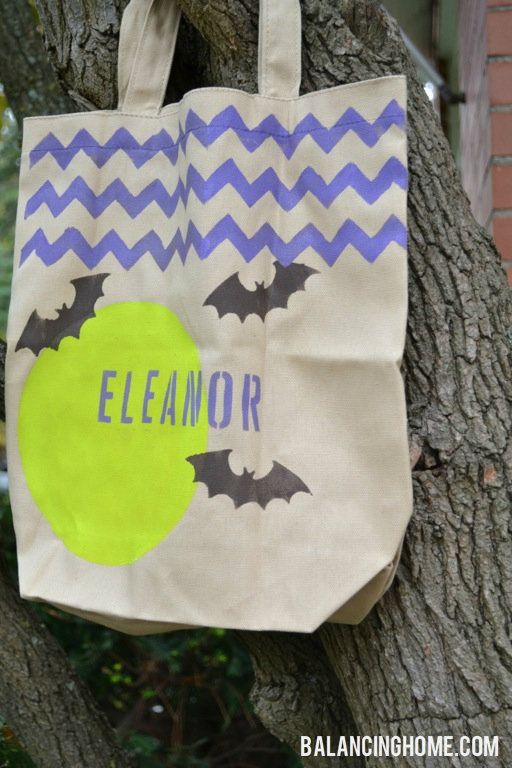 A quick trip to your local crafting store will yield everything you need for this Halloween DIY over on Balancing Home. With some stencils and paints, you can customize your child's handmade Halloween treat bag with stencils in almost any design with any color. Pink hearts with spiders? Why not! Baseball bats and flying bats? No problem. Get the older kids involved, too, letting them decorate their own treat bags. I think this would be a really cool Halloween party craft activity too.
Related: 9 easy Halloween crafts for preschoolers with just the right amount of spookiness
DIY GLOW IN THE DARK HALLOWEEN TREAT BAGS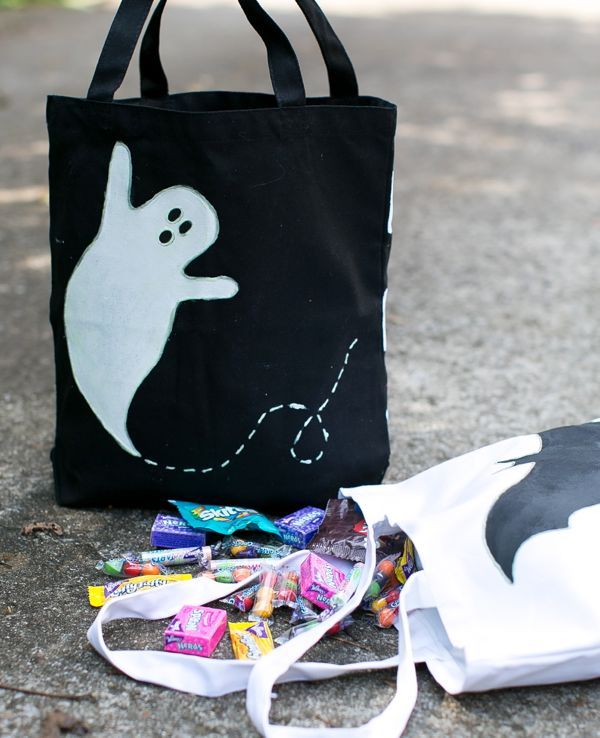 I'm not sure there's a more appropriate use for glowing paint than to decorate a bag for collecting Halloween candy. Plus, safety! Over on The Sweetest Occasion there's an easy-to-follow tutorial for turning a simple tote into DIY  glow-in-the-dark Halloween treat bag and it's so simple. The end result won't be bright enough to light your kid's way around the neighborhood — it's not a flashlight — but it will add a playful touch to any costume.
HALLOWEEN TREAT BAGS MADE FROM REUSABLE TOTES
If your entry closets look anything like ours, they're stuffed to the brim with those reusable tote bags that places like farmer's markets and local retailers loving giving away. Following The Idea Room's advice, we'll be making Halloween treat bags out of reusable totes by pasting images like a skull and crossbones to cover up any corporate logos. If your little kids need smaller bags, you can also pick up inexpensive ones at party stories or find ones intended as lunch totes. These Green Earth reusable cotton canvas bags are just 3 for $9.99 at our affiliate Amazon.
DIY MINECRAFT CREEPER BACKPACK FOR HALLOWEEN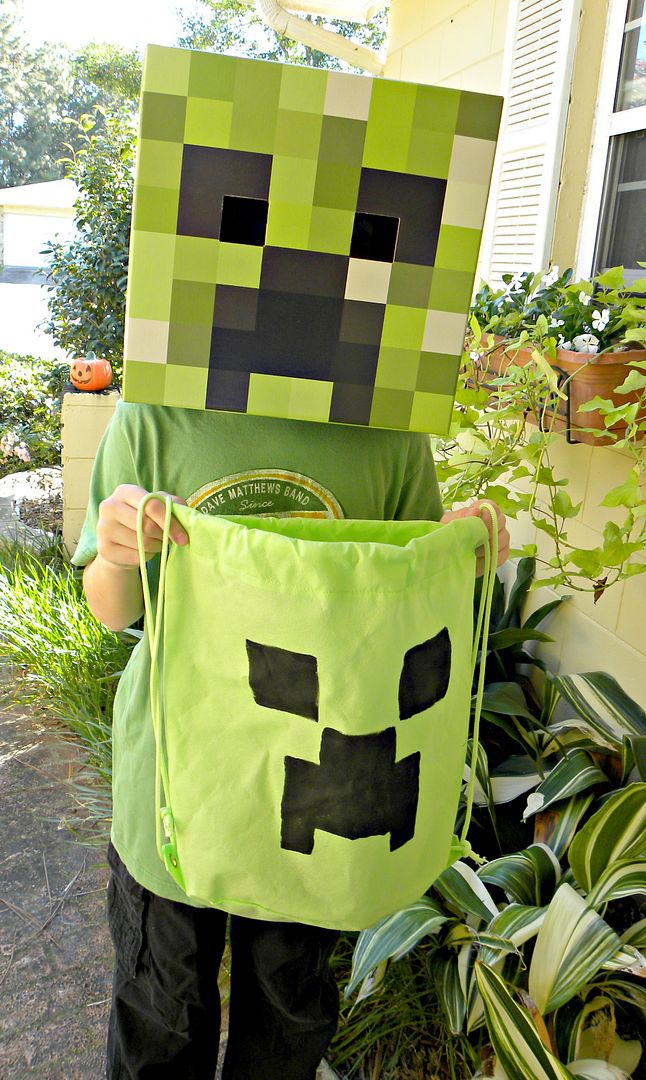 Besides being incredibly easy to DIY, the best thing about this handmade Minecraft Creeper backpack from Vinobaby's Voice is that it can be used beyond Halloween for sports, school, sleepovers, you name it. Oh, and it's super inexpensive and to make thanks to the simplicity of 8-bit design. Kerry Ann Morgan crafted seven of them for her son's birthday for less than $7.50! Just know that once some of your kids see this Halloween treat bag option, you may be stuck with this one.
TURNING A PILLOWCASE INTO A COOL HALLOWEEN TREAT BAG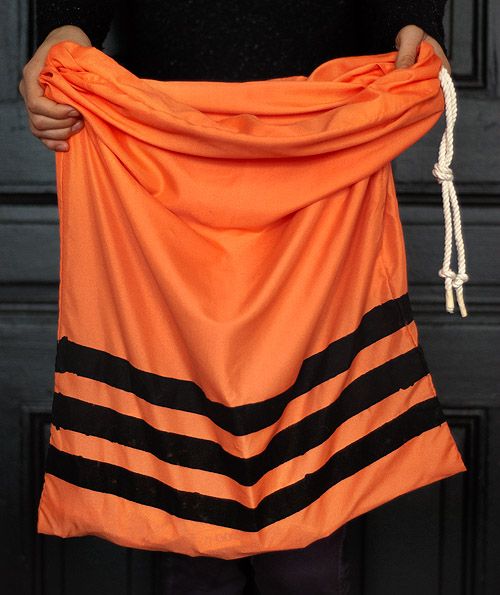 If your kid's motto is Go big or go home like Max of Design*Sponge, then this is the handmade Halloween treat bag for you. Or, you know, your kid. The simple pillowcase, a classic way to collect a whole lot of candy, gets an easy upgrade with a few strategic stripes. But the best part is the rope that cinches it shut to prevent any of that hard-earned candy from spilling out.
Well, maybe the best part is that the rope is still loose enough that a parent could slip an arm in there to root around for the Milky Way Darks, and no kid would be the wiser.