Paper jewelry kits are a pretty awesome gift, giving your crafty kids something wonderful they can make and wear — even when you're sure you want one more little bead, button, or plastic charm strewn about your house. I adore paper jewelry kits as much as my kids because they are fun and can turn out some pretty cool-looking pieces. Plus, they can go right in the recycling bin once my kids have moved on to something else, unlike the cheap jewelry that they covet by the counters of clothing stores.
So for a great jewelry-making gift that uses paper as its medium of choice, I've got four fun paper jewelry kits that will appeal to your younger crafters, all the way up to finicky teens. Now that I have one, I know!
Related: The coolest craft gifts for kids of all kinds
Paper Beads Craft Kits for Kids from Green Creativity
The Green Creativity Recycled Paper Beads Kit by 4M shows young kids how they can really turn trash into paper treasure–in this case, colorful paper beads. Just screw the lime-green plastic handle onto a clean plastic bottle and start rolling strips of paper. It's really easy and fun according to both my kids and me, as we've used this kit to make loads and loads of beads. Plus, the bottle can store the beads neatly until your kids are ready to turn them into bracelets, necklaces, or whatever they can dream up. At under $10, this makes a great, inexpensive gift for kids 5 and up.
Paper Jewelry Kits from Paper Punk
We fell in love with Paper Punk's cool Urban Fold paper city kit, and their two Paper Punk Jewelry Fold Craft Sets sets are also a lot of fun for kids who want to wear their creations during dress up — or maybe just to dinner. I find that both little and big hands can easily punch out the shapes, though very young kids may need some help folding some of the more complicated pieces into either triangular or square shapes. But, once complete, the pieces stay nicely together so your kids can parade them around as if they were far more expensive baubles.
Paper Friendship Bracelet Kits by American Girl Crafts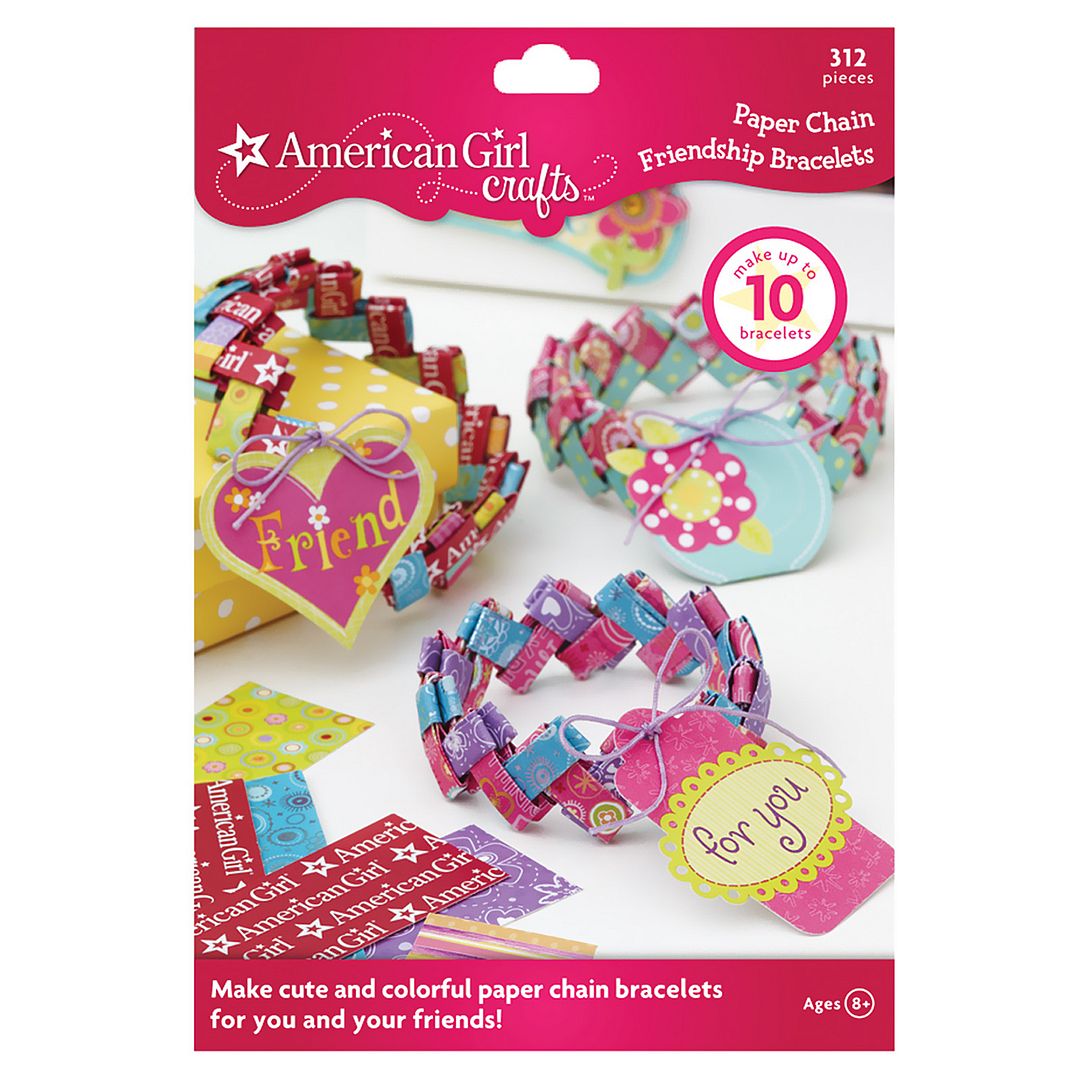 If you'd rather not have 10,000 little rubber bands in your house (been there), American Girl Crafts actually makes a Friendship Bracelet Kit that's a great option for your jewelry maker. It includes patterned paper that your kids use to make bracelets to wear and share with their friends. I've always been impressed with the quality of material in AG Crafts' kits, which are definitely a big step up from the gum-wrapper bracelets I made back in the day. And with enough supplies to make 10 bracelets, this also makes a great group activity, especially for under $8 for the kit.
Related: A fabulous new monthly craft kit for kids with a beautiful twist
DIY Paper Jewelry Kits: Tutorial at Paperica
If you're more of a DIY-er, the paper jewelry-making tutorials at Paperica give you a start so you can pull together your own handmade paper jewelry kits for a lucky tween or teen. Just print out the full-color, easy-to-follow instructions and package them together with some quilling paper and a quilling tool–both of which you can find at a local craft store, or packaged together in the Klutz Twirled Paper Kit we featured recently. Then, you'll only require some basic jewelry-making items like jump rings and hooks to finish. The final results are quite stunning and something that my own teen would eagerly wear out of the house — and I bet a lot of you would too. It's a great way to show your kids how something as inexpensive as paper really can create something lovely.