Though I spend an awful lot of time picking out the perfect gifts for the people on my Christmas list, there are many times when a gift card really is the perfect gift, which is why I've rounded up ten DIY gift card holder ideas to dress that little card-sized piece of plastic nicely for the holidays.  Because I know my teenage daughter would love a gift card to a local clothing store or iTunes card; our many dance teachers and coaches could use a few free skim Ventis; and I like the idea of cards that support a local lunch joint or ice cream shop for our amazing teachers.
Because card or not, I admit, I still want our gifts to look like…well, gifts.
CMP is an rstyle affiliate
Related: Holiday gift guide picks: The coolest gifts from our favorite small businesses.
1|  Free printable gift card holder for specific cards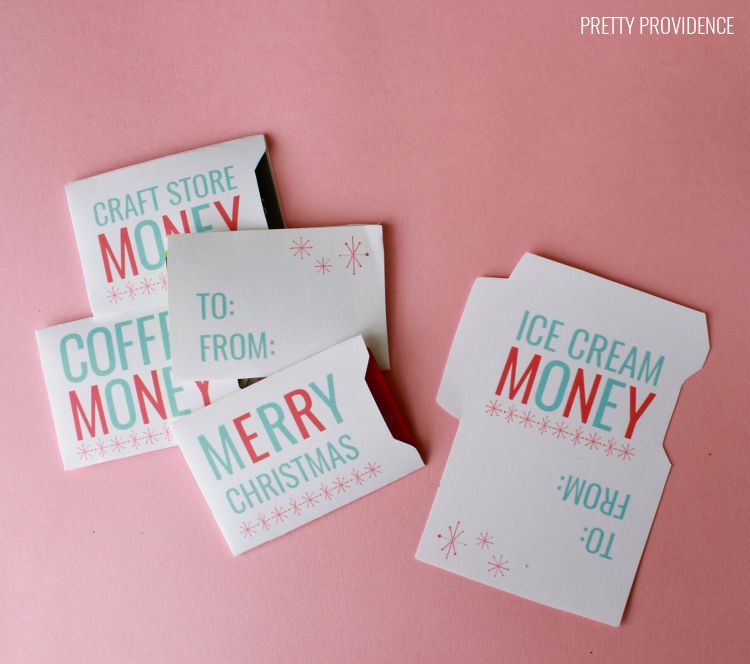 The free festive and printable gift card holders from Pretty Providence give you six different options depending on the card you'll be tucking inside. There are holders designed for movie cards, craft store cards, coffee shops, and then the funny "Diet Coke money" card for someone who always seem to have one on their desk. Or, just print out a bunch of the general Merry Christmas gift card sleeves which are perfect for almost any kind of card. At least on Christmas.
2|  DIY felt-stitched gift card holder
Even though I rarely pull out the needle and thread, this adorable DIY felt gift card holder from Paper & Stitch looks easy enough for a novice to do. I love how the stitch marks look against the felt, and the result is way better than the ones that stores charge you an extra $5 for.  Older kids can make this too; in fact, the charm is in how handmade this looks, which I think really makes a gift card more thoughtful.
3|  Full page printable holiday gift card holders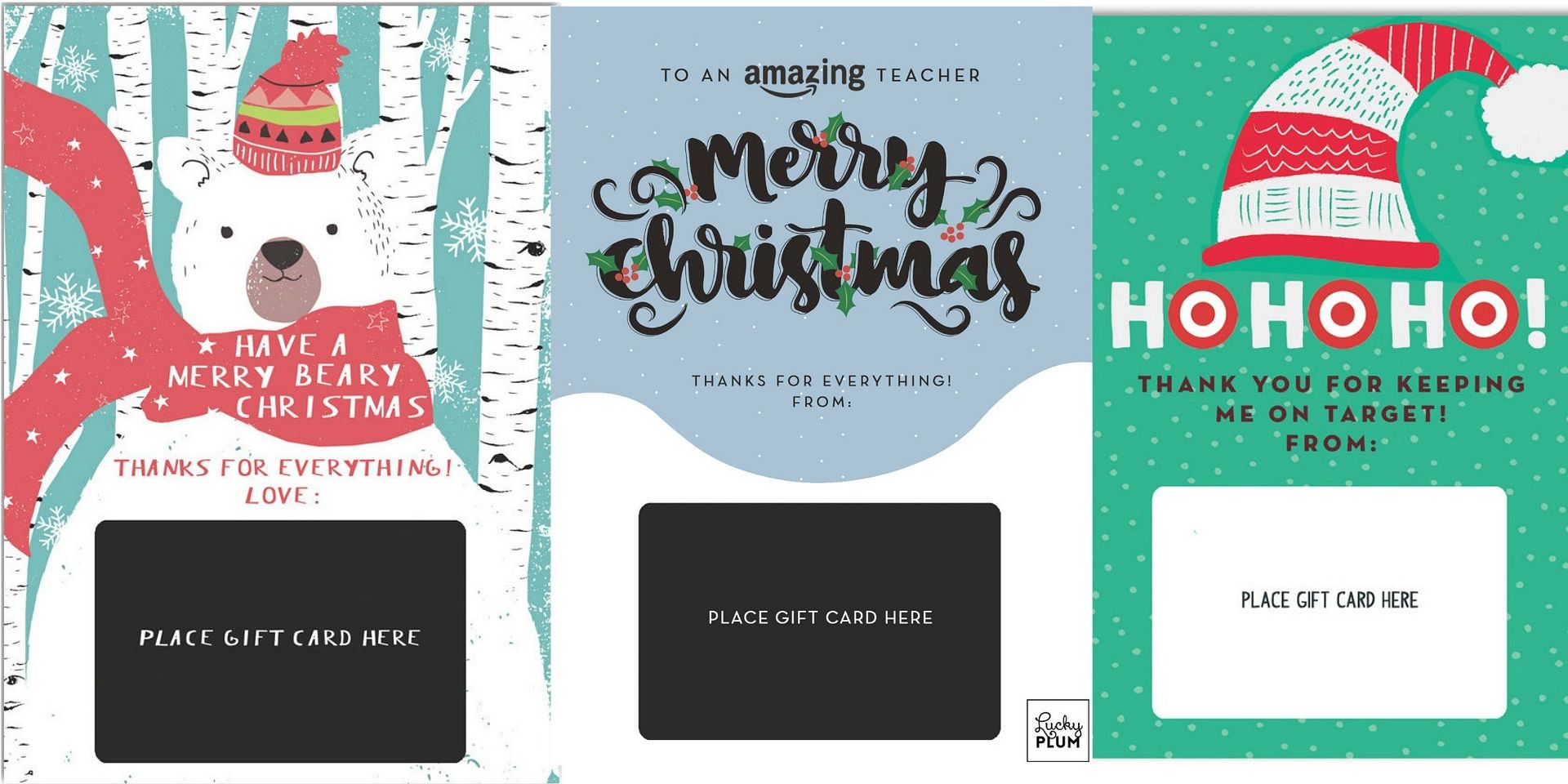 Instead of spending money on a paper card, for $5 you can get a downloadable, nicely designed printable gift card holder sized for a standard sized piece of printer paper then print as many times as you'd like. I love that her designs range from general wishes to specific plays on words that point to gift card mainstays like Amazon, Target, iTunes, Starbucks, and your local mani-pedi salon.
4|  Funny printable gift card holder for teachers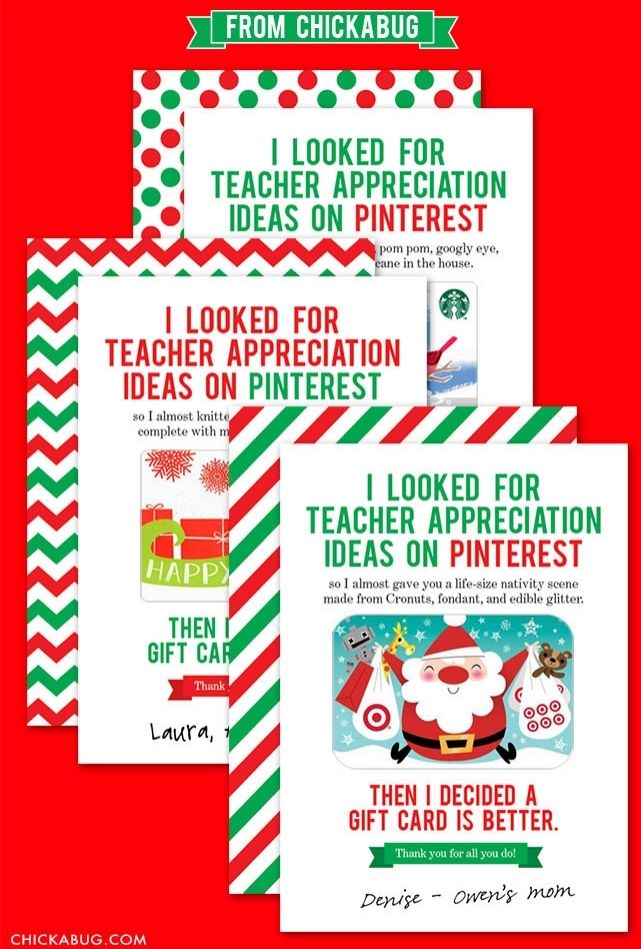 You know we can never resist a card with a sense of humor. And if crafting isn't your thing, you may love the set of free printable gift card holders for teachers by Chickabug which pokes fun at all the craziest Pinterest craft projects out there. Similar to her printable cards that we featured in last year's Teacher Appreciation gifts roundup, they are equally festive and funny. Bonus: we think the lucky recipient will breath a sigh of relief that you didn't try to knit a custom Santa suit or attempt a cronut craft for them.
Related: The best teacher gift from people who know: actual teachers
5|  Printable gift card holder for a food gift or restaurant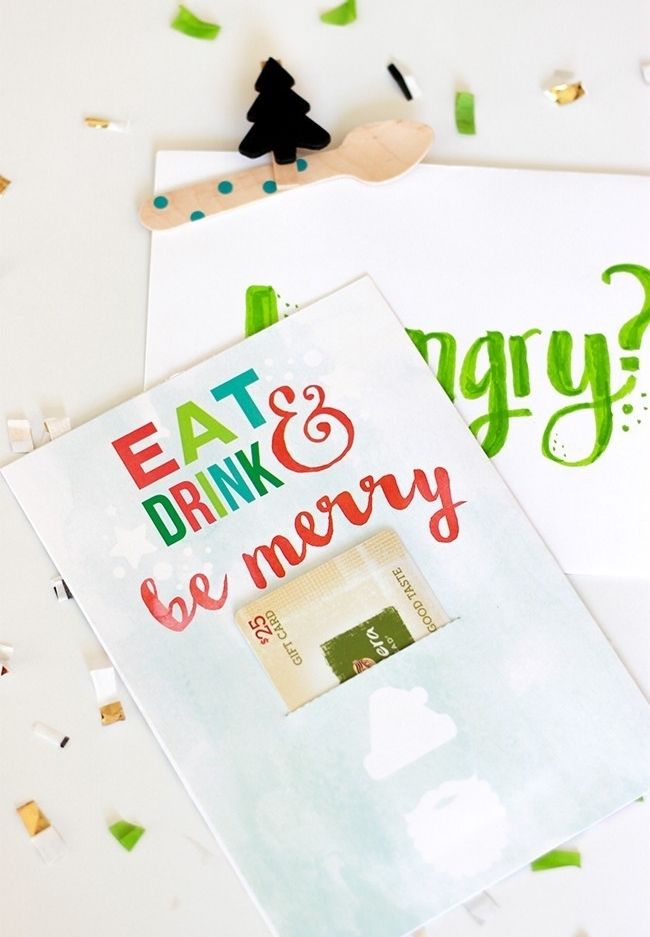 Whether you chose the little diner down the street, your local gourmet store, or crowd-pleasing chain with locations in every town, almost everyone loves to get a food gift card. And I really like the free printable gift card holder for food gifts from Strawberry Mommycakes which folds so that you can tuck the card into a little slot on the front.
6|  DIY Christmas tree gift card holder from pillow boxes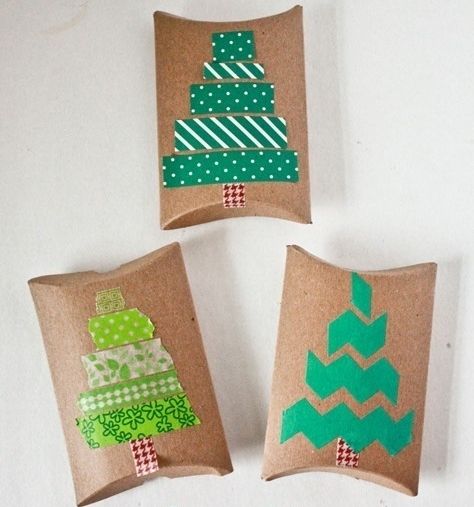 Plain kraft paper pillow boxes get dressed up for the holidays with these cute Christmas tree gift card holders on That's What Che Said. Using different patterned washi tape, you and the kids can get to work making all sorts of festive little trees. I love that no two trees will look the same, and we're sure our kids would come up with some cool designs.
Related: 7 of the best DIY teacher gift ideas to make gift cards more personal
7|  Free printable Santa gift card holder from the kids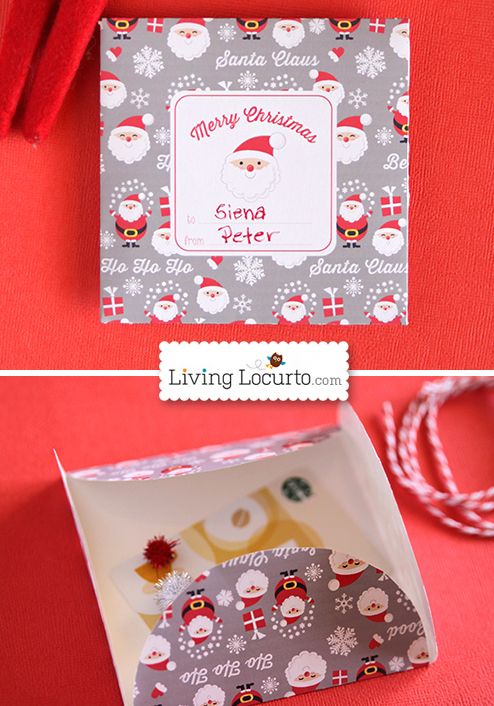 For younger recipients, or if you just have a soft spot for the jolly fellow, we love the smiling Santa free printable gift card holder designed by Living Locurto. Sized a little bigger than a standard gift card, check out the post for other things you can tuck in there too. This design is just perfect for a card going to kids — or one "from" the kids. With your money, no doubt.
8|  DIY felt iTunes gift card holder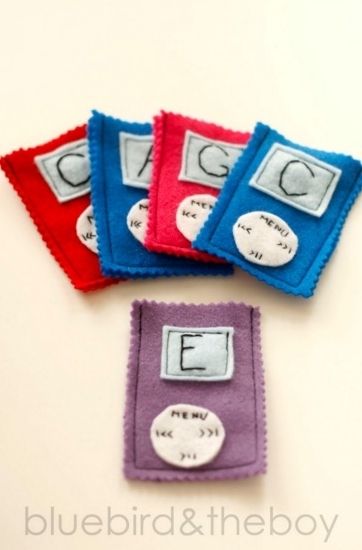 Another relatively simple felt gift card DIY project, all you need is felt, thread, and a little bit of time to make these sweet DIY iTunes gift card holders from Bluebird & the Boy that look like a personalized iPod. This would also be a neat craft for tweens or teens to make for a friend.
9|  Printable gift card envelope and card set
So merry and bright, the free printable gift card envelope and card insert from Yellow Bliss Road is easy to make. Either handwrite your message on the front of each envelope, or open the file in Photoshop or PicMonkey for fancier lettering, as shown above. Then just tie this little package with string or seal with a bit of washi tape.
Related: 15 of the most gorgeous printable holiday crafts for kids and families.
10|  Printable gift card holder for iTunes, Amazon music or Google Play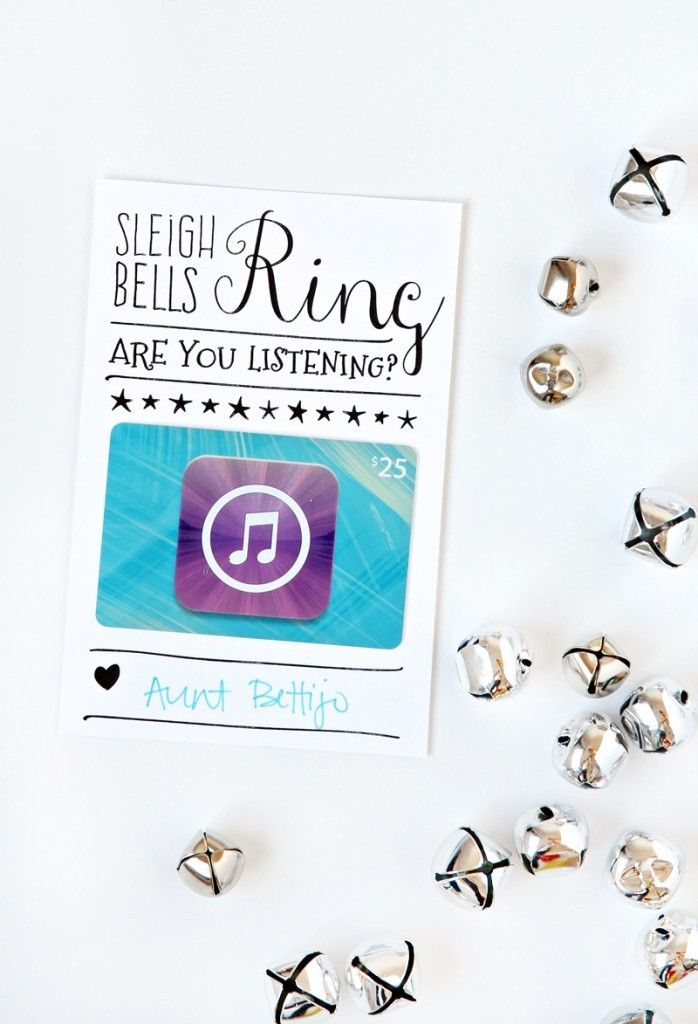 To make the gift of music a little more fun– and to encourage its use for actual music instead of goofy apps — I love this printable iTunes gift card holder from Paging Supermom and featured on Snap. It doesn't even require color ink in your printer — I can't be the only one that runs out waaaay too often?– but still looks elegant. And the holiday message definitely makes this perfect for a Christmas gift card gift.