For those of us in smaller homes, finding our kids a great desk can be a challenge. With my two girls sharing a small room, it's not like I can just grab one of those giant kids' desks you see in the catalogs and call it a day. In fact, their shared desk isn't even in their room at all — it's in our living room by a sunny window.  So I spent a little time browsing for modern kids' desks for small spaces, looking for design that would go well with my existing home decor, and a size that wasn't longer than 40″ across.
I'm surprised to see how many great options there are!
With that, check out these 9 beautiful, modern desks I found for small spaces. Whether you're on a tight budget or you're looking for an investment piece that you could put in any room, I'm so happy to find so many options that don't look like "kid desks" at all.
CMP is an rstyle affiliate
Related: 7 creative, stylish ways to help eliminate desk clutter once and for all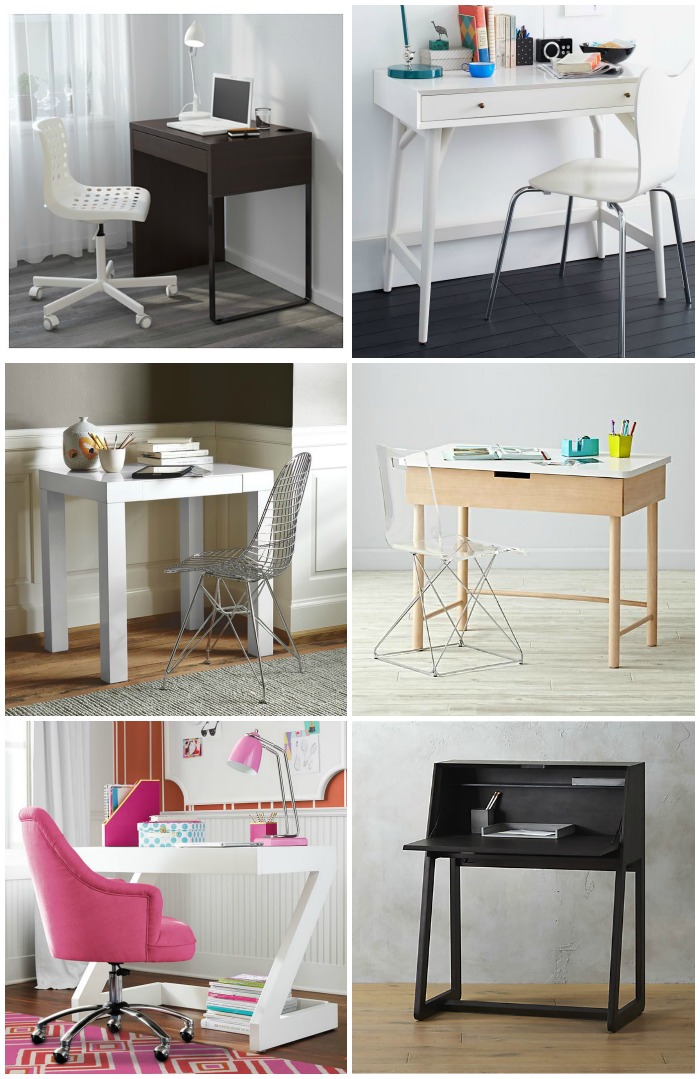 MICKE Desk  $79.99, IKEA | Mid-Century Mini Desk  $319-399, West Elm
Parsons Mini Desk  $299, West Elm | Foundation Desk $299,Land of Nod
The Z desk  $459 on sale, PB Teen | Intimo Birch Secretary Desk $399, CB2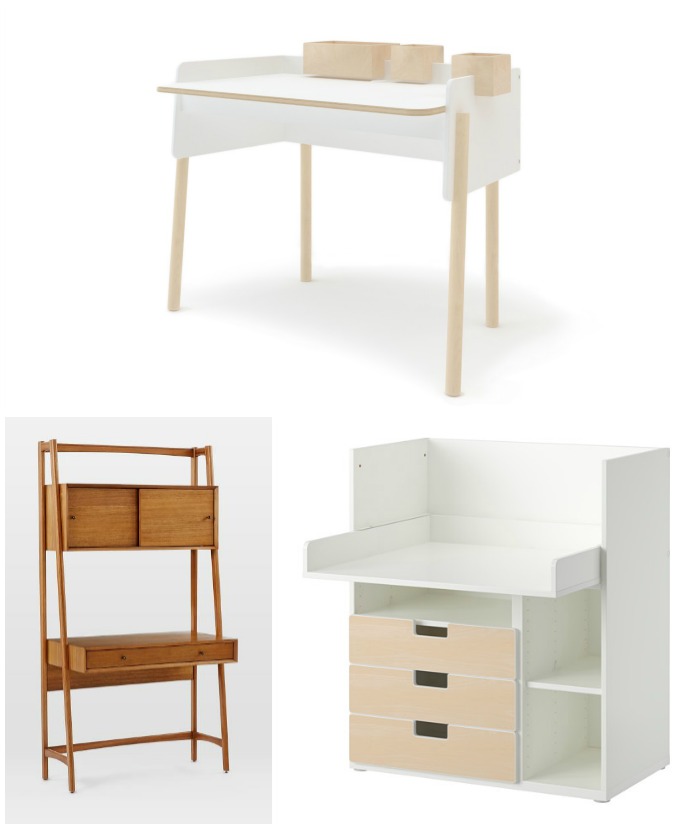 Oeuf Brooklyn Desk  $595, Oeuf
Mid-Century Wall Desk  $559 on sale, West Elm | STUVA Kids Desk  $136.50, on sale, IKEA
The one thing to keep in mind with a smaller desk is that you may be sacrificing storage — smaller desks don't always leave a lot of room for drawers or under-desk file cabinets, at least if you want a chair to tuck away under there too — so you need to consider what will work for you. Perhaps a bookshelf or file cabinet next to the desk or in an adjacent closet; my kids use a Poppin file cabinet which is fairly compact.
You can also build up, using the height of your walls to add shelves and cabinets. However I personally tend to stay away from most ladder-style desks because, while conveniently narrow for small spaces, I know my kids won't be able to reach the shelves themselves, making them fairly impractical.
Also, to consolidate space, try to get things off the desk as much as possible. I love the ideas Kristen recently shared to eliminate desk clutter — use clip-on lamps or wall sconces, mount bulletin boards or peg boards for hanging things like pencil cups and small supplies, or hey, just get your kids in the habit of keeping their desks tidy. Yeah, right. I know.
For more organization ideas, check out Organization and Storage Ideas on Pinterest.