You're probably familiar with St. Jude Children's Research Hospital — you've seen the ads with the adorably sweet, brave children, featuring Marlo Thomas, daughter of actor and St. Jude's founder Danny Thomas. You may have caught some of our suggestions to support them with a benevolent gift in our various gift guides. You might even know their reputation as the world's leading cancer research hospital for kids.
This hospital alone has helped raise cancer survival rates from 20% to 80%, and leukemia survival rates from 4% to 94% since they opened in 1962.
Basically if, heaven forbid, your kid gets sick, St. Jude is the place you want to be.
I've been committed to them for a long time, so I was honored to have the chance to visit their campus last month and learn that they're so much more than a hospital. There were just so many things that reminded me of why this is such an incredible resource for families, that I wanted to share the ones you probably don't know about.
Here are just some of the things I observed, that truly moved me. You may need tissues.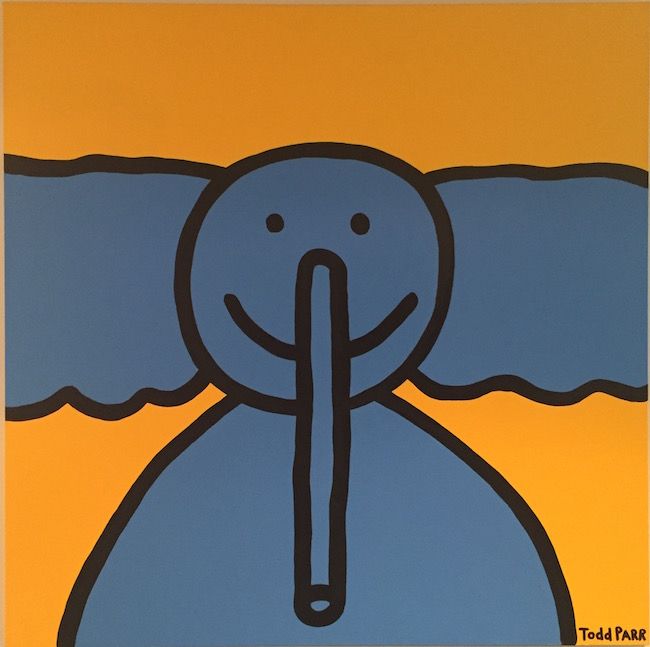 * Elephants everywhere — the symbol of endurance, hope, loyalty, and wisdom. Love this painting from one of our favorite children's illustrators, Todd Parr.
* The website where St. Jude researchers share all their findings, without charge, with other hospitals and medical professionals around the world. Because their goal is a cure, not a profit.
* The chef who tracked down a grandma's beloved mac and cheese recipe and made it for her grandchild, a patient who just wanted some familiar comfort food.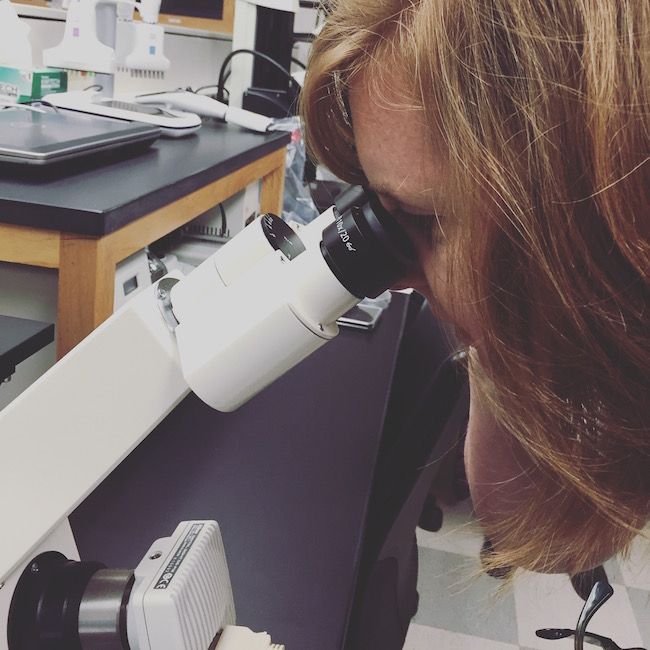 *Lights on in research labs, where PhDs kept at it, working late into the night to find a cure. (This is me, no PhD, but honored to get to take a peek at their work.)
*A mom, working on her college coursework in a beautifully decorated living room at Target House, their residence building for patients who have to stay at St. Jude more than 90 days. Kids — both healthy and sick — were fed dinner and played in the nearby playroom.
*A spa where parents with children in long-term patient care can go for some much-needed pampering on those days that get just too overwhelming.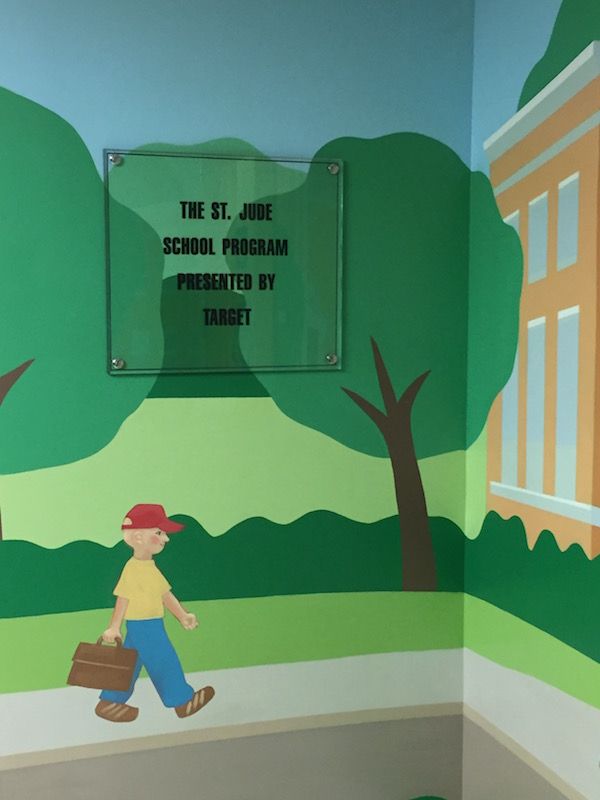 *A teenage patient running to my tour guide — who he knew by name, of course, because that's how they are there — to share the good news of his college acceptance! Wow. How did he do this? Because St. Jude's educational staff works with teachers back home to make sure their patients stay with their class when, not if, they return to school. They even administer the ACT and SAT for kids who are too sick to take it in traditional settings.
And by the way, even patients' healthy siblings get educational help onsite to be sure they're keeping up while the family is spending time away from home.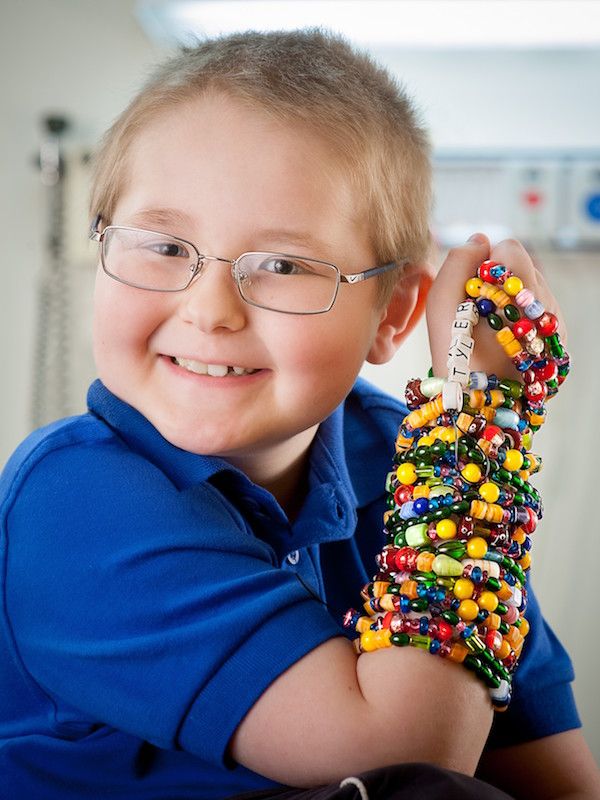 *Celebrations, from the "no more chemo" parties nurses throw for the kids, to the festive beads patients receive for each round of treatment or procedure they go through.
Kids like Tyler (above), in my mind, are superstars to still have smiles on their faces even after bead collections that huge.
*Patients and doctors and administration all eating lunch together in the hospital's one cafeteria, which has pretty amazing food, by the way. This co-mingling was by design, so that the staff at St. Jude never forgets who or what they're working for. A bit of daily inspiration with every meal.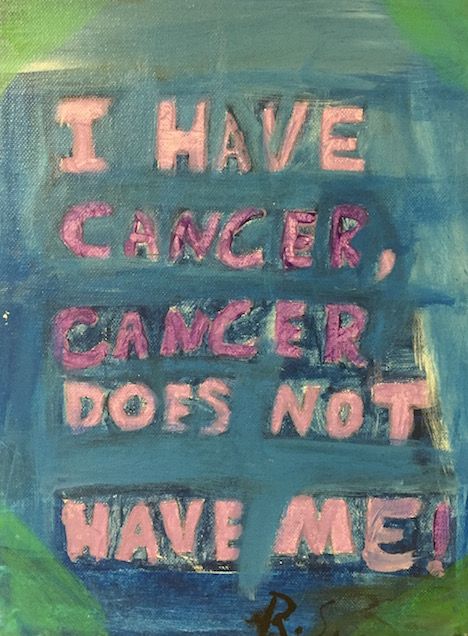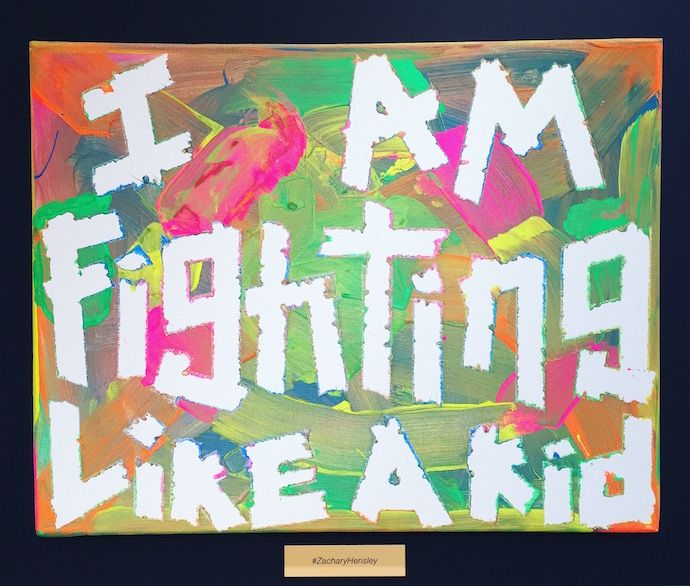 * The child's artwork on the wall with the line, "I am fighting like a kid," which broke my heart. If we all ran the world, of course no kid anywhere would have to fight. But when they do, sensitive and smart art therapists are at the ready in an incredible art studio to work through the process with the kids.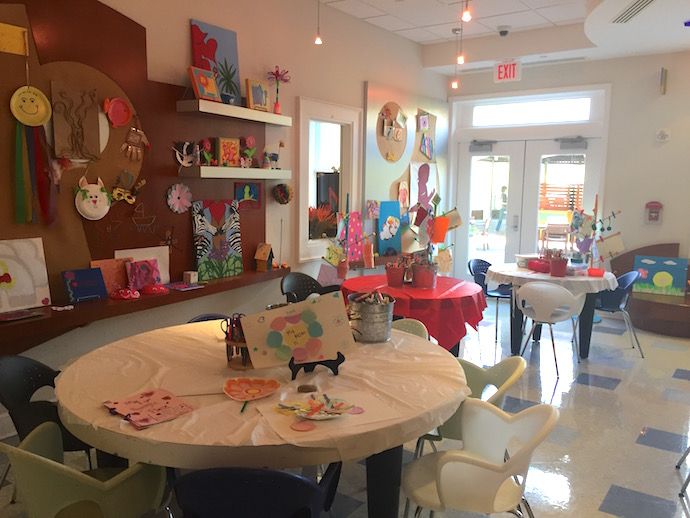 *A handsome teen with a beautiful date on his arm, walking down the red carpet for his St. Jude senior prom — wearing a medical mask. And nearby, his mom, wiping away tears — because even though he's at the hospital doesn't mean he has to miss prom.
But there's one thing I didn't see on this trip: a bill.
No patient at St. Jude is ever billed for anything — not for medical services, food, transportation, or lodging. They even get paid back for their gas when they travel for treatment. St. Jude's accounting team even keeps an eye on insurance claims, so that no family is stuck maxing out a policy.
So, yes, I'm inspired. And this Mother's Day, in honor of all those moms and dads who are holding on to hope at best, I am donating to St. Jude Children's Research Hospital. Because I believe if anyone will find a cure for cancer, it is them. In the meantime, they're making sure their patients' lives are good and lived to their fullest.
And that's a really worthy cause.
Please consider supporting the amazing St. Jude's hospital, whether you're thinking about a Mother's Day or Father's Day donation in someone's name, a thoughtful donation in honor of a your child, or a niece or nephew's birthday, or just a new organization to support each year to help them continue the wonderful work they do.
Thank you so so much to the team there for including CMP on their press tour, covering our editor's expenses, and giving us access to see their inspiring work first-hand.