I spent a few solid months tightening up my buns thanks to Barre3 barre workouts a couple of years ago, so when I decided to hit the workout circuit again after a very long summer hiatus, I gave Pure Barre a try instead (thanks to a very tempting new client special).
After almost a month taking regular Pure Barre classes, I've got a pretty good handle on what makes these two barre workouts different. If you're wondering which one is right for you, or if barre classes in general should be on your fitness radar, I've got the inside scoop.
Pure Barre vs. Barre3: Ambiance
There's a marked difference between the Barre3 and Pure Barre classrooms, at least at the studios near me. At Barre3, you'll find a hard dance-type floor, with mirrors, and lots of light (top) whereas Pure Barre has a carpeted studio (below) with carefully-controlled lighting that actually gets darker as you go on.
Yes, they turn the lights off almost completely during the last set of butt exercises which might just be the most brilliant thing ever. No one staring at you pumping your hips in the air, or better, no staring at yourself doing it. Though, it does complicate things a bit on your first or even second classes when you can only do the exercises based on the instructor's directions. It's not rocket science, however, and I caught on quickly.
The staff at both Barre3 and Pure Barre are all friendly and motivating, some cheerier than others, but very encouraging. No calling you out on how you're doing push-ups on your knees still. They make an effort to learn your name and shout out "Nice form, Kristen!" during the class, which is very much appreciated when you're doing your best to just stay alive for another minute.
For me, Pure Barre beats Barre3 with the music, which I find to be super pumping and motivating (think your favorite pop and hip pop radio mixes with extra long intros and outros), but then calming and relaxing during the stretch sections. I love that they blast it loud once you're in the middle of a set, and it really does help me focus specifically on the movement without distraction.
I also found Pure Barre is very coordinated to the beat of the music; the Barre3 classes I took were all over the place with the music choices and the beat, which was very frustrating for me personally. I could get all music psychology on you right now with my music professor background, but suffice it to say, music and movement together are powerful.
Related: A pro's tips for picking the right sports bra, finally. 
Pure Barre vs. Barre3: The Workout 
I love that there's a pretty good mix of fitness levels in these classes, and because you're not doing gigantic, challenging movements, but rather small raises and squeezes in a very organized sequences, I never felt out of place at either studio. While most of the attendees are sporting some fancy attire (long leggings that cover their heels, cool strappy sports bras), everyone is really just trying not to fall over, even the awesomely fit ladies. So no one cares what you're wearing, so long as you've got socks on your feet (that's a rule in Pure Barre!).
Both barre workouts are actually pretty similar overall, so if you've taken a Barre3 class, you'll be fine in a Pure Barre class in terms of being mostly familiar with the movements. However, Pure Barre classes are much more athletic. I was exhausted after just the warm-up, which includes a little cardio, abs, and a 90-second plank that I've yet to actually hold for the entire time. I found Barre3 to have a few more components of yoga and dance (above), namely lots of options during the workout to work on balance while doing the exercises, and a few recognizable poses.
Neither workouts require big huge movements, and they focus a lot on the thighs, butt, and abs, with some attention to arms at the beginning. Think Pilates on crack. Neither have much actual ballet happening at all. And that's perfectly fine with me, even though I was a ballet dancer for many, many years. Just note that you're not going to be doing anything that resembles ballet barre work in these classes.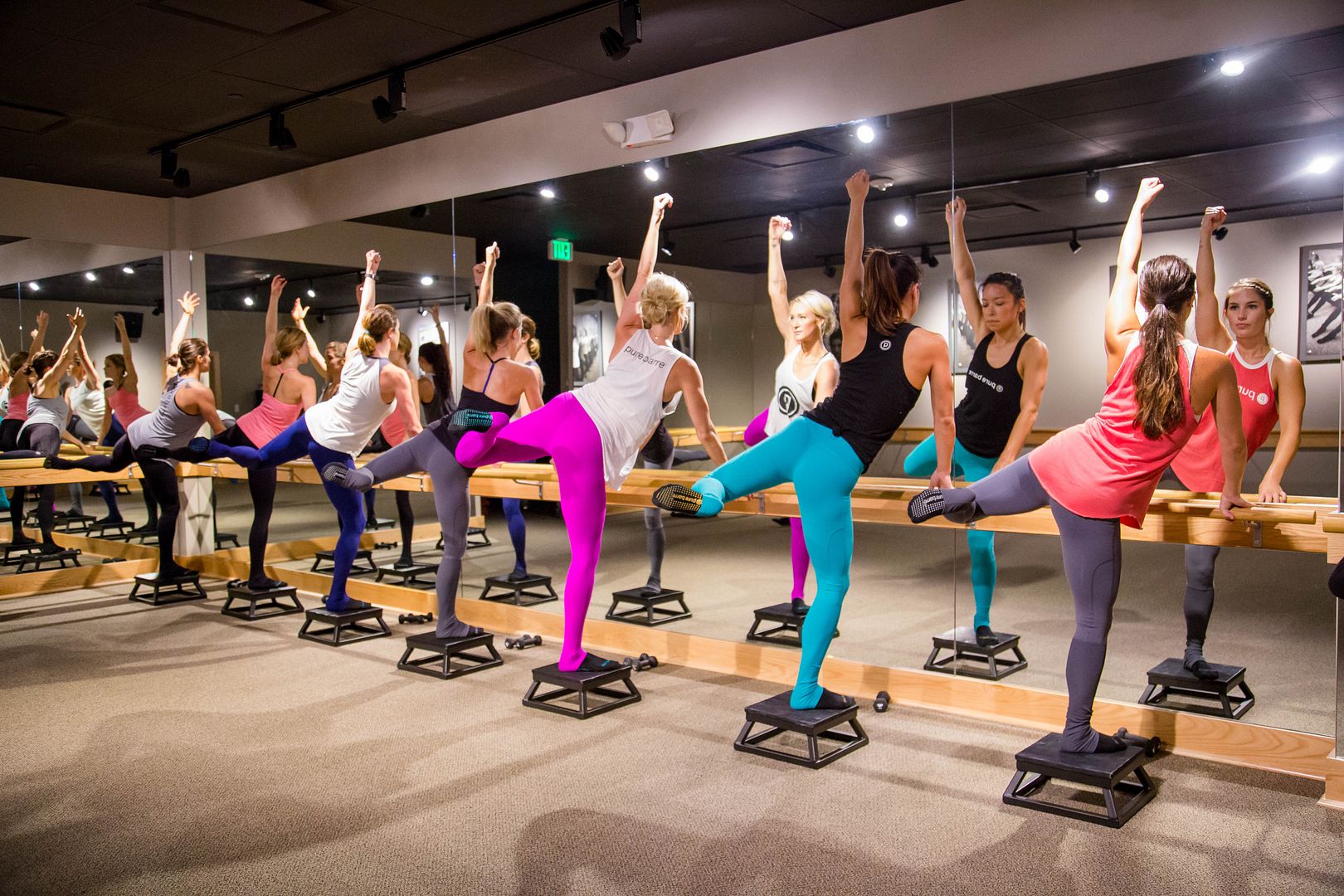 I do like that Pure Barre offers a "Platform" class (above) that's a mix of their regular Pure Barre movements turned up a notch cardio wise. If there's anything that's lacking in Barre workouts, it's a heavy cardio component, so it's nice that Pure Barre members can add platform classes into their weekly routine without having to seek cardio elsewhere. Plus, it's just nice to change things up. One of the reasons why I stopped taking Barre3 was I got pretty bored. So far, the Pure Barre classes, while they still do pretty much the same warm-up, have a wide variety of movements and exercises between instructors.
Related: Could these fitness pants mean less time in the gym and more calories burned? 
Pure Barre vs. Barre3: Pricing 
I'll say it right now, these are not cheap classes, with Barre3 (at least in my area) coming in a few dollars less per class (especially if you buy a package deal) than Pure Barre. Both offer new client deals, and various discounts if you purchase a certain number of classes, and really, that's not a huge difference in the pricing at the end of the day.
However, Barre3 near me offers the option to purchase childcare at $5/class, which is huge for moms who want to workout with their kids in tow. Unfortunately, Pure Barre, at least near me, anyway, does not offer that option.
Bottom Line 
Both Pure Barre and Barre3 are very challenging full body workouts, so if you're looking for something that's low impact (no jumping, hooray!) and really does help you tone up those trouble spots, I would recommend taking a free trial class at your local studio.
I will say that I have a craving for Pure Barre classes, as in, I scramble to find a class that can fit into my schedule and I really look forward to going, even though it's one of the hardest things I've ever done. There's just something about the hard pumping music and the athleticism that's a welcome distraction in my busy life, not to mention my pants are fitting a little bit better and my butt's a little bit tighter.