I have no problems with princesses and more traditional Halloween costumes for my daughter, but I admit I do have a bit of a bias toward strong girl Halloween costumes. So when my daughter told me she wants to dress up as a Greek goddess this year, I definitely felt a twinge of pride. Not only because she loves the classics, but because she recognizes that women can be strong and powerful, something I am more than happy to help her celebrate this Halloween — or any other day of the year.
And hey, maybe next year she'll be a kitty cat. And that will be totally cool too.
But if you're looking for a strong girl Halloween costume that's empowering for your own daughters, check out some of these strong girl costume ideas I love. From groundbreaking women in history to concepts that represent our daughters' dreams, these creative costume ideas have me wishing I too was dressing up for Halloween this year.
Or wait — maybe I will.
At top: Amelia Earhart costume | Erin Volante Floral; Jane Goodall costume | The Mod Chik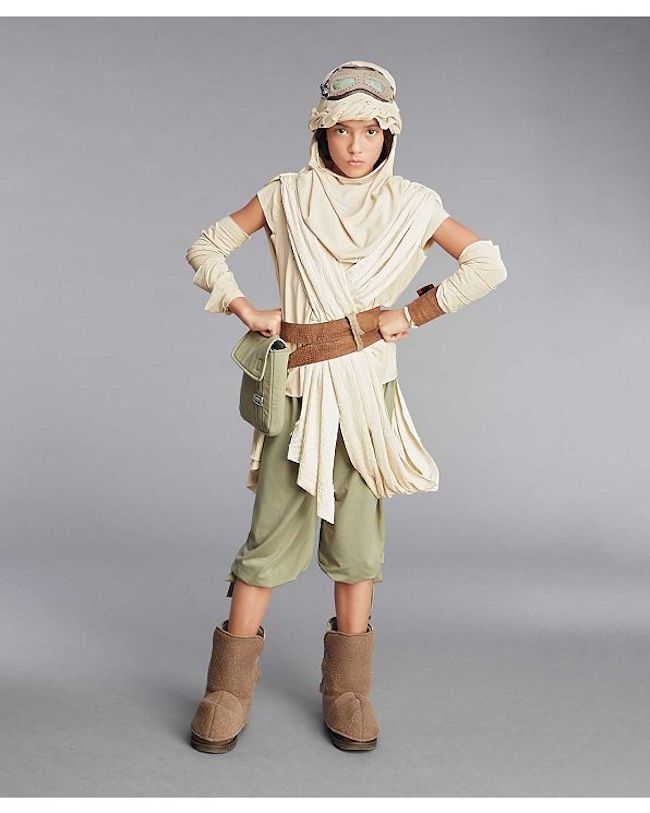 The force is still strong in our house, and my kids would be thrilled to dress up like Rey from the Force Awakens. We've seen tons of tutorials on Pinterest to DIY this iconic strong girl Halloween costume, but I admit I like the ease of just buying this one from Chasing Fireflies, if that's in your budget. Last you a long time, this one will.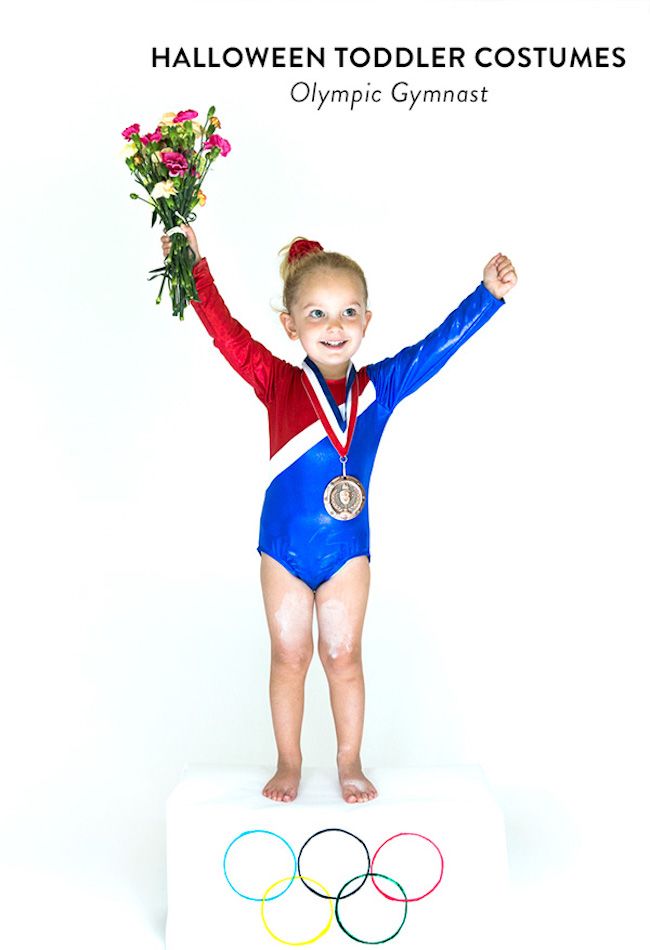 After this summer, my kids are still talking about their dreams of competing for Team USA someday. This gold medal gymnast costume from Liz at Say Yes couldn't be easier, but you can also tweak it to whatever sport your daughter loves — track, basketball, weightlifting, skiing — by simply changing out their outfit. What it really requires is that gold medal to tie it all together.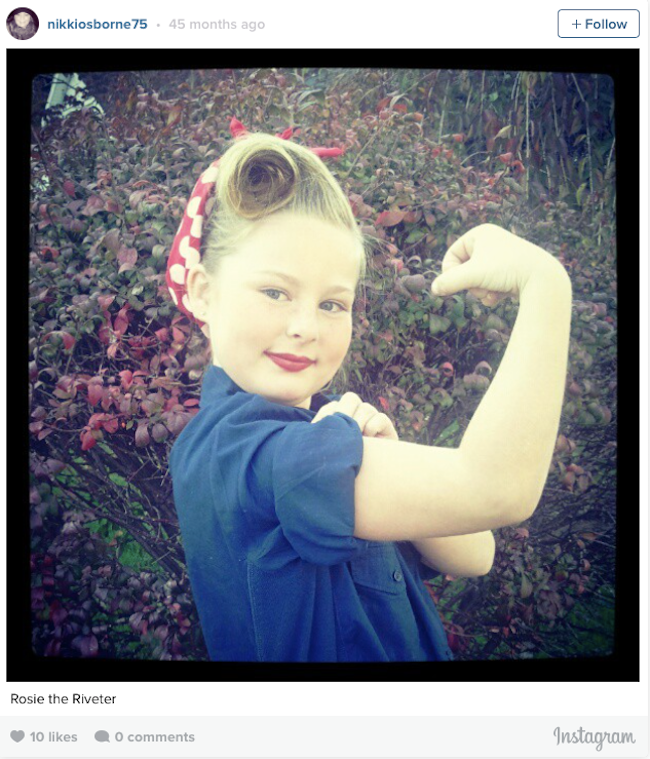 A Rosie the Riveter costume depicts the classic symbol of feminist strength in America, and it's also really easy to put together. Just wear a denim shirt with the sleeve rolled up, and pull off an awesome '40s hairstyle like in this great Instagram photo by @nikkiosborne75. You can do it! (h/t Buzzfeed)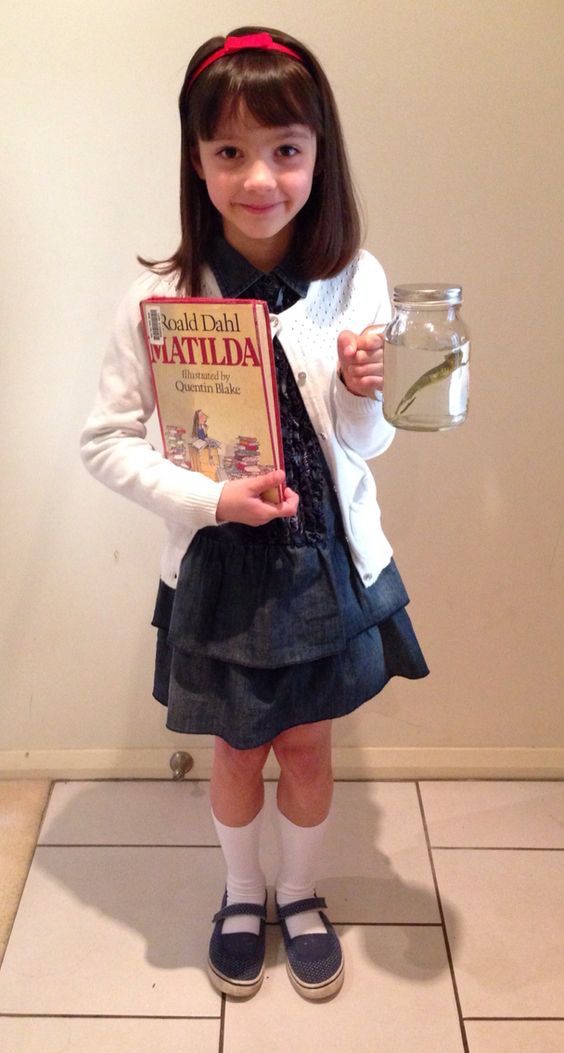 If you've read the book Matilda or seen the musical, you know why lots of girls will love this idea. This little character is full of wit and power, so I'm loving this fun Matilda Halloween costume that we've seen around the web — complete with the newt in a jar. This wouldn't be that hard to copy at all. (Note: we can't find the original source for this! If you know who it belongs to, let us know so we can credit them.)
Related: 14 wildly cool, creative sibling Halloween costumes to inspire you beyond superheroes and princesses.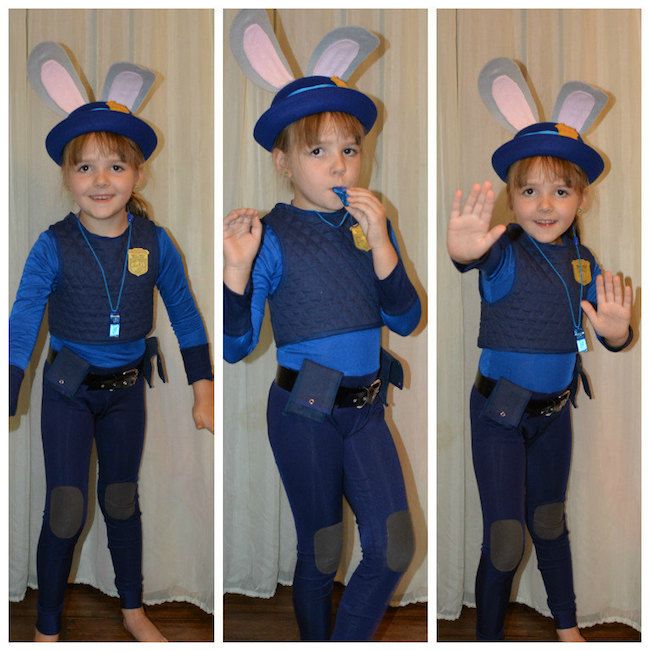 Zootopia was one of our favorite movies this year, and Judy Hopps is such a smart, strong heroine who truly goes after what she wants. If you're not up for making this one yourself — because, whoa — you can buy one from the Etsy shop Elle Garrett Designs. You might need to rush your order to get it in time for Halloween, though, so hop to it! (Ha.)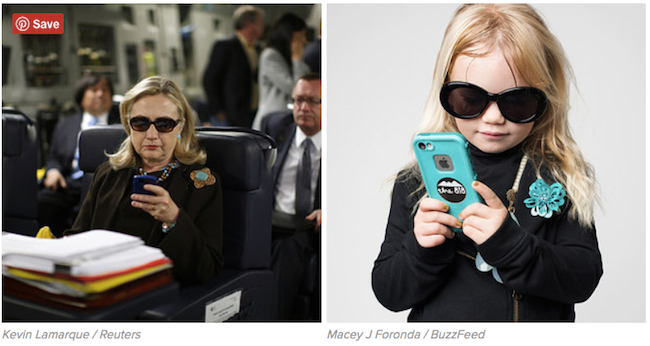 We're pretty sure we're going to see plenty of political figures out there collecting candy this year, but we love this Hillary Clinton costume that Morgan at Buzzfeed helped put together. It's really easy to DIY — though you'll need a blonde wig if your daughter doesn't have hair like this little girl. Plus, we'd probably swap our real iPhones for a cardboard version.
My kids are huge fans of the book Me…Jane by Patrick McDonnell, which relates the story of Jane Goodall and her work with the gorillas in Africa. So I think this adorable Jane Goodall costume I spotted at The Mod Chik blog would be the perfect strong girl Halloween costume for my daughter.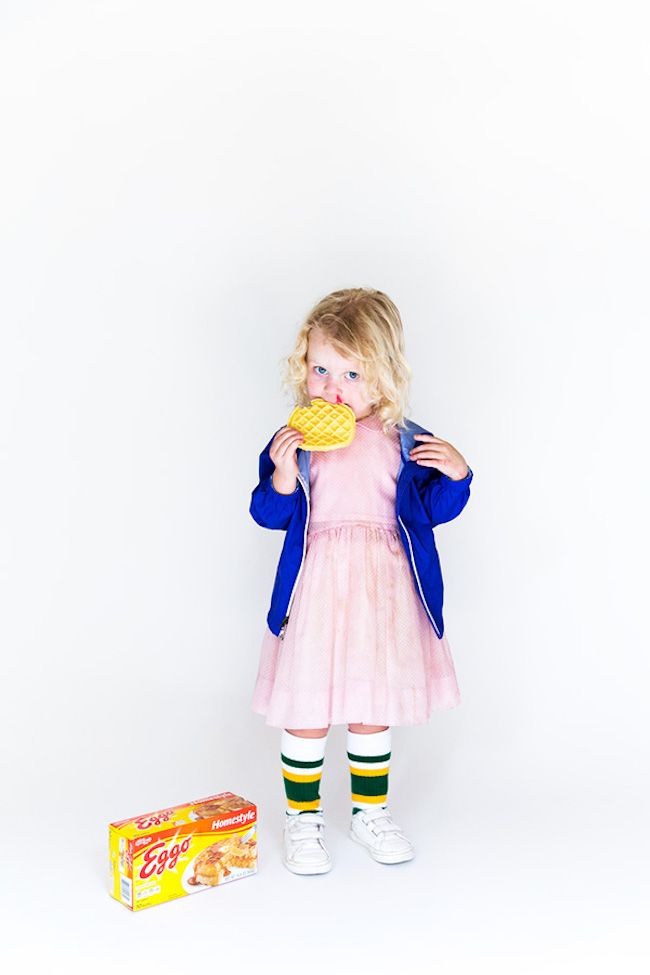 For something so very 2016, this costume for Eleven from Stranger Things, also at the Say Yes blog, is so clever and amazing! I might use it on a toddler or baby who's never watched the show — or it's great for a tween or teen who has. You might want a shaved-head wig though to bring it all together, or pull her hair way back. Check her site for the details.
Related: 9 really creative but still easy last-minute Halloween costumes for kids. Hey, we're busy too.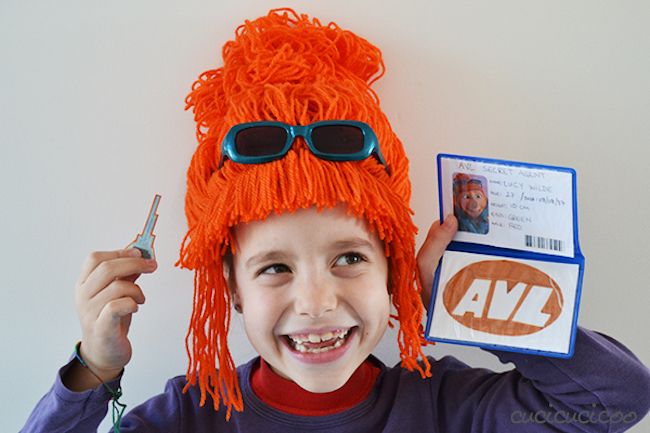 Lucy Wildes from Despicable Me 2 is one of my kids' favorite characters, thanks to her lipstick taser, I'm sure. I just love that she knows what she wants and isn't afraid to get it. This DIY Halloween costume at Cuci Cuci Coo isn't easy, but it is adorable. And there are plenty of photos and step-by-step instructions there to help you do it.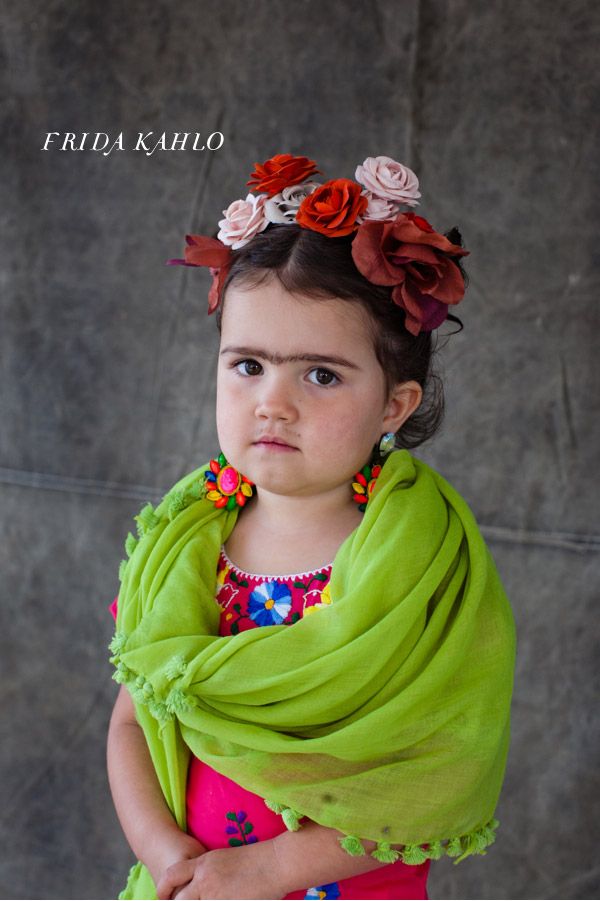 We're big fans of the very creative famous artist costumes at Oh Happy Day; we've especially loved the easy-to-pull-together Frida Kahlo costume for years. All you really need to transform your daughter into this revolutionary artist is a bunch of flowers for the hair, and a floral dress that can be worn long after Halloween is over. And, don't forget this feminist icon's signature unibrow.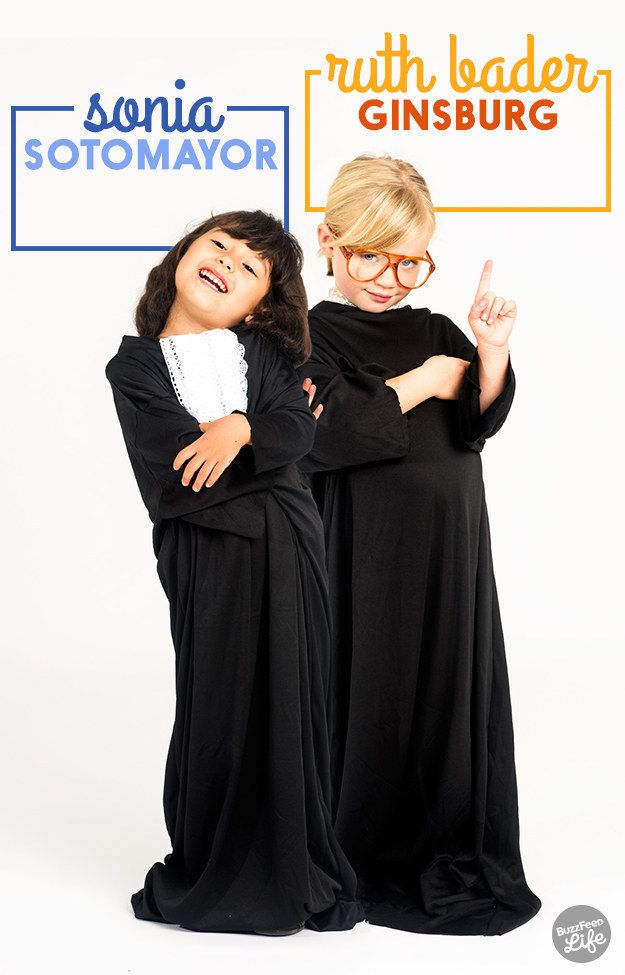 Over the last few years, Ruth Bader Ginsberg has become a true icon of woman power — we love the Notorious RBG coloring book. We think she or any of the other female Supreme Court Justices make for an excellent strong girl Halloween costume choice, and we love this Ruth Bader Ginsberg costume tutorial at Buzzfeed which shows you just how to pull it off.
Related: 15 not-so-scary Halloween crafts and treats for kids who want the fun without the nightmares.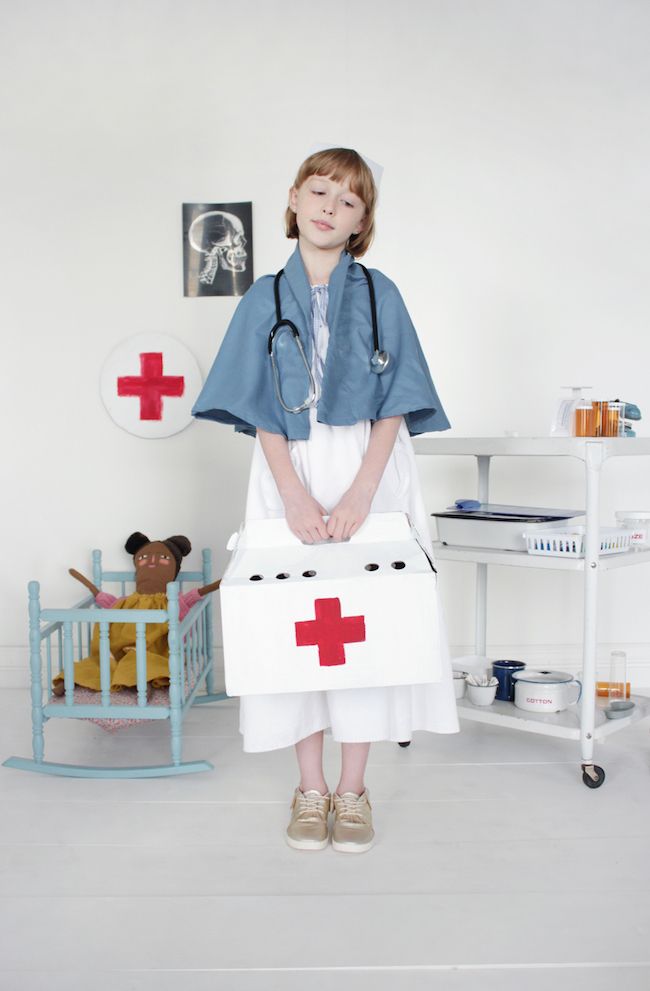 We're all about seeing female doctors, soldiers, astronauts, firefighters and police officers out there trick-or-treating, but we think nurses are pretty rad too. I love this vintage nurse Florence Nightingale Halloween costume at Mer Mag — a great way to pull off that historic look.
I think we can all safely agree this year's election has been like no other. And with the first female candidate leading a major ticket, a Suffragette costume, like this one we found from Pennylrichardsca (now iPernity) on Flickr, is an awesome idea for little girls with big dreams. Click over and you'll also see how the outfit looks on the photographer, which makes it a really cool mom-daughter costume too.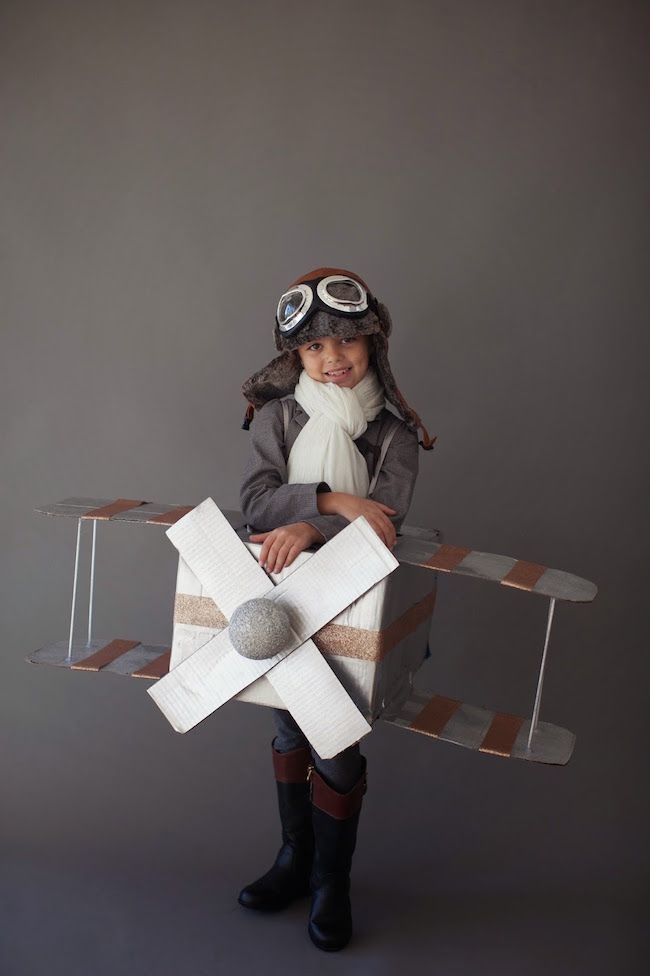 For a girl who has an incredible sense of adventure, I love this impressive DIY Amelia Earhart costume I saw at Erin Volante Floral. This one is for you, pro crafters!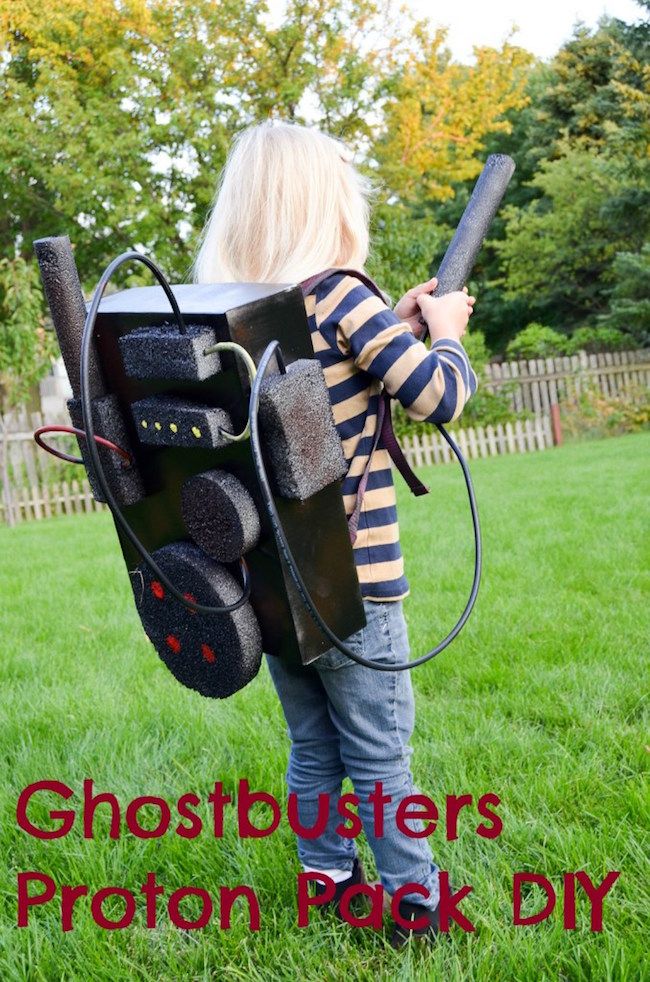 Our kids are huge fans of the new all-female (and all-hilarious) cast of Ghostbusters, and we are thrilled that our girls are excited to bust some ghosts too. This DIY proton pack for a Ghostbusters costume found at Albion Gould is an easy way to turn a khaki jumpsuit — or just a t-shirt and jeans — into an amazing Ghostbusters costume. Because even on Halloween, we ain't afraid of no ghosts.