Welcome to the no-stress portion of our Halloween coverage, as we track down some of the coolest, most creative no-carve pumpkin decorating ideas that are perfect for kids. After all, for me, Halloween's swarming bats, cackling witches, and stumbling zombies provide plenty of that fun, healthy spook factor without having to add in children wielding sharp objects at pumpkin carving parties.
We're big fans of low-stress pumpkin decorating parties that are safe and fun for the whole family — and if you are going to carve, there does happen to be some really good kid-friendly carving tools you can use. But if not? Well, we're here to help!
Whether you've got little ones at home or you just prefer to to avoid pumpkin guts all over your kitchen, we hope you find one easy, no-carve pumpkin idea for Halloween that's just right for you out of these 16 wonderful options.
Related: 15 fun, not-scary Halloween crafts for younger kids
1. No-carve Confetti Pumpkin
Victoria at A Subtle Revelry put together lots of ideas for no-carve pumpkins using office supplies. I'm in love with these colorful no-carve confetti pumpkins that are made with cork board pins, or paper brads with pointy tips. My nieces would love this project, but be sure to supervise little ones. Also, check out some of her other cool easy pumpkin decorating ideas on her blog. (h/t Girl Named PJ)
2. No-carve Patchwork Pumpkin
Sally's Patchwork Pumpkin inspired by The Nightmare Before Christmas is pretty genius. The Disney Family site has some basic instructions, but think gray paint, fabric scraps, and a hot glue gun. Oh, and a Sharpie. All craft roads lead to Sharpies.
3. No-carve Colorful Painted Pumpkins
Leave it to Handmade Charlotte to impress us with these fantastic no-carve painted Halloween pumpkins. I really like her idea to use mini pumpkins, and her own folk art stencils sold at Plaid online. Her tips are really amazing, but I bet any stencils at all would do. And frankly, letting kids go crazy with a paintbrush, some stencils, and no instructions whatsoever would make them just as happy, even if their pumpkins don't come out quite so magazine cover-ready.
Related: What to do with extra Halloween candy: 9 ideas you may not have considered.
4. No-carve Ombre Spiderweb Pumpkins
Okay, so these are a little crafting 201, but if you're patient enough to lay down all that tape, I think these ombre spiderweb pumpkins at Martha Stewart are totally gorgeous and not really that hard. These would look great with little plastic or pipe-cleaner spiders all over.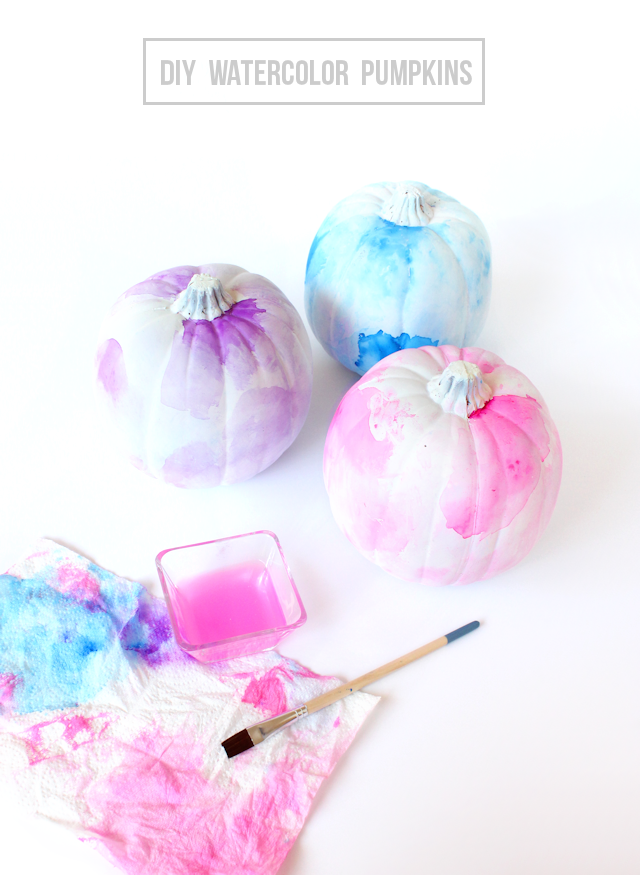 5. No-carve Watercolor Pumpkins
Who knew splashing around watercolor on a pumpkin could yield such pretty results? Even if you don't use the ultra sophisticated "Cerulean blue" or "Quniacridone Rose" paint colors that Rachel at Lines Across suggests. These DIY Watercolor Pumpkins are pretty smooth crafting, even for the littlest paintbrush-wielders in your family.
6. No-carve Mummy Pumpkin
A while back we found lots of seriously easy DIY pumpkin decorating ideas you can do with Washi tape, paint, or Sharpies. (Again with the Sharpies!) But a Cool Mom Picks favorite is still this mummified pumpkin craft from A Little Bit of This or That. Because, easy. And, googly eyes.
Related: 29 cool Star Wars pumpkins you can do for Halloween
7. No-carve Bat Pumpkin
I love the look of this pumpkin from Kami at No Biggie. Simply cut out bat silhouettes, use stickers, or ready-made paper bat craft doodads (that's the official name, of course) to make this very classy no-carve flying bat Halloween pumpkin.
8. No-carve Pumpkin Creatures
Costumes for your pumpkins? But, of course! These no-carve creature pumpkins from A Small Snippet are so cute — I especially love the spider and the baby owl. These are very doable for kids, and the site even offer templates for making eyes and ears and you know, bones.
9. No-carve Melted Wax Crayon Pumpkin
We've seen a lot of melted wax crayon pumpkins making the rounds, and a favorite is this tutorial from Public Lives Secret Recipes, which requires no special equipment — unless you consider a blow dryer special equipment. Too fun!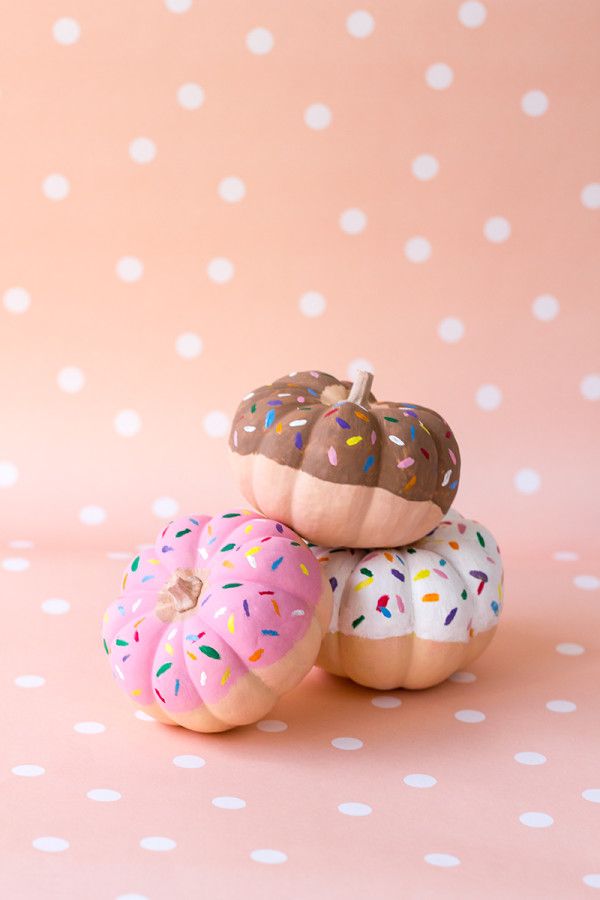 10. No-carve Sprinkle Donut Pumpkins
It's hard not to love these Donut Pumpkins at DIY Studio, probably because they're some of my favorite things…painted as some of my other favorite things. And in my experience, kids adore sprinkles — sugar or otherwise — so I think they'll have no trouble randomly splotching paint to create this happy confetti effect.
11. No-carve Glitter Stem Pumpkins
Oooh, this glitter stem pumpkin craft at Nest of Posies is so pretty. Acrylic paints work best for this project that can transform an ordinary pumpkin into one that's your kid's favorite color. The crowning touch: A glittery stem. Because we know our kids will be all, Glitter! There's glitter!
Related: The ultimate Halloween celebration guide: 117 genius recipes
12. No-carve Tattooed Halloween Pumpkins
Leave it to our friends at Tattly to put together a tutorial on making tattooed Halloween pumpkins using their fun temporary tattoo designs. To make them more sophisticated, try using their metallic tattoos. Just know this is a gateway craft, and next thing you know, your kids will ask to pierce their pumpkin too.
13. No-carve Tissue Dot Pumpkins
At Young House Love, Sherry demonstrates how fun and easy it was for her toddler to Modge Podge sheer tissue dots to make a no-carve polka dot pumpkin. I am so impressed with the result, but more so, how much fun her daughter is having. Take a look at her great tips.
14. No-carve Mr. Potato Head Pumpkins
Why didn't I think of this? Dig into your box full of random toy parts to make Mr. and Mrs. Potato Head Pumpkins like this one from Jac o' lyn Murphy. Super easy. In fact, they'll be done so fast, you might consider making the whole extended Potato Head family.
15. No-carve Leaf Decoupage Pumpkin
I love how simple this Leaf Decoupage Pumpkin from BLDG 25 is, and the fact that it requires a bit of foraging in the woods. And, really, whether your kids choose a few favorite fall leaves, or go wild like they're making paper mâché, I think they'll have a great time and the end result is sure to be awesome.
16. No-carve Imagination Monster Pumpkins
Because I think perfection is way overrated when it comes to kids' crafts in general, I am so happy to find this idea for Monster Pumpkin Decorating from Hands On As We Grow. So simple and fun for toddlers up to tweens. Googly eyes are definitely key, and the rest is up to your child's own imagination. You do have to share this joke with them while they work, though:
Q: What does a 10-foot-tall monster eat for Halloween?
A: Anything he wants.