If there's one thing we know that every new mom needs, it's sleep. Lots of it. Lots and lots of it. So what better baby shower gift to consider than one aimed at getting her just what she needs?
We are so excited to put together tons of recommendations in this next installment of our Baby Registry Essentials Guide series on behalf of our partner, Gugu Guru. It's a free online baby registry that actually gives you custom product recommendations based on your taste and lifestyle, though when it comes to sleep, that's something every single parent wants and needs.
You'll find all 9 of these smart gift idea along with tons of other fantastic items right on Gugu Guru, where you can easily add them — or anything else you discover online — to your baby registry with a single click. No dragging your family to the store, or struggling to combine multiple registries from lots of different websites. You can even get shopping guidance from their experts, if you need a little advice.
-Extra cool!
See below for details on winning our $200+ baby sleep giveaway with Gugu Guru –
This month's guide is also brought to you in part by BittaKidda and DockATot, two terrific independent companies that happen to make items that new parents love to help both them and their babies get the zzzzz's they all need.
Happy shopping! And, hopefully, sleeping.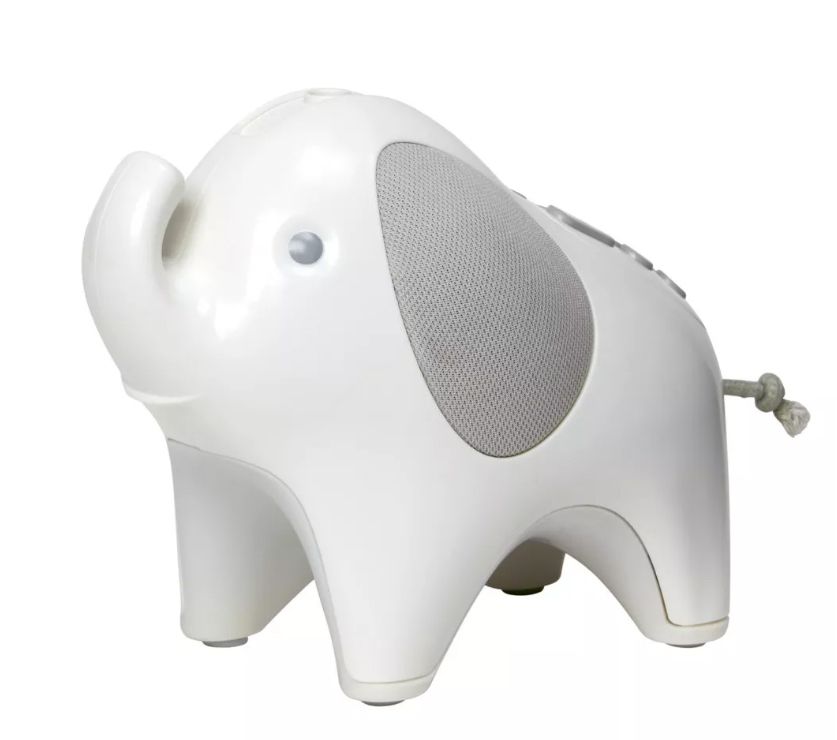 The Skip*Hop Moonlight Melodies Nightlight and Baby Soother
A white noise machine can be such a lifesaver, and we're smitten with this adorable elephant from Skip*Hop, which is as perfect on the shelf as decor during the day, as it is useful when it's projecting stars on the ceiling, playing Brahams or nature sounds, or warming the room with a gentle nightlight.
BittaSack Baby Sleep Sack
BittaKidda has created much more than your av-er-age sleep sack. This cozy blanket layer sack has a wearable lovey attached to help babies self soothe and ideally, get to sleep, safely. Then there are features to help them stay asleep, like a stay-put internal diaper cover to keep the sack from slipping around; and a clever diagonal zipper to up the likelihood that your baby keeps dreaming, even through those midnight diaper changes. Plus, the patterns and colors are just so cute.
For a thoughtful but smaller baby shower gift idea, also check out the Bitta Daytime, which is an adorably soft cotton velour lovey that clips right to baby's clothes.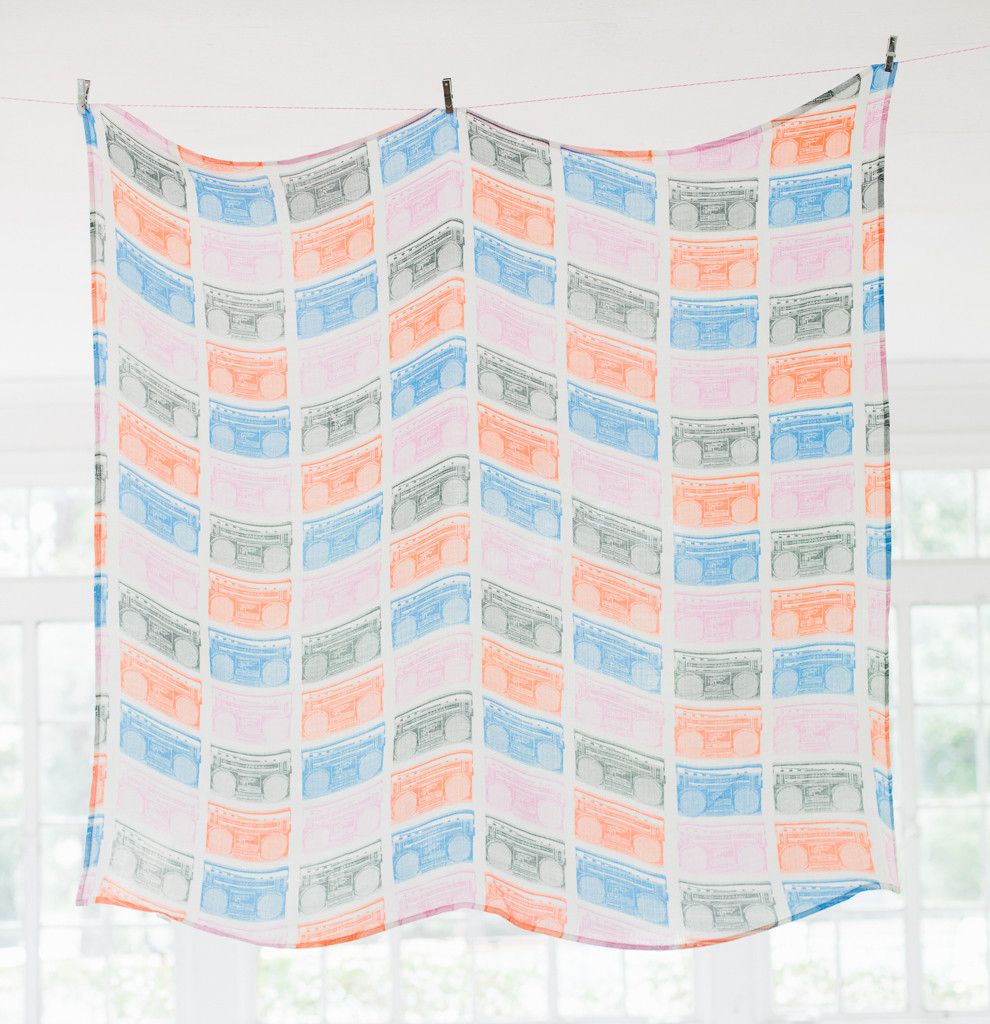 Buttermilk Babies Swaddling blanket
Trust these BTDT moms when we tell you that you can never have too many swaddling blankets. Or too much sleep, ha. This funky boombox design from contemporary NYC artist Ryan Humphrey is perfect those parents who prefer an edgier print to something more traditional. Though we'll just imagine those speakers are blasting out lullabies.

A set of lullaby CDs
When it comes to getting your little one down, we swear by real music created by real musicians — not the heavy metal tunes turned into electronic elevator music. Consider registering for some top-rated lullaby music CDs, like these three outstanding choices from kindie artists Caspar Babypants, Vered, and Sue Slesak. This is the kind of sleepytime music you won't mind listening to either. Which is good, considering sometimes it takes a liiiiiittle longer to rock babies to bed than you might be expecting.
——–
From our sponsor
If you want to make your baby gift registry as easy as possible — for both you and your generous friends and family — you need to try the Gugu Guru online registry. They offer custom product recommendations that are based on your own taste, your style, and your habits, so the site functions more like an awesome been-there-done-that friend you trust when it comes to what you should have on your registry. (And yeah, what you can probably skip.)
Just take their fun quiz, then click on the button to get advice from real experts. The result: A ton of fantastic product recommendations based specifically on your needs; not some generic list that may not be right for your lifestyle.
And don't worry if you can't find everything that you're looking for on Gugu Guru; as extensive as their own website is, you can scour the rest of the web for what you need too, then add those items to your registry too. Hey, that's one more way to get a little more sleep in while you can.
EXTRA COOL:  Visit Gugu Guru right now to see all of our fantastic shower registry gift picks, PLUS a chance to enter to win a $200+ prize pack including some of the items seen here!
——–
DockATot Deluxe Baby Lounger
DockATot is the new cult-favorite Swedish baby lounger and co-sleeper that's just made it to our shores. It's beloved by parents for its style and versatility; the cozy womb-like shape and breathable air-permeable bumper fabric is designed to allow babies to comfortably rest next to you in your bed, play, snuggle, or snag some supervised tummy time. It's even light enough to toss in the car for weekends at Grandma's, and the variety of cool covers means you can find one to suit your own style.
For babies 9 months and older, there is also the DockATot Grand, which can be used in a toddler bed, too. (Psst…keep an eye out for their CloudTot monitoring system which was just announced last month, and will be ready in time for summer 2017 babies!)
Oilogic Natural Calming Baby Wash, Calming Cream and Oil
The safe and natural blend of essential oils in Oilogic's Slumber & Sleep products are designed to naturally relax baby thanks to jojoba oil, castor oil, and coconut oil. Not only will your baby's skin be delightfully soft, but you'll both smell delicious after bath time every night.
Baby Jives Luxe Star, Moon + Cloud Baby Mobile
Even with all the nursery tech in the world, there's still something about an old-fashioned, beautifully hand-crafted mobile that still helps lull babies to sleep. We love this small mom-and-pop company, and the fact that the handmade mobile will become lovely heirloom-quality room decor long after the baby's moved on from the crib. (Sniff.)
BabyLit board books for bedtime reading
You can never have too many board books to start your baby's library right from birth, of any kind. But since it's you who's going to be reading to them for the first few years, we love the kinds of books with stories you don't mind reading (over and over and over) at all. Check out the clever collection of BabyLit Books, which adapt literary classics from Romeo & Juliet to Little Women, Alice in Wonderland, Les Miserables, and more.
The Happiest Baby Guide to Great Sleep
If you register for just one item before you bring your new baby home, we can't recommend Dr. Harvey Karp's new-parent bible enough. Let's just say there's a reason he's known as America's favorite pediatrician; in fact, it's his sound, reassuring, effective advice and that got all six of our own kids sleeping better than they did before we discovered his books.
*****
Thanks so much to our partner Gugu Guru for helping making it whole lot easier for new parents to create their perfect baby nursery. Be sure to head over now and enter to win the big $200+ new parent sleep gift giveaway!