As a mom to two beautiful biracial girls, I know just how difficult it can be to find diverse dolls for them to play with. When my firstborn was a baby, it was downright impossible. Today, there are so many dolls for girls and boys that capture the beauty of different skin colors, hair textures, and facial features. You just need to know where to look to find your child the perfect companion who looks "just like them."
Here are my picks for the coolest, most diverse dolls for this gift-giving season. If one of these dolls isn't on your child's wish list yet, it will be.
Related: Just Like Me: A book subscription box created for children of color who want to see themselves in the books they read, too.

Naturally Perfect Dolls
We've been fans of Naturally Perfect Dolls since we discovered them at the Toy Fair last February. These dolls are probably my absolute favorite on the list for being the best at featuring realistic black and multiracial features that are more than just a darker skin tone. The 18″ dolls are beautifully made and have the prettiest curls. Even better, the gorgeous ringlets and kinks can be washed, twisted, and curled. At $84.99 each, Naturally Perfect Dolls are expensive, but you're getting something really special you won't find anywhere else.

Ishababies
The plush Ishababies were created by a pediatrician and mom, Dr. Aisha Bailey. These snuggly dolls, made for the youngest of babies because there are no sewn-on parts and are, ahem, machine washable, are such cuties! I love that the multicultural collection is made up of both girl and boy dolls that come in a variety of skin, hair, and eye colors to help parents find one that's just right for their child. And don't miss their "toppings" — so you can mix and match their outfits; there's even a Santa hat, just in time for Christmas.

Ikuzi Dolls
I love these gorgeous Ikuzi Dolls (also shown at top), all made by a mom in my hometown of Montclair, NJ, who decided to create the line after discovering there were so few black baby dolls on the market for her daughters to play with. This mom built a company with a single mission: to teach little girls of color to love who they are. You can choose light, medium, or dark brown skin color and shop for gorgeous holiday outfits for the 18″ dolls, or even girl-and-doll dress sets in traditional African prints. Such an awesome holiday gift!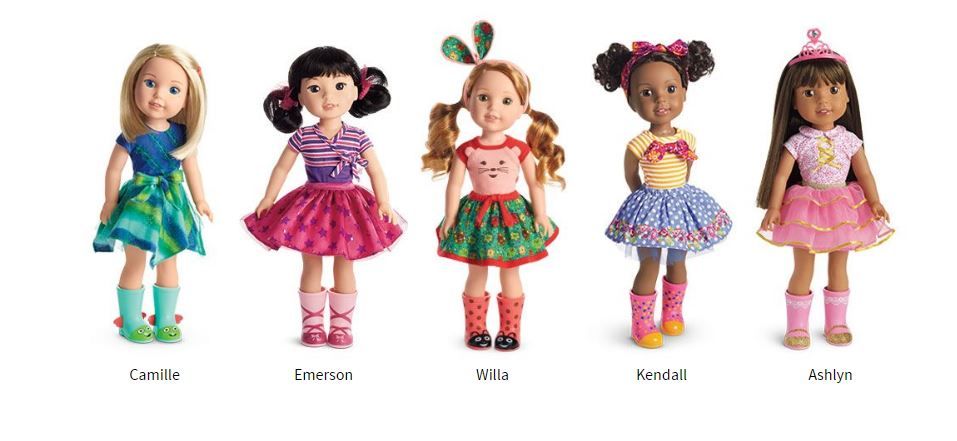 WellieWishers by American Girl Doll
I'm loving the latest line of diverse dolls from American Girl Doll. They are a bit smaller than the famous AG dolls we all know and love (and half the price, FYI). Like the other line of AG dolls, the WellieWishers come with a book telling their special story, but unlike the main line of dolls, these dolls don't have any historical significance. They are just girls, of various races and ethnicities, who do everyday kid stuff, like playing outside with their friends — which, we think, is significant enough for our youngest ones who are learning all about kindness and inclusivity.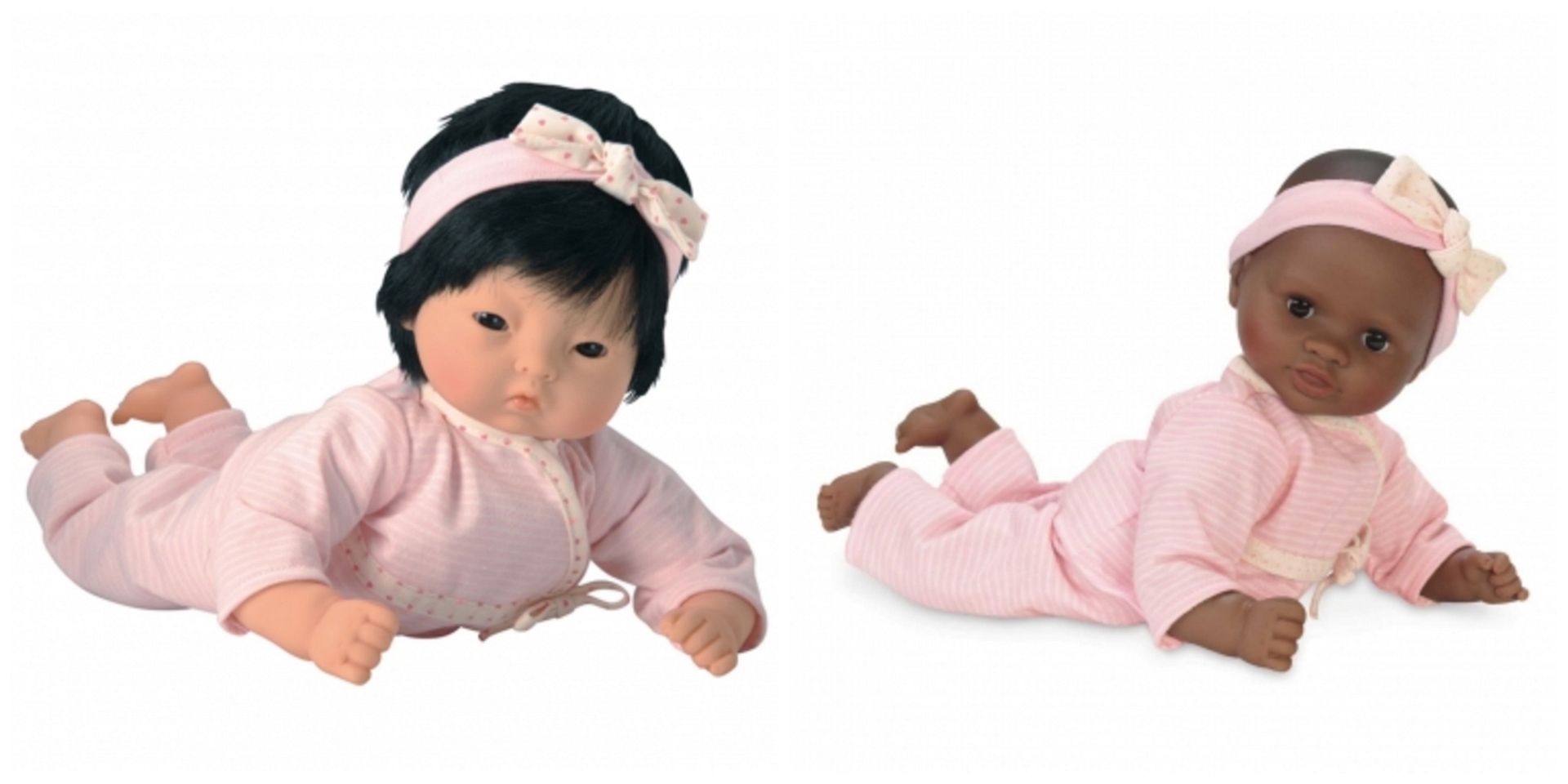 Corolle Mon Premier Baby Dolls
Cool Mom Picks has been a long time fan of  Corolle baby dolls for being the best of the bigger brands. And we continue to stand by that belief. Corolle's Mon Premier Baby Dolls are a perfect first baby doll for children ages 18 months and up. Not only are they made with the highest quality materials, but they come in a great range of ethnicities and races. Plus, they are just really cuddly and sweet.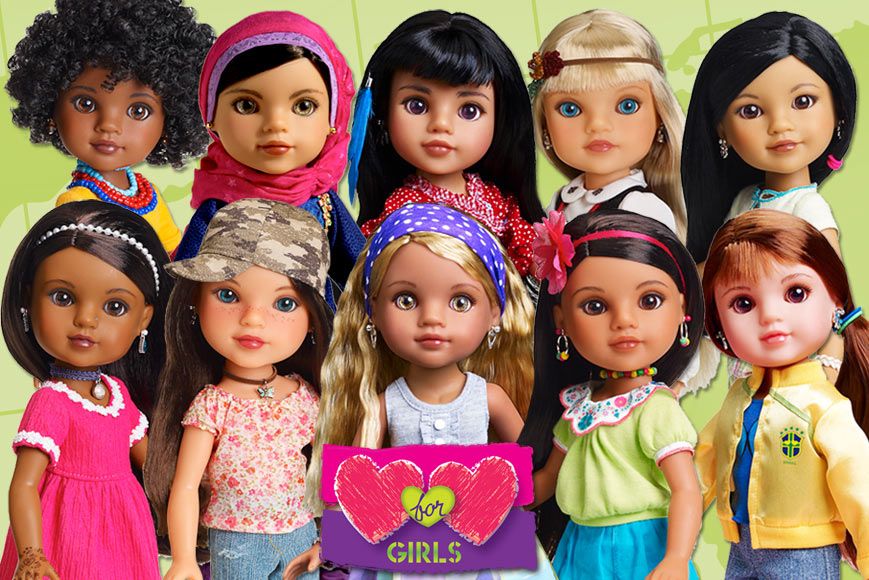 Hearts for Hearts Girls Dolls
Four of the girls in the Hearts for Hearts Girls Dolls line are inspired by real 10-year-old girls around the world in an effort to teach children about other cultures. I love that all the dolls — like Rahel from Ethiopia and Nahji from India —  are dressed in authentically cultural outfits and accessories, which you can learn more about on their website. These beautiful (and very reasonably priced) 14-inch dolls come with a diary, a mini-book about her history, family, and community, and an inspirational bracelet for your own child to wear. Best of all, for each doll purchased, Hearts for Hearts Girls donates $1 to World Vision, for programs that fight poverty around the world.