Every once in awhile we love to check out the top-of-the-line baby gear that we might not be able to afford ourselves, but makes our fantasy wish lists. And these luxury double strollers are too gorgeous to ignore.
Hey, maybe you got some cash for the holidays that's burning a hole in your postpartum clothing pockets? In which case, take a look at these knock out options.
Deep breath before checking the price tags.
Related: 14 of the coolest baby gifts and gear we wish we had when we were new moms. (Yeah, just a little jealous.)
CMP is an rstyle affiliate

Silver Cross, of course, makes the quintessential high-end British pram. You know, the stroller you'd expect to see Princess Kate pushing about Kensington. And after popular strollers named after Balmoral, Eton, and Aston Martin (naturally) they're out with the new Silver Cross Wave luxury double stroller.
What makes the Wave special is that it's a double stroller with a single-stroller footprint; in other words, it feels nothing like the huge stretch-limo I pushed around when I had two toddlers. And the tailored fabrics and embossed leather accessories make it simply stunning.
At the whopping $1,300 price tag, it's nice to see the Wave comes complete with all the accessories that often come sold separately by other luxury stroller brands, including a reversible seat, a bassinet, an extra-large storage basket, ventilated seat canopy, a rain cover and more.
Seems like this is the new trend in luxury strollers — charge more, but give you more so you feel a little more of the value proposition, and it definitely works.
Sorry though, it doesn't come with a full-time governess to help with the little darlings inside.
Available for purchase January 2017.

When I first unboxed a Joolz Geo² Duo stroller I was sent for review trial from this hot newish Dutch company, I was so impressed that I had to call my husband to come in and give it a spin.
He was prepared with a snarky comment about how this $1,299 luxury double stroller couldn't be that much better than our own very affordable travel system; but after one stroll through the house, he changed his tune.
You can choose from three different configurations depending on whether you're pushing twins or a toddler and a baby, and it's nice that the Duo configuration comes with the bassinet, two toddler seats, and storage basket. Though, I do wish it had a rain cover. You can even add an optional ride-on board to the back and comfortably push three little ones around.
From the leatherette detailing to the brushed steel to the impeccable tailored fabric that glistens, or at least until your kid spills an entire juice box on it, the Joolz Geo² Duo is truly in a class of its own for those of you with the cash.
Just be aware that when you're using it in double mode, you pretty much have no storage, which will be a drawback for a lot of parents. If you're hauling gear or groceries with two kids in tow, you'll have to add on a Joolz Geo Sidepack which looks like a shoulder bag and attaches to the side of the stroller and should address the issue pretty well but it is a bummer that it's not included for this price.
Oh, and one eco-conscious detail I enjoyed about the Joolz: Their shipping boxes are printed with templates for you to turn the cardboard into other cool things — like a cute little bird house. Smart!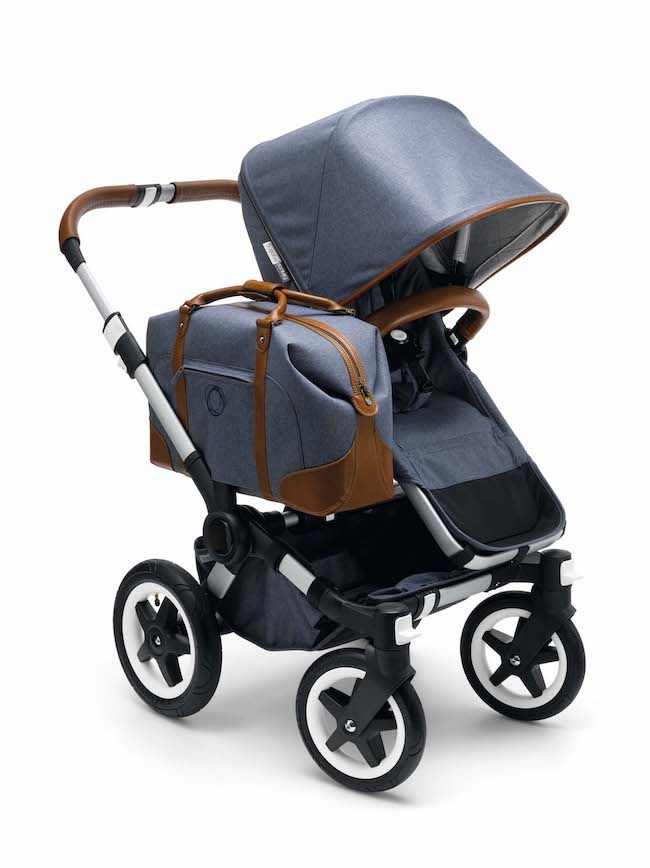 The Bugaboo Donkey has been one of our favorite high-end double strollers since its launch and no surprise, their new limited edition Bugaboo Donkey Weekender is quite the status symbol for new parents. At least, for those who still have time to weekend…with a new baby.
Since Bugaboo has never been known as the stroller for those who need loads of storage space, in a smart move, they've added a gorgeous side luggage bag to help you tote up to 22 lbs of baby gear, clothes, diapers and burp cloths.
(And yes, that would be a lot of burp cloths. But hey, no judgments — maybe you've got a spitter upper?)
Add the moderate storage space below the stroller for toys and other gear, and you're ready to jet.
As with the other Donkey models, you can configure it in a variety of ways for multiple children, plus you get quite a bit of gear for that splurge-y $1,499 price tag for the base-level Mono configuration (shown above): one bassinet/seat frame, one bassinet fabric, one seat fabric, the gorgeous luggage bag, and accessories that include a rain cover, sun canopy, and an air pump for those winning tires that will save you over and over as you wheel over the charming cobblestones and uneven sidewalks of your posh travel destinations.
Updated (because, whoa). This stroller can go up to a whopping $2,119 for the twin version, but we think most families — unless they have actual twins and need two bassinets at the same time — wouldn't need more than the $1,949 Duo version, which gives you two seat frames and fabrics for one bassinet and two seats.
But as I said, this is a limited edition. Grab one now while you can — or expect to find one later on ebay for a whole lot more. And that's saying something.
You can find the Bugaboo Donkey Weekender luxury double stroller and the Joolz Geo Duo double stroller at our affiliate Amazon. The Silver Cross Wave double stroller will be available sometime January 2017, so check their site or visit our friends at Magic Beans, who stock the stroller, for more ordering details.