If innovative baby gear is any indication, we can confidently say this is an awesome time to be expecting. My youngest just turned 6 years old, so I'm only a few years out of the baby stage, and yet there has been so much amazing change in baby gear even since he was an infant that I am left feeling just a wee bit jealous of all you new moms.
From high-tech strollers that charge your phone to super smart breast pumps controlled by your phone — and even some gear that has nothing at all to do with phones — here's our list of the coolest baby gifts and gear for new moms that we wish we had when our kids were born.
We'll try not to be too envious.
CMP is an rstyle affiliate
Related: The Ultimate Baby Shower Gift Guide featuring 150+ of the coolest baby gifts
1. Oh, just a stroller that closes at the push of a button and charges your cell phone, too.
The brilliant innovators at 4moms gave us everything we never knew we wanted in a stroller with their Origami stroller. Running lights so you can see (and be seen) in the dark. A no-hassle single-button power fold that's so amazing, when Liz shared the stroller on a TV segment, the (male) crew couldn't stop playing with it when cameras stopped rolling. And then there are generators in the wheels that create enough power to charge your cell phone. So you can use as much data as you need to find the nearest kid-friendly restaurant while you walk.
2. A stroller that folds small enough to fit in your tote bag. Seriously.
The gb pockit stroller not only folds up to tote bag size, it's light enough to carry with one hand while you hold your baby on your hip with the other. But even though it's the world's smallest folding stroller, it's no flimsy umbrella stroller. There's a decent amount of storage space underneath and a sun shade above making it definitely one to consider if you're a new parent.
 3. Baby carriers sized for dads. Whoo!
When my kids were infants, there were so few baby carriers made with dads in mind that; mostly we had to look for extra-large or expandable carriers, which were often created with dads as an afterthought. Now? Victory! At last there are tons of awesome baby carriers made just for dads from brands moms already love, like Stokke, BabyBjorn (above) and Ergobaby. We imagine the trend is just going to keep going, and our backs and shoulders are very appreciative.
Related: The coolest baby gifts and gear of the year: Editors' Best of The Year
4. No-touch thermometers, so we don't have to wake a sleeping sick baby.
Taking care of sick babies is exhausting, and when they've finally fallen asleep you do not want to wake them. So, we love smart thermometers — like Wishbone and Withings Thermo — that let us take their temperatures without waking them. We're also fans of the Kinsa Thermometer which keeps innovating. And then there's the Temp Traq thermometer that sends an alert to your smartphone if your baby's temperature is high enough to warrant a call to the doctor. Now that's some high-tech peace of mind.
5. An infant car seat that reclines, so your baby can keep on napping.
My kids would wake up every time I tried to transfer them from the car seat to the crib, so there is no doubt I would totally splurge on the amazing Cybex Cloud Q car seat, which has a full-recline option for when you're outside of the car. Use it as a carry cot or pop it into a Cybex stroller for on-the-go napping. This way, your baby can keep on sleeping when you arrive at your destination. Where was all this genius six years ago?
6. Breast pumps that minimize the pain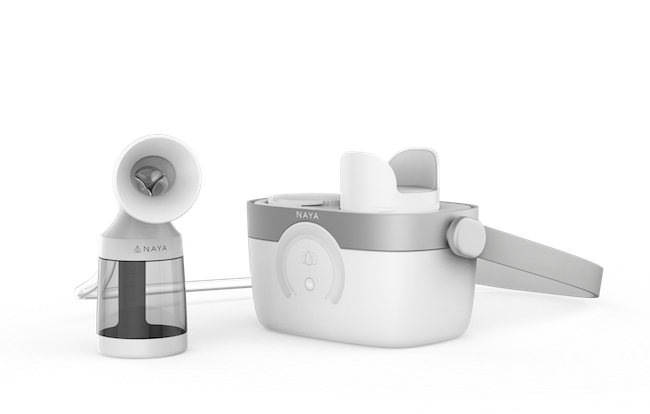 I still have PTSD thinking about the fairly painful breast pump I used a decade ago. (I can't say for sure if it's the reason that my 32-Bs are now more like 32-longs, but that's another story.) Now new moms can use the super-quiet Babyation breast pump that connects with your iPhone to help you control the pump and automatically track your sessions. We're also jealous of new moms who will have access to the coming-soon Naya Health breast pump that uses hydraulics to mimic the actual feel of nursing — so much better than feeling like you're being…well, milked.
7. Tell-it-like-it-is parenting advice books, hold the alarmist stuff.
While the classic books (you know what we're talking about) have helped a ton of parents, we also know a few moms-to-be who were out on a ledge trying to stick to crazy diet recommendations and feeling guilty about everything they were supposedly doing wrong. While we still want to hear from the experts, we're so happy that there are more and more humorous, helpful, in-the-trenches parenting advice books available.
We've always loved Armin Brott's The Expectant Father, which is just out with a fourth, updated edition. (Did you notice the cover has gone from a pinstriped shirt to a more modern check? Yeah, we did.) Brett Berk's The Gay Uncle's Guide to Parenting is a few years old, but it is still wonderful. For newer titles, our new go-to recos for new parents include Asha Dornfest's amazing Parent Hacks, which is full of "aha" moments you'll find useful long after giving birth. And Asha, along with co-author Christine Koh created Minimalist Parenting, a helpful guide to navigating a world of excess.
If it's laughs you're after, you're in luck. we've become huge fans of Sh*tty Mom, and the brand new follow-up, Sh*tty Mom for All Seasons by Alicia Ybarbo and Mary Ann Zoellner, which feels like a much-needed "yep, I get it" from your favorite, fun, wine-swilling mom friends. And we still laugh every time we open up any page at all of Let's Panic About Babies by Alice Bradley and Eden Kennedy, because every single page is just that hilarious.
8. Modern baby bedding with no cartoon characters to be found.
Back when some of us first had kids, we actually hacked colorful adult bedding for our own babies' cribs because the options in most stores — or at least the affordable ones — were pretty limited unless you were committed to Elmo, Tinker Bell, or Winnie the Pooh. So we're loving that now so many companies make fantastic modern, gender neutral crib bedding that makes nurseries look as cool as the rest of your home.
Aden + Anais kicked it off, launching their now ubiquitous swaddlers right around when we launched, and now their vast line includes cool muslin bedding from aden + anais (above) which even promises to keep your kids in bed longer.
For a more indie brand love the super stylish swaddle blankets from Modern Burlap. And when you get to the big guys, Skip*Hop has expanded to crib bedding and even the giant PBK is offering some gorgeous black-and-white bedding. We like it so much, we even included it as a top pick in our Baby Shower Gift Guide,
9. A formula maker for sleepwalking parents.
Nighttime feedings are hard. We get it. But if you're getting up in the middle of the night to make a bottle of formula, the Baby Brezza Formula Pro is your new best friend. This Keurig-like machine that measures, mixes, and warms your bottle for you is worth every penny, according to thousands of parents-turned-evangelists. We've loved this innovative company for ages and they're even sponsoring our 2016 Baby Shower Gift Guide this year (yay!) which is great, because they're now making so many other smart appliances to help parents who aren't formula feeding, too.
10. Hot maternity wear that looks less and less like maternity wear.
There's been a growing trend over the past decade in actually making maternity clothes cool, but we're really reaching critical mass here with so many amazing brands that are figuring out the most flattering, modern styles that make our mothers' muumuus a thing of the way way way past. (Thank goodness.)
Take a look at brands like Mayarya maternity collection, which is designed to work for women before, during, and after pregnancy. Rosie Pope has been doing great things for women's minds and bodies for about eight years now, but her new collection of modern maternity dresses are just lovely and she's even got a whole collection of little black maternity dresses (above). Mitera is making gorgeous clothes any woman would want to wear, pregnant or not.
And hey, let's not forget that we can still be sexy under those dresses too, with great options like Cake Maternity's sexy pregnancy and nursing undergarments, and even more fun options from Hot Milk.
One more option we wish we had when we were first pregnant: Borrow the Bump is a smart company that lets you splurge on designer maternity clothes by renting them for a few months, minimizing damage to your budget and your psyche. Hey, feeling sexy at 8 months pregnant is a really great thing.
11. Baby bottles that make it easier to feed on the go.
As a new mom, I loved to get out of the house, but memories of digging through my diaper bag to find everything I needed to make a bottle — from formula to warm water to the actual bottle — makes me think I would have really appreciated these b.box formula dispenser bottles. You can pre-load the base with enough formula for one feeding and fill the bottle part with water before you leave the house. Then, just release and mix the formula when your baby is hungry. Simple is good.
12. Apps, apps, and more apps. A.K.A. a second brain.
We've been there — the exhausted parents with no brain cells left to remember when the last dirty diaper might have occurred. So we could have really used all the new parent apps and resources that new parents have now, because they are total lifesavers. We highly recommend the Glow Baby app and Baby Bundle app that track everything from feedings and diapers to milestones and memories. Baby Bundle even reminds you about doctor appointments!
Then there are smart calendar apps,  organizational apps, and of course, loads of photo apps for those 8 million pictures a day you're taking. Hey, there are even apps to help you find kid-friendly restrooms around town. If you're a new parent, there's an app for that.
13. Cool baby gifts for all kinds of families, and all kinds of kids.
Not all families fit the traditional model — in fact, the mom-dad-2.3 kids family is fast becoming the minority. We love that baby gifts are starting to reflect that more and more. New parents today are so lucky to have options like baby books for kids with same-sex parents and baby books for kids who are adopted. Then there's the sweet Love Won onesies and tees that celebrate love, pure and simple.
There are so many more smart tees now for babies and kids that proclaim more aspirations than becoming future gold-diggers, heartbreakers, or pimps (oy).
And kids books are coming a long way too — like the book One Family by George Shannon and Blanca Gomez, which subtly shows that sometimes families aren't just one color. And the very cool Crayon Crunch books, which will illustrate your own child as the main character in the story — disabilities and all, if they have them.
Related: How to talk to kids about prejudice with the help of these 13 favorite books
14. The next best thing to a caffeine IV drip.
Yes, caffeinated chocolate! As in, more caffeinated than traditional chocolate. A bite of these after one of those no-sleep nights with a fussy newborn will make the foggy haze fade fast, and they're also perfect for parents who don't tend to drink coffee. (We hear there are a few of you out there.) In fact, go ahead and get a case of these Awake caffeinated chocolate bars for any new parents you know, but warn them that these are definitely not an after-dinner treat. Unless they wants to be up all night…again.