There's no denying to new parents that a bottomless stash of diaper wipes is essential in every way. But what's awesome is how many beauty wipes are available for adults too, taking the place of messier products you might own to make our busy lives on-the-go a whole lot easier.
I'm a wipes fan, but I'm awfully picky when it comes to ingredients. To earn a place in my own purse — and on my body — a wipe has to be non-toxic, gentle, and do a heck of a job, whatever its job.
Whether you're in the car, on an airplane, or sweating through your blouse in a meeting room with the heat set to tropical, take a look at these awesome options that this dedicated label-reader swears by. Let's just say beauty has come a long way from those little alcohol-doused packets of hand-sanitizing wipes your grandma might have carried in her handbag.
CMP is an rstyle affiliate
Related: Transitioning to winter skincare: The only 3 tips you'll need.
For a good all-around wipe down:
Babo Botanicals 3-in-1 Cleansing Wipes
The new USA-made 3-in-1 Face, Hands and Body Wipes from my beloved Babo Botanicals are super gentle, 99% natural, hypoallergenic, and really, really effective as face wipes after a yoga class or a run. You can also use them on your kids' faces no problem, since they're packed with soothing botanicals and none of those yucky chemicals or allergens we try to avoid.
(I hate using less-than-natural wipes on my son's cheeks and watching them turn red with irritation.)
I am a big fan of the Cucumber & Aloe wipes, but the Lavender & Meadowsweet wipes are nice if you like something more floral. Grab the 4-pack for a bit of a discount. Trust me, you'll use them.
Related: 7 drugstore beauty products that are better than the expensive stuff
For facial exfoliation:
Pacifica Enzymatic Exfoliating Wipes
The cult-favorite beauty brand Pacifica has a new line of cleansers, all made without any harsh chemicals. But what I think is most special are the Pacifica Enzymatic Exfoliating Wipes. Yes, exfoliating!
They are my absolute favorite, partly because they feel indulgent, even though a 30-count pack costs $8.99 at Target. You may not get exactly the same effect as a traditional facial scrub like Jo Malone (which Liz totally swears by) but they definitely beat packing that massive tub when you're traveling.
For waterproof mascara:
Neutrogena Naturals Purifying Makeup Remover Cleansing Towelettes
If you wear waterproof mascara, you might be among those of us who never really moved on from those bottles of greasy waterproof makeup remover, if not actual baby oil. Now there are a few wipes that do that job cleanly, easily, and without that leftover oil slick feeling, and a new favorite of some of our editors is the new Neutrogena Naturals Purifying Cleansing Towelettes.
They're allergy-tested and free of harsh chemicals, parabens and dyes, and offer a more natural and gentle ingredient list than the original, top-selling Neutrogena wipes. That said, the fibers are natural which means they're a bit more abrasive, but we don't find them irritating. Also a major plus: They don't sting your eyes like some other makeup remover wipes we've tried. Which I'd say is a big deal since you are using them specifically for your eye makeup, right?
Related: The pros and cons of 4 makeup remover wipes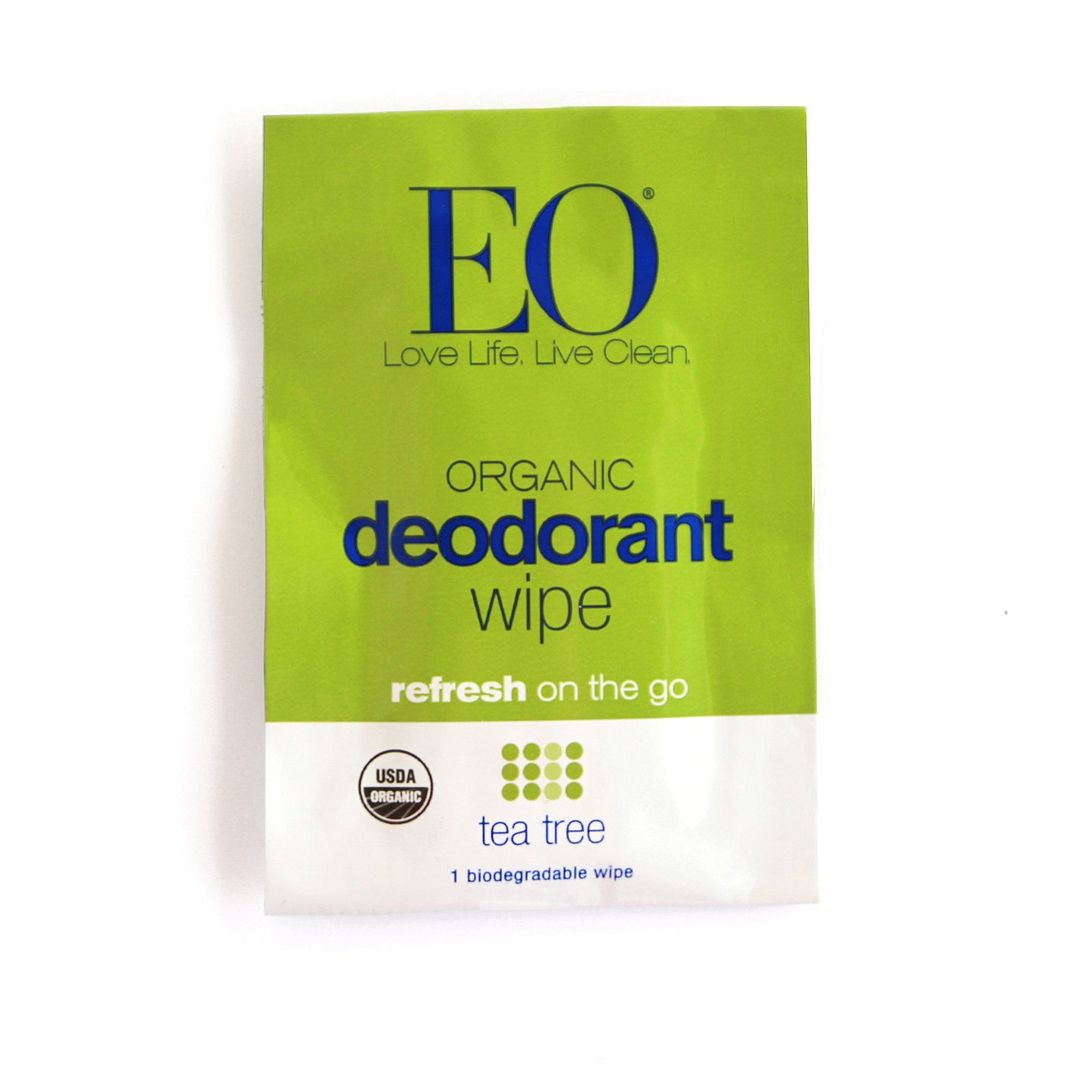 For underarm deodorant:
EO Organic Deodorant Wipes Tea Tree
This is a little something I picked up on a whim on the way to the hospital last year, and it turned out to be a life changer for me. EO Organic Deodorant Wipes are exactly what you need when you're living out of a backpack, need to freshen up if you're running right from work to dinner, or can't find your way to a hot shower when you really need one.
I'm generally down with using regular face wipes to mop off my underarms after a workout or after yoga (TMI?), but I hate carrying deodorant with me in the car, especially after my Melted Deodorant Destroys the Dopp Kit incident. These wipes solve that problem handily — easy to pack, impossible to melt.
I've used them fairly successfully after a long plane flight when I have to go directly to a business meeting, although I have gotten some interesting looks in the airport bathroom. Whatever, looky-loos: I smell fresh and clean.
And most of all, when I was doing lots of overnight stays at the hospital recently with my dad and grandmother, they helped me feel human. So I'm forever indebted to EO for that.
Now, if only all these wipes could make health insurance easier to navigate, I'd be totally ready for 2017.