Until there's a changing table in every restroom — male and female — one company has come up with an innovative solution in a portable baby changing table. And it's like nothing you've ever seen.
The Baby Change-n-Go was designed by two moms with toddler twins, with the hopes of saving parents a whole lot of grief when the only option is to change your baby on the bathroom floor (ew) or in your lap.
It's small enough to fit in your diaper bag until you need it. Then you just unfold it, and basically slip over the top of any public restroom stall door. Fold it down, and you've got a portable diaper changing station that includes pockets for things like diapers and wipes.
Awesome!
But then, I have some questions too.
We haven't received a sample of the product to test out, and I will say from the photos, it looks like it could be a bit awkward to have to squeeze your child in between those straps that hold the mat out and then somehow wrangle him long enough to get diapers on and off. Especially as the child gets older.
Also, Baby Change-n-Go is not exactly cheap at $100. And the company doesn't offer returns with the exception of manufacturing defects, so you may want to consider the cost for an item that may only see occasional use unless you travel a ton with your kids.
But my biggest question is, probably like yours, about safety. Because, you know.
Your baby is on the wall.
Related: 14 of the coolest baby gifts and gear we wish we had when we were new moms.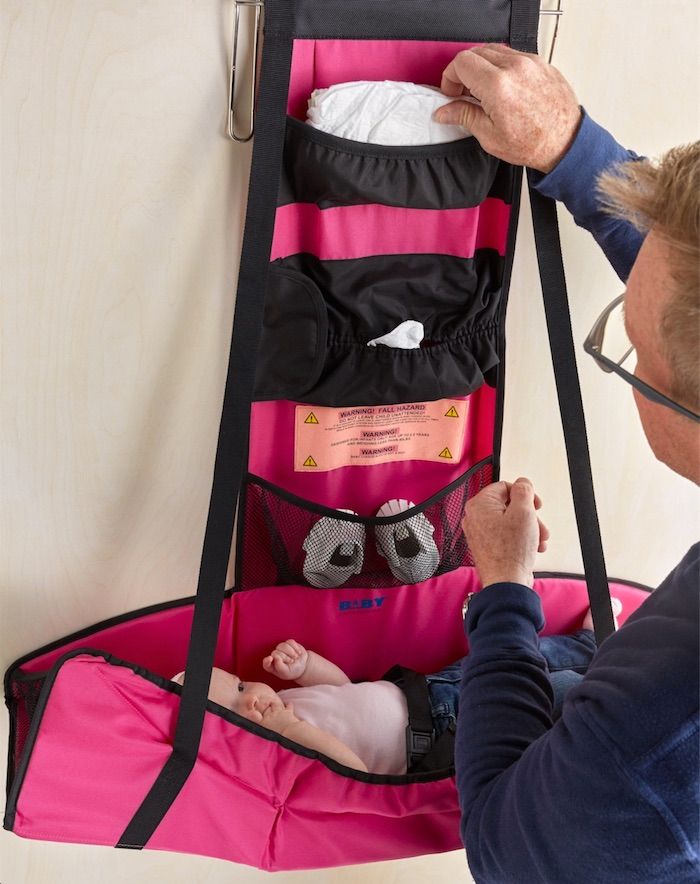 Now, I have no doubt that these two moms have tested it up the whazoo — hey, they're moms too!
They've cleverly included a lap belt intended to secure a baby or toddler up to 2.5 years old and weighing less than 40 lbs., and there is a safety warning label on the portable changing table that warns you to always keep one hand on the baby, not to use it as a bed (definitely don't do that), and to respect the age and weight limits.
The website also states that the Baby Change-n-Go has been tested by an independent third party safety organization and that they implemented some recommended changes. However, I'd really like more details about who that organization might be and what official safety approvals the product has received. More details are always good when it comes to safety and babies and understandably nervous new parents.
(When we reached out to the company for more details, they responded to let us know that the only independent safety test they haven't passed is for stability, because there aren't standards for this type of product yet.)
My other little complaint is that I could do with a little less of the fear-based sales pitch on their site regarding cocaine traces and hidden needles on restroom changing tables.
For me, and I'd imagine for most parents, this product is less about avoiding "dangerous" restroom changing tables and more about not having to change a baby on your lap while you sit on the toilet yourself, or figure out how to MacGyver a tiny restroom sink somehow.
As to whether we'd recommend a portable changing table like this one? Well, our own staff had differing opinions.
I love that it would give me a clean place to change my child when the floor is the only other option. And judging from the photos, it looks like it could definitely support a baby easily, provided you install it correctly and the safety tests it passed are solid.
As someone who travels a lot with my kids in tow, it would be amazing to know I always have a clean, portable changing table option wherever I go.
On the other hand, one of our safety-obsessed editors got hives just thinking about suspending a baby from a door.
So while we can't officially give it a big thumbs up until we've tried it ourselves, the Baby Change-n-Go is pretty genius. In fact, we're hoping it's as useful as it looks, because we're always rooting for mom entrepreneurs who come up with the solutions that make life easier for all the parents of the world.
You can find the Baby Change-n-Go at their website in pink, blue or black. 
All photos © Baby Change-N-Go and 4DCM, LLC
Updated on 2/27/17 with responses from the manufacturer.