They're sparkly, mysterious, and gorgeous… is it any wonder then that kids (and, um, the rest of us too) find unicorns so entrancing? It's why I searched the web to find the most magical unicorn birthday party ideas out there, which was so much fun because you can get as fantastical and creative as you want.
Really, the sky's the limit for glittery, rainbow-color food, favors, and party decor. When it comes to unicorn birthday parties, you can dream big, and get really imaginative.
Unicorns are mythological creatures after all.
Or are they?
CMP is an rstyle affiliate
At top: Unicorn party horns | Pretty Prudent
Unicorn Birthday Party Ideas: Invitations
These cute unicorn mask invitations designed by Melissa's Designs for Darling Darleen will get kids in the mood to party! Click over for the free printable, which does fit a regularly sized envelope so you won't have to gallop around town to deliver these beauties.
Crazy Fox Paper's custom unicorn invitations Fox Paper look like something straight out of a storybook, don't you think? And I love how colorful they are.
The watercolor design on these unicorn invitations by Snips and Snail Party is what makes them so sweet and charming. And for under $12, she offers a digital download version if you want to just print at home.
Related: The coolest rainbow unicorn gifts for unicorn-loving kids
Unicorn Birthday Party Ideas: Decorations
ZOMG, this rainbow balloon backdrop from Oh Happy Day is a crazy-awesome DIY that Jordan explains how-to in perfect detail (down to the exact number of balloons you'll need). Now, if you want something that's still "wow" but a little smaller-scale, check out their mini rainbow balloon arch directions instead, and get some supplies at their party shop. Either way, this will be a showstopper.
The Alison Show painted place settings on pink paper-covered tables sprinkled with confetti. Such an easy and inexpensive way to add some flair and fancy to a kid's birthday party. You have to click over to see all the awesome, fun unicorn birthday party ideas — including a unicorn parade! — that she came up with for her daughter's party.
You can add color and whimsy to any table at all, or even decorate the doorways of your home, with this adorable unicorn tail bunting from GenWoo at Etsy. It could get a bit spendy if you buy more than one, but if you pair this tassel garland with some balloons, it might be all the decoration you need.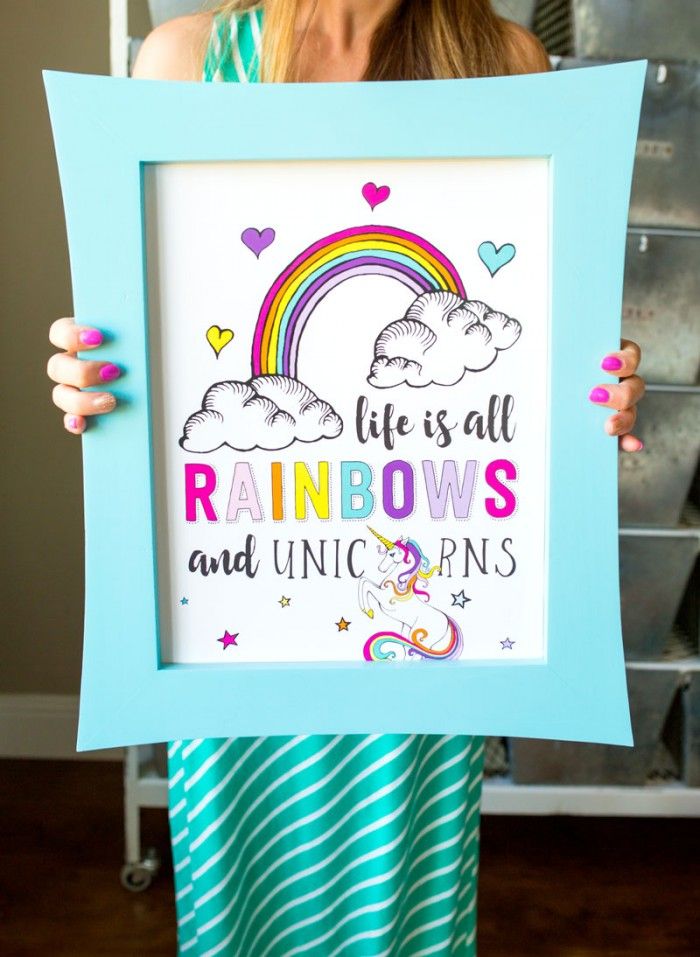 Over at Modern Moments, we spotted this awesome Life is all Rainbows and Unicorns print that she designed for her daughter's birthday. Love this idea for decorating the party space but also as a keepsake long after the party guests have gone home. (Psst… if you love this print as much as we do, you can buy it from her site!)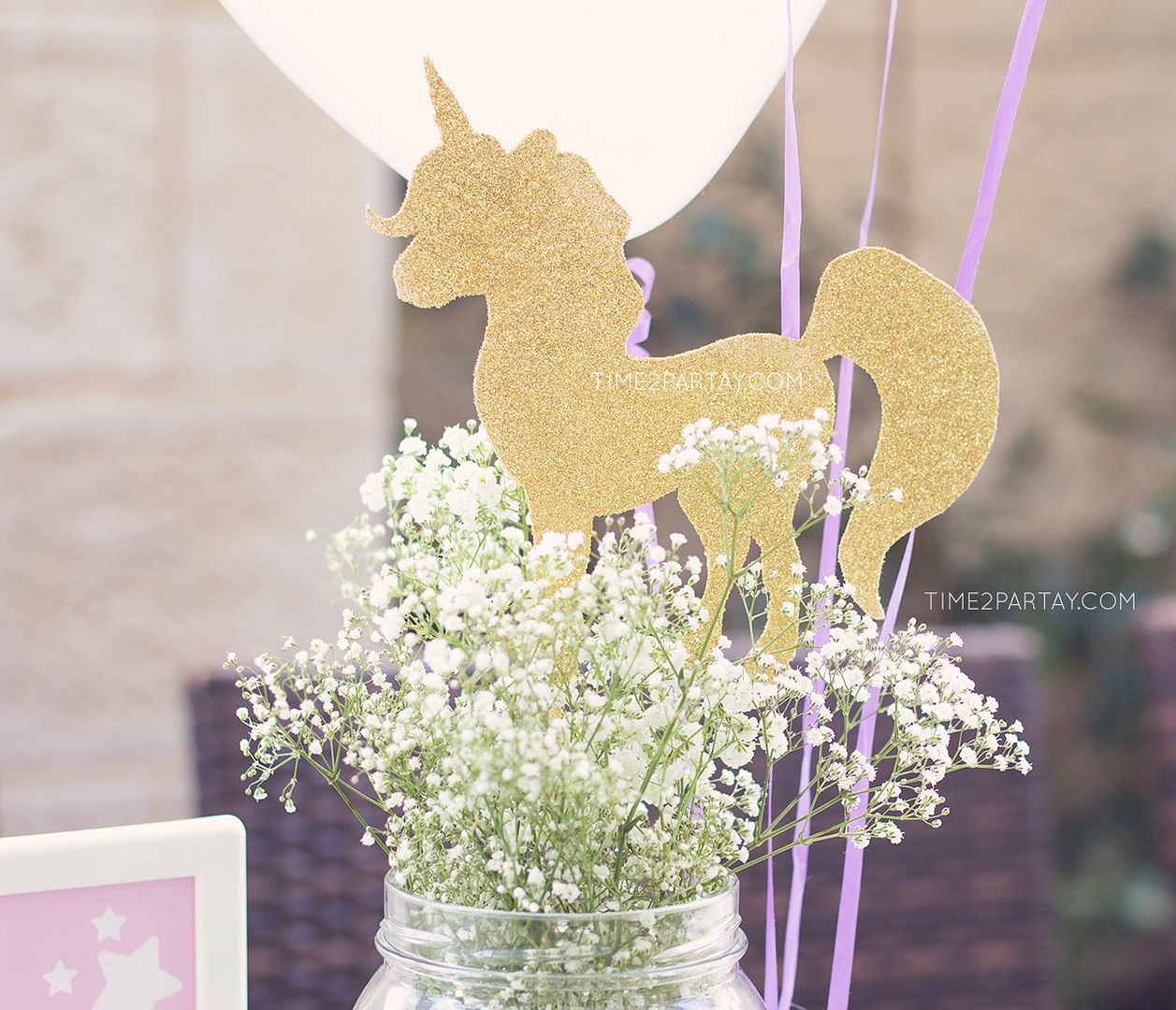 Sometimes all you need is one special sparkly element to make a space look magical. Love these gold glittery unicorn ornaments that Time 2 Partay sprinkled throughout the entire party, including in these sweet centerpieces. (h/t Kara's Party Ideas)
Related: How to throw an awesome kid's party for less than $50. For real.
Unicorn Birthday Party Ideas: Activities
Hobby-horsing goes a little glam with these sweet unicorn stick horse printables by Sunshine Parties. You could set up unicorn races outside, or let kids use them to gallop their way through a rainbow trail yarn game…
…like this fantastically loopy and colorful one by Oh Happy Day that we featured in our rainbow art party ideas post! This fun activity will keep younger kids busy and have them laughing out loud as they try to get to the end of the yarn to find a special prize. Click over to see how it's done (it's easy — promise!).
We love any reason to set up a photo booth and these unicorn party photo booth props by Paper Built Shop look like so much fun! (Note that the listing is for a PDF, which means you can print as many props as you need, in either pastels or bold rainbow colors.) The birthday girl gets to be the unicorn, obviously.
Redo Mom free-handed (wow!) this unicorn for a pin-the-horn-on-the-unicorn game, but if you tend to be less than artistic with your own drawings, there are tons of Googleable unicorn images that you can turn into printouts. (Unfortunately, this one is not for sale, at least not yet.) But click over to see her pro tips on making these pretty glittery horn pins.
Ohh, this sweet unicorn birthday coloring page from Sunshine Parties is so adorable. We think even our tweens would love this activity while they wait for all their friends to arrive.
And if you are looking for other unicorn birthday party ideas for tweens, this rainbow bracelet activity is a winner. Because, it's a scientific fact that kids love to loom. Check out the whole party at A Small Snippet because she has so many smart activity ideas, especially for an outdoor birthday party.
Related: More fun and easy rainbow crafts for your unicorn birthday rainbow activities. 
Unicorn Birthday Party Ideas: Party Treats!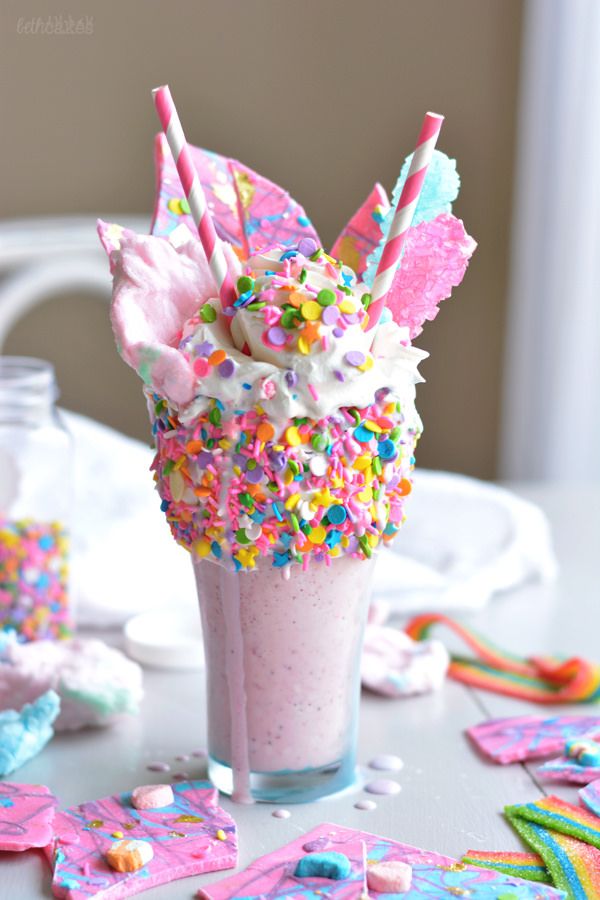 This! What kid wouldn't want these awesome Unicorn Bark Milkshakes at Beth Cakes that we featured over at Cool Mom Eats in our roundup of easy unicorn party treats? I mean, this is a party starter, folks! Plus, it won't take magical kitchen skills to pull this off.
Unicorns and rainbows go together like peas and carrots (only much more magical), so I think these rainbow cupcakes by A Small Snippet are especially awesome for any unicorn birthday party. Click over for a party cupcake-making tip that you will definitely want to use.
And speaking of cupcakes, how cool are these unicorn horn cupcakes that By Jen Rose had at her daughter's unicorn birthday party? Such an easy way to dress up any cupcake! (Be sure to click over to her site to see the special touch she used on those ice cream cones to make them extra magical.)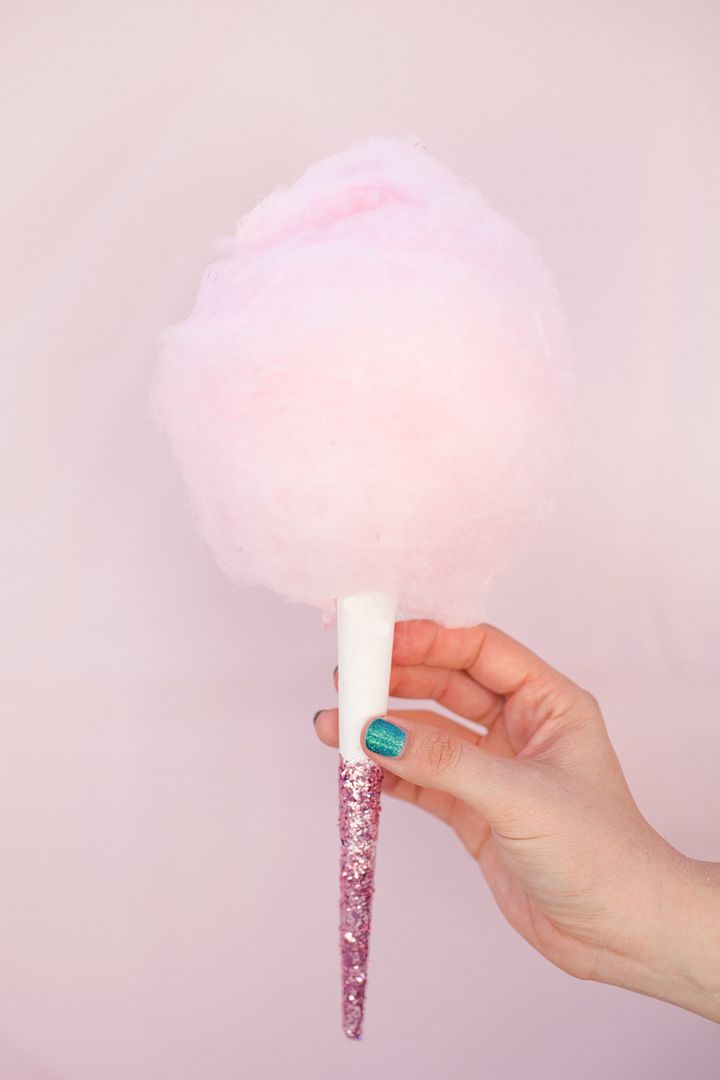 Ooh everyone loves cotton candy and The Alison Show's idea for glitter-coated cotton candy sticks that resemble upside down unicorn horns make a cotton candy treat even sweeter. But this wasn't the only sweet idea she had — click over to see all the candy-coated ideas, including a silver-frosted funfetti cake by Dolce Bella by Erin — yum!
Related: More unicorn party treats that don't require magical kitchen skills.
These exquisite unicorn donuts by Christina's Cupcakes look professional — because they are! — but her Instagram donut tutorial shows us how to try it.
With so much sugary stuff going on, going easy on sweet drinks might be the way to go. Pretty Posh Events came up with strawberry milk in unicorn bottles — the pink is so pretty, but I would probably fill the decorated bottles with regular milk or water instead. (h/t Hostess with the Mostess)
These sugar cone unicorn horns that Hostess with the Mostess created for Fisher-Price look magical, and probably taste so too. Click over to Fisher-Price to learn how she makes them — it's easy! I really love this idea because kids could totally help out with this one, which means it can be a DIY party activity too! (Like, make your own sundaes, only better.)
Have you ever met a kid that didn't like marshmallows? Me neither. There are so many good things about these marshmallow unicorn pops by The Decorated Cookie, I hardly know where to start! There's no baking required to make these sweets-on-sticks, but be sure to check out the video tutorial at their site to make sure yours look as sweet as these.
Related: Fun birthday party traditions you can start with kids at any age
Unicorn Birthday Party Ideas: Favors
If you're planning a unicorn birthday party for a little one, definitely check this out! Puzzles are perfect for little kids' goody bags, and this adorable eco-felt unicorn puzzle by Tori Lynnes on Etsy is one of our favorite finds for first birthday party favors.
Of course, you can't have a unicorn party without unicorn party hats. I love Pretty Prudent's DIY tutorial for making sparkly unicorn horns (also shown at top), because the instructions are super easy and the headbands aren't supposed to be precision perfect (phew!). Her site also has a ton of other cute unicorn party ideas, too, so be sure to check it out!
While kids don't need reminders that unicorns are real, they do usually need pencils — so these gold foil-stamped ones by Lucy Made Me are awesome unicorn birthday party souvenirs.