We've seen rainbow themed parties for kids before, but if you have an art and color-loving child, a rainbow art party can be a really fun and original theme for the birthday boy or girl. While there are plenty of ideas out there that involve seven-layer rainbow birthday cakes that may or may not come out like the photos on Pinterest, I wanted to track down stuff that makes it easier for parents. So here, find  plenty of easy rainbow party invitations, decorations, recipes, activities, and party favors — and no, you won't need a pot of gold to afford them all.
[top image: one charming party]
Rainbow Art Party Birthday Invitation Ideas
Mr. Printables' free printable rainbow party invitation folds up for the envelope but extends in such a fun way to reveal all the party details. What an awesome craft to get your kids excited for their upcoming party. (Oh yes, the kids are helping for sure.)
These personalized and printable rainbow-colored invitations by Petite Party Studio let your guests know that they should come dressed to paint, and not in their party finest. You can even greet your guests with a big, bright coordinated printable art party sign,
Purchase the 50-page, jam-packed art party printables in PDF from our friends at One Charming Party, and sit back and relax. It comes with party planning instructions and printables, like the colorful art-themed printable invitations shown above. They'd look cute alone in an envelope or packaged with a smock and some brushes for a pre-party favor to be dropped off at each guest's house. You can grab a full
Rainbow Art Party Decor Ideas
Since it's an art party, consider cutting out lots of  blank triangles from construction paper to let the kids color them in with a rainbow of markers, then affix them to a long ribbon to hang as one big banner. But if you're looking for something already set up and beautiful when the guests arrive, here are some other ideas.
This reusable rainbow party felt flag bunting from Brooklyn Owl will brighten up your party room, and can transfer to the birthday child's bedroom when the party is over.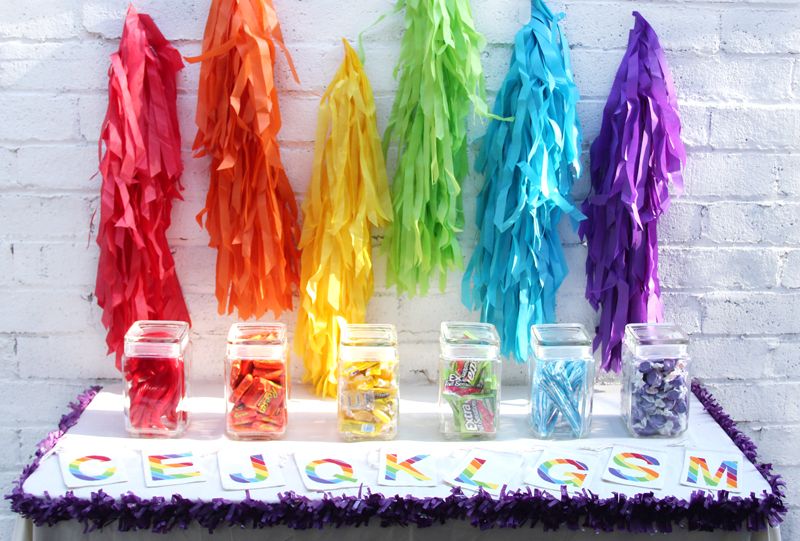 Tissue paper and scissors make this big rainbow of color to go behind a food or snack table. Get the easy instructions for how to make this rainbow party fringe from Studio DIY.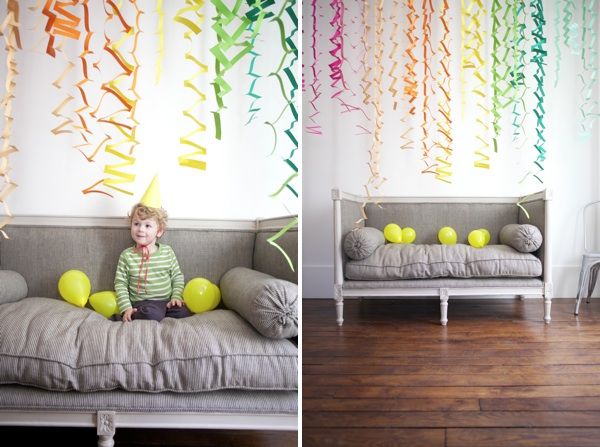 Colored paper can make for some simple and fun DIY rainbow party accordion streamers to hang from the ceiling or doorways. This is easy enough for even younger kids to help you make, so put them to work too!
I love how Annily Green's colorful rainbow party decoration adds a big, modern pop of color. Follow the instructions for how to make origami paper cubes, and hang each from the ceiling. (And psst…how cool is it that even the veggies on the table make a cool rainbow?)
Instead of buying a rainbow tablecloth you may never use again, place plain white plates onto colorful sheets of paper for an inexpensive, yet eye-catching rainbow-themed party table as seen at Chickabug. It can't hurt to lay out some crayons too, for younger guests to decorate before the food arrives.
Rainbow Art Party Activity Ideas
Who's up for a round of Pin the Cloud on the Rainbow? Love this cute idea by Team Whitaker which will have kids trying to get their clouds in just the right spot. Let kids color in their own clouds first so you know just whose is whose.
Your rainbow art party should naturally include some artwork, and I love how even the youngest kids could create cool abstract rainbow art using a blank canvas and some masking tape, as shown on Let's Explore. Best of all, they can take this home with them to display – we always love party activities that double as party favors.
The beauty of summer birthdays is being able to do messy crafts outside, like making this pretty DIY Rainbow in a Jar craft using salt and chalk. Kids will be so excited to take it home; just remind their parents that they're very well sealed!
Oh Happy Day suggests this twisted, silly rainbow yarn trail game that will have kids laughing as they try to get to the end of the yarn to find a special prize. Want to be extra tricky? Make a different path for each color and assign each child one color to follow.
Rainbow Art Party Food and Snack Ideas
Of course there are always jelly beans and M&Ms but take advantage of all the naturally colored fruits available and put together a vibrant rainbow fruit tray like this one seen on Makoodle: Purple grapes, blueberries, green kiwi (or green apples), yellow pineapple, orange cantaloupe, and ripe red strawberries.
I love Elsie Marley's rainbow party sandwich idea which groups all sorts of sandwich fixings by color, from (purple-ish) salami to yellow cheese to green leafy lettuce so that guests can create their own culinary rainbow masterpieces.
My kids may even eat their veggies if they were presented so temptingly as in Gimme Some Oven's rainbow vegetable flatbread pizza. Impressive! Though as a parent, I'd also have some plain cheese versions available nearby too. Hey, maybe this one is for the parents when they come to drop-off.
A plain-white frosted cake gets dressed up for the party with tons of sprinkles as shown in this Rainbow Sprinkle Cake at The Cake Blog that we previously featured. Whoa.
Of course you can decorate a plain cake with a rainbow, but check this as a cool alternative: A few bags of peanut and plain M&M candies make for a fun bumpy rainbow design on this striking Rainbow Birthday Cake via Parents Magazine.
Top some homemade or store bought cupcakes with Sunshine Parties' Art Party Rainbow Cupcake Toppers. Just edit this PDF file with the correct number and print the two designs at home.
Rainbow Art Birthday Party Favor Ideas
A batch of Rice Krispies treats can become edible rainbow paint brushes for your guests to take with them as they leave the party with this easy DIY favor idea.
If you've had enough DIY for the day, little hands will love this chunky Rainbow Gumdrop Crayon by What's Your Crayon. You can include a small coloring book or printed coloring pages in the bag too.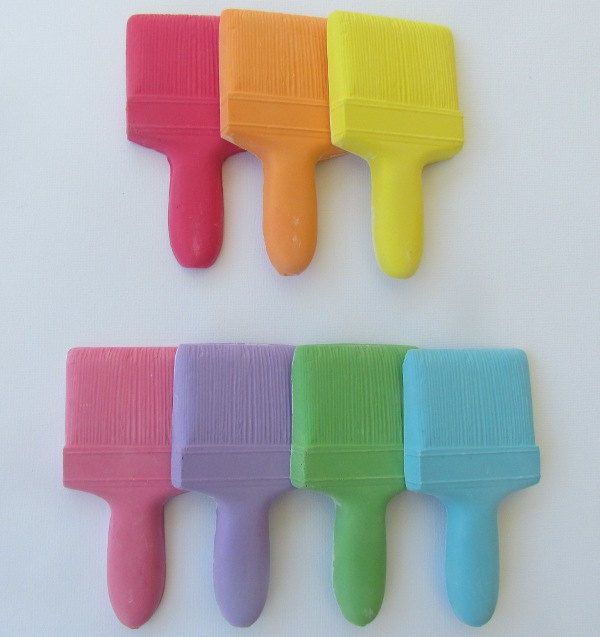 A rainbow's hue of colored chalk paintbrushes from The Chalk Shop are a great warm weather favor that will encourage your guests to get out there and make even more art. Or hey, even a set of rainbow Crayola crayons or markers can be a fun easy party favor. Kids can never have too much art in their lives–or too many rainbows.
Check out all of our fun birthday party ideas in the Cool Mom Picks archives or visit our Party Time board on Pinterest.