I've already let my secret out: I'm not one for elaborate birthday parties. In fact, we keep birthday parties simple and on a budget around our house. That said, I love to celebrate the birthday kid and make them feel really special on their big day. We do easy things — like decorating their chair at the table or looking through their baby book together — that, over the years, have become really special traditions.
So I've been asking people to let me in on their favorite birthday traditions, so we could share some ideas with our readers too. New parents, you might want to think about these early and start one or two with your babies now so the traditions can become sweet memories to share year after year. And those of you, like us, who have kids entering their tween years, it's never too late to start a new tradition — and how much fun would it be to let your kids help pick the one they love the most too?
Top, left to right: Everyday Glory | Sticky Bellies
Related: Birthday parties in the age of quarantine and social distancing: Ideas to make their big day special no matter what 
1. Decorate the birthday kid's room or chair
Of course, we're parenting in the Pinterest age, and that will lead you to believe you need to fill your home floor to ceiling with balloons the night before your child's birthday. It is fun to wake up to balloons, but we'll take it down a few notches from that. A bunch of balloons or a simple Happy Birthday poster from the siblings hung on the back of their bedroom door is a great way to feel the love first thing on your birthday.
Our favorite idea, though, is to decorate our kids' chairs at the table. Whether it's tying on balloons or streamers or buying one of these adorable high chair decorations from Tassle and Wine, this is a festive way for the birthday kid to eat their dinner. Plus, you don't have to sneak around their bedroom while they're asleep.
2. Use a special Happy Birthday placemat
Somewhere over the years, I bought a cheap plastic placemat that says Happy Birthday on it, and our kids decided that this was the most awesome thing ever. So now, on every birthday, the birthday kid gets to use this special placemat for the day. Sometimes it's the simplest things that get them really excited.
3. Read through their baby books at bedtime
Our family developed the tradition of looking through our kids' baby books at bedtime on their birthday eve, and I tell them each their birth story. We build up the funny parts — like the janitor who walked in to take out the trash mid-delivery (and saw everything) — and of course, let them know how adorable and sweet they were and how our hearts just exploded in love for them. You know, all the sappy stuff.
Related: 7 of the coolest printable birthday crowns
4. Create a custom birthday book
A few years ago we found this idea to create a custom birthday book for your child. When you're a kid, there's nothing quite like opening a book and seeing that it's been written just for you. So we're pretty sure this is one ours would want to read again and again on their birthday each year.
5. Make a poster with everything great about your child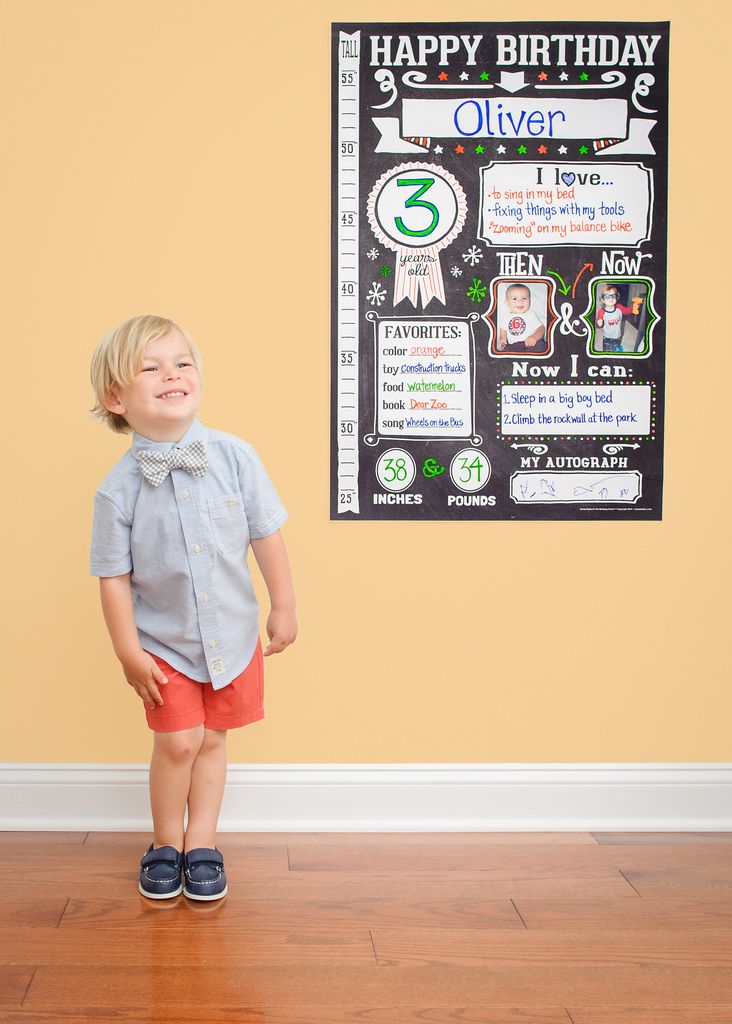 Impress your birthday kid by making a poster that celebrates his best character traits and accomplishments. You can use the letters from your child's name as a guide, or share 11 compliments for their 11th birthday (and so on). Or, get the siblings involved too, which we think is a really sweet idea. These personalized birthday posters we found at Sticky Bellies makes it even easier to create one.
6. Go on a dinner date, just with the birthday kid
My husband and I are trying to find more ways to squeeze in intentional one-on-one time with our kids, so I really love the idea of a dinner date with just the birthday child and the parents. Pick a fancy-ish restaurant and take time to talk about how they're growing up, what you're so very proud of, and what you're looking forward to over the next year.
7. Choose a charity to give back to
We know kids who ask friends to forgo birthday party presents and instead bring something they can donate to a charity — dog food, blankets, canned goods. Other families we know choose this time of year to pick a charity to donate to in the birthday kid's honor. Need ideas? We think With My Own Two Hands, a charity that helps orphans celebrate their birthdays, is a great one to pick on your birthday.
Related: 5 tips for throwing an awesome kid's birthday party on a budget of under $50.
8. Make a special breakfast
Liz told me that her parents would make pancakes in the shape of her name or initials for her birthday breakfasts. I love this idea (although it's probably easier for a kid named Liz than one named Anderson or Danielle, which would take a lot more batter).
Another option: buy a box of donuts the night before, and create a donut tower "cake" for breakfast. Add candles for a really festive way to start the birthday celebration.
Another fun idea: A friend shared with me that in her family, the birthday kid gets to pick a sugary cereal to eat for breakfast during their entire birthday week. And since we stick to low-sugar cereals around my house, I definitely got the appeal — it's such an inexpensive way to give your kids a fun, different treat during that one special time of year.
9. Wear a crown — all day long
Of course, the birthday kid needs a birthday crown. We found some awesome printable birthday crowns that you could let your child choose from and print at home. Or, invest in a reusable crown that your child will wear year after year, and maybe even pass down to their own kids one day.
10. Give them as many flowers (or balloons) as they are old
One dad I know gives his girls flowers on their birthdays, as many as they are old (five flowers on their 5th birthday, and so on), and it's become a tradition they really love. That said, if flowers aren't what your kid loves, you could do the same thing with balloons.
Related: Reusable personalized birthday banners that you'll want to look at more than once a year.
11. Let your child plan the family celebration
One mom I know lets her kids be in charge of the family birthday celebration on their birthday each year. In lieu of a big birthday party, the birthday kid gets to pick the meal, fun party plates, and silly party hats — and they all must wear them and take a photo together. With four kids now, her collection of party hat photos over the years is truly amazing.
12. Alternate between parties with friends and special family outings
Some families we know alternate between friend parties and family outings for the birthday each year. For the family outings, they've taken short volunteering vacations, splurged on a fancy family dinner, or headed out to do a ropes course or other fun local attraction that they wouldn't normally do together. They love the family time and a chance to celebrate the birthday child in this very special way.
13. Eat leftover birthday cake for breakfast. Yes!
When a friend texted me that her family always eats leftover birthday cake for breakfast the next morning, it was a revelation. What a deliciously brilliant way to celebrate the day after your birthday. This is one I'm planning to implement, stat.
14. Text your kid their baby photo

If your older kids have their own phones, you can so easily text them an adorable baby picture with a happy birthday note before you even get out of bed. It's sweet and sentimental but not publicly embarrassing like posting them on Facebook or Instagram. And it's maybe "cooler" than sitting down with the baby book. That said, we think our kids will still want to snuggle up and look through those old hard-copy memories too.