If you've watched the news recently, you've probably heard a disconcerting story or two about air travel passengers — which can be all the more troubling when the story involves parents flying with young children who were subject to rules that no one knew, or worse, subject to rules made up on the spot.
As a new mom, I poked around to get myself informed (and avoid becoming the subject of a viral YouTube clip, eek!), and found some really surprising rules about flying with children.
I certainly didn't know all of these, so I'm posting them here because you might not have known them either. After all, just packing for an infant or small child can be stressful enough!
1. Yes, the TSA can dump your breast milk. 
This may be old news for experienced jet-setter moms, but it was a surprise to this novice that TSA reserves the right to dispose of a small portion of breastmilk. If you're carrying more than 3.4 ounces of breastmilk in your carry-on, you're required to inform the TSA officer.
If you're lucky, they'll just run the container through the X-ray machine and send you on your way; but they do have the right to opt for more extensive screening measures including transferring a small quantity to a separate container to test it.
If you refuse? You may be subject to even more screening measures. Another pat-down, whoo! Just what we all want.
Related: Helpful tips for flying with kids from been-there-done-that moms

2. There may be a limit to the amount of breast milk you can carry on.
Turn out, to be able to bring all that liquid gold on board, you must be accompanied by your baby.
If you're alone, you do not have the right to bring more than 100 ml (or 3.4 ounces) of breastmilk in your carry-on in many countries.
That's tough news for moms who may be traveling internationally on business (or hey, a needed vacation) and hoping to keep up with pumping while traveling.
Be sure to check with your airline because they're all different; the Flying With A Baby website has compiled every country's rules for breastmilk limits for unaccompanied mothers (scroll to the bottom). London Heathrow lets you pack it in your stowed luggage, and will even provide you free dry ice to keep it fresh.
3. Newborns require a doctor's note to fly. And a birth certificate.
If you're brave enough to fly with a newborn under two weeks of age — and more power to you! — all four of the major US airlines (American, Delta, United, and Southwest) have the same rule: You need you to bring doctor's note (or completion of a specific medical form) to board the plane.
Be sure to check with your carrier to see their exact age limit, which may be 7 days or 14 days. Because the last thing you want when you've managed to get to the plane with the baby…is not to manage to get on the plane with the baby.
4. Single parents can't fly internationally with their children without some extra authorization.
If you are traveling out of the country with your child alone for any reason, Customs and Border Patrol states that you must have a notarized letter of consent from the other parent, or at least proof of sole custody (like a divorce decree, birth certificate, or death certificate for the other parent).
Kristen's kids: seasoned travelers!
Even if you have your kids' passports, be sure to get this taken care of before your trip or they can prevent you from flying, at least until they can confirm your right to travel alone with your kids.
Yes, this sounds wildly unfair, especially if you are single by choice, or there is no second parent in your child's life for any reason. But, it is a rule for the protection of children, so the inconvenience is worth the greater good.
Related: 9 travel essentials for babies that are worth the money
5. Lap babies under 2 still may have to pay a fee. Potentially a big one.
Yes, you have the right to fly with your baby under 2 years old on your lap — for free…with the exception of international flights beyond Mexico and Canada. That's when you may be charged a fee.
It may be a small fee, it may be a not-so-small fee. Check out this story of a family who ended up paying $500 for their 7-month-old in taxes and fees, while the rest of them flew free by redeeming miles!
Our friend Summer Hull of Mommy Points states in the article that the lap-fee is generally about 10% of the "applicable" adult fare. But be careful, because that means full fare, no restrictions, and is likely far more than whatever you paid. In other words, a seat may actually be cheaper for your baby or toddler.
6. If your child has a seat, the ticket must be in that specific child's name.
In a crazy, complicated recent story, a family was kicked off a plane for allowing their infant to travel in a seat that was reserved under a teenage sibling's name.
Yes, people switch seats all the time, but official Federal policy is that "the named person must be in the seat."
So, if for some reason your plans change, and you're bringing one kid instead of another, change their ticket too!
Related: Budget family travel tips to save you a ton on your next vacation

7. ALL children under 18 must have proof of age.
Even if your baby is a month old, or 2 years old, or 17 years old, definitely bring a passport or official copy of a birth certificate along. Turns out, airlines may have the right to demand proof of child's age before you board, even though they generally don't.
Speaking to my BTDT traveling parent friends, they had no idea either. Well, now we know.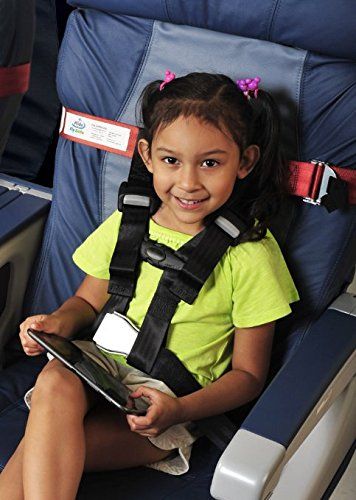 The FAA recommends the CARES Safety Restraint System for kids, which our editors have tested and also recommend. Just remember not to leave it on the plane. D'oh!
8. You have the right to ask for a discounted child fare. And you may get one.
The FAA's own section of tips for parents actually states that you can ask your carrier for a discounted seat for a child. You may not get it, but you can totally ask.
That said, be sure to tell them if you're going to be putting your child in an approved child restraint, like the CARES system above or your car seat, because airlines like Southwest will give you a discount, to help encourage the use of them for infants and children.
Besides, the FAA recommends you use a child restraint system for flying, so do it anyway. Even if it's not officially a rule.
Top photo by Suhyeon Choi via Unsplash