It's finally getting to pool and beach season (yippee!), which means time to shop for bathing suits for kids. Like many parents, we like that one-piece bathing suits keep our littlest ones covered up…although we also appreciate that a two-piece swimsuit makes bathroom trips sooooo much easier.
At any age.
(Raising hands here as adults!)
So you can easily see why we're excited about our newest sponsor FASTEN swimwear, an idea so smart we fell in love with it and shared it with all of you, when we first discovered it last year.
– Special offer for Cool Mom Picks readers:
Save 10% off regular-priced items at FASTEN Swim
Use code COOLMOM10 through 6/30/17  –
In a nutshell: two smart moms loved one-piece suits for their girls, but hated having to pull off a wet suit every time there was a diaper change or an emergency pee run, so they created a special magnet system to create a "smarter one-piece." It stays closed when kids are playing, but opens in a snap (ha) when they need to use the restroom, making those diaper changes or big girl bathroom visits so much faster, easier, and cleaner.
And we're all for that.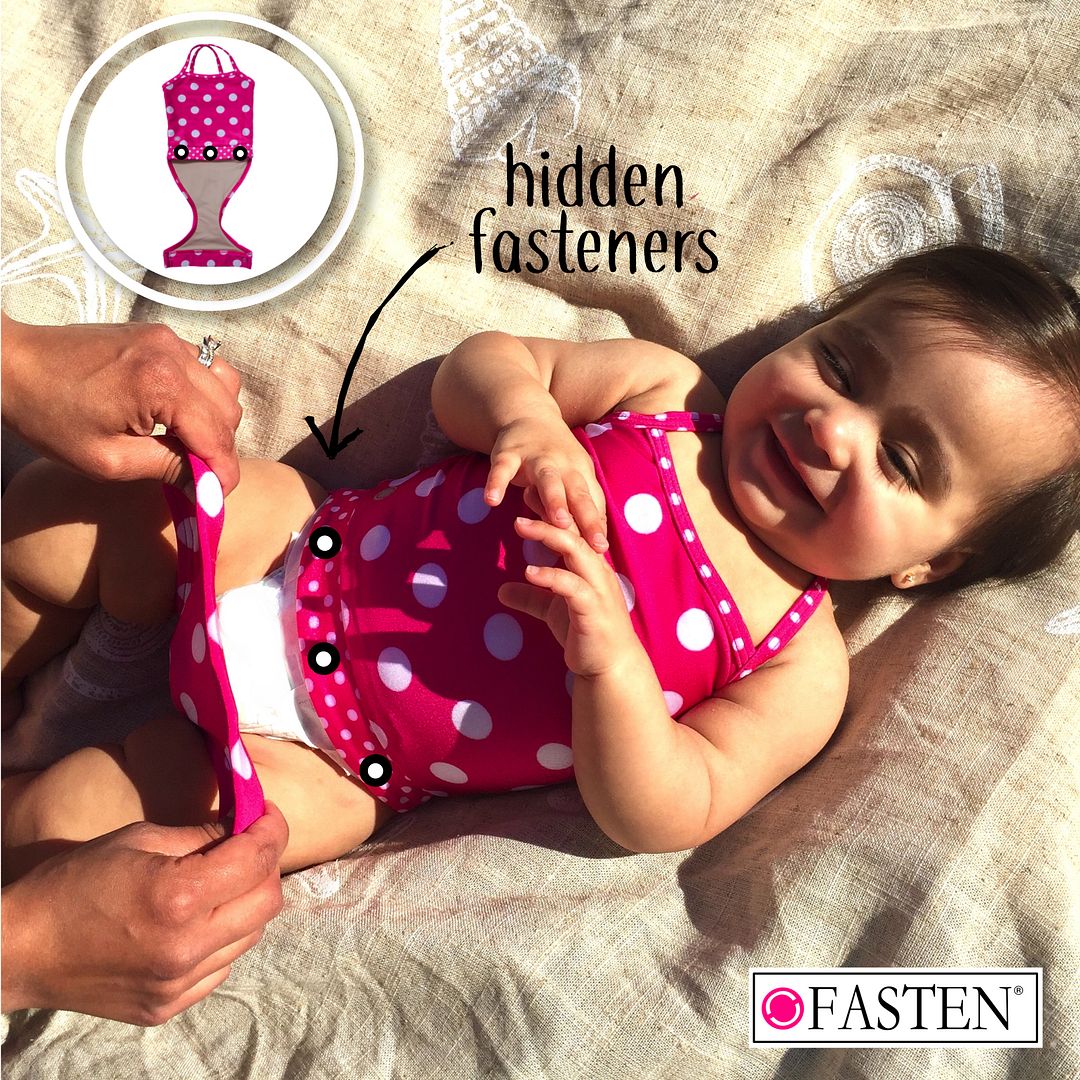 Whether you're headed toward your first summer season with your infant, or you've got a toddler or bigger girl who'll be hitting the beach or pool a lot this summer, we've combed the site to share with you five of our own favorite FASTEN swimwear bathing suit styles we know our own girls would love.
Nothing says summer like bold colors and tropical fruit. This Fruitsicle Swimsuit is perfection, isn't it? Love the innocent print in such bold, fun colors we know we could spot our girls from yards away. (sizes 6m–5)
One word: Emojis! Our girls will absolutely  flip over this Emoji Swimsuit featuring some of their favorite emojis. Bonus for moms: No poop emoji. (sizes 2T–10)
Camo is on trend right now, and a fantastic option for girls who prefer more muted palettes to bright colors. As for the cut, we know our bigger girls will really appreciate the one-shoulder look of this Camo Swimsuit, but with a second spaghetti strap to help keep it on while they're working on dives. (sizes 6–10)
We are so into this fun play on the ubiquitous red, white and blue swimsuits that are always summer favorites. The splatter paint look of this Americana Swimsuit gives it such a cool, modern graffiti look. (sizes 6m–5)
Can we pass up an Ombré Swimsuit? Of course we can't! This one from FASTEN happens to be both sweet and modern, and that little ruffled flourish around the bottom is the cutest. (sizes 6m–5)
Special offer for Cool Mom Picks readers:
Save 10% off regular-priced items at FASTEN Swim
Use code COOLMOM10 through 6/30/17  
Thanks so much to our sponsor FASTEN swimwear for making such stylish bathing suits for girls that also help make our lives as parents a whole lot easier.