When the weather has made taking your kids to the park impossible — or at least, miserable — it's helpful to have a few creative educational activities handy to keep preschoolers busy and entertained indoors. Because these winter days are soooo long. Even if they're short.
These simple educational activities for preschoolers don't require hours of prep with hot glue gun or $50 worth of supplies only available from international mail order. Plus, your kids will actually enjoy them! And that will help make the time on those days stuck indoors more fun for both of you.
Related: The parents' ultimate guide to snow day sanity: 34 genius snow day activities for kids.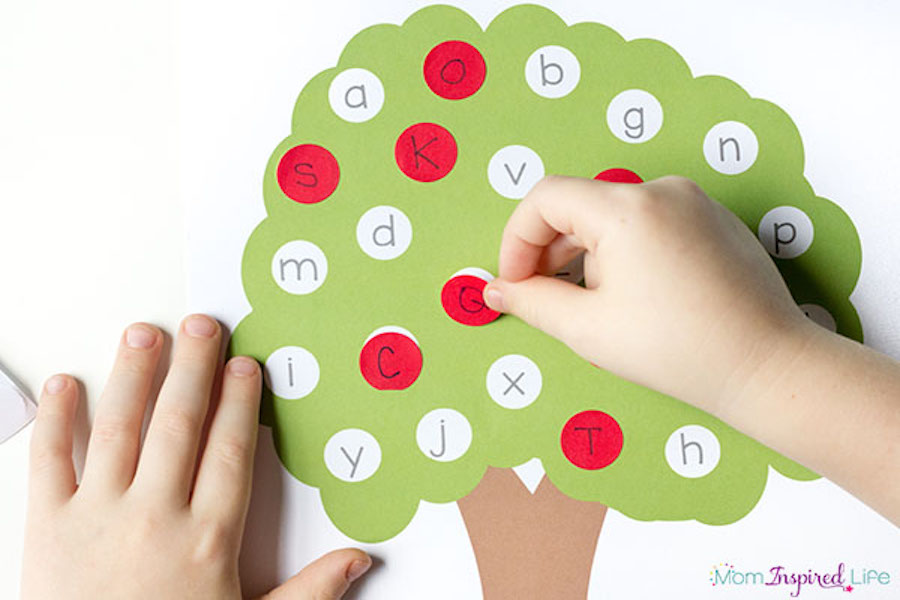 For learning letters
If your child is just starting to learn letters, this cute free alphabet tree printable from Mom Inspired Life is a great way give them practice matching those symbols. My kids would love to do this on their own and have me "check" their work, just like a teacher would. But for younger kids who are still learning, sit right with them and practice the names and sounds the letters make.
For learning sight words
For kids who are just starting to learn sight words like my youngest, have them match Scrabble pieces to words you write out for them on paper. Of course, it's always more exciting when you customize it with words that are familiar to them, like their name, your pet's name, a relative, a favorite TV character, or a special toy.
For learning colors
This color wheel craft at Craftionary takes a bit more prep work than some (though I'd use a paper plate instead of cutting out foam board), but once you make it you'll have it to use for a while.
I love the versatility of this educational activity — you can ask your child to match the clothespin to the color on the wheel, or you can ask them to clip the two primary colors that make purple, green or orange. Or, your preschooler is learning their letters, have them "clip to the colors that start with B," and so on.
Related: 9 kinds of educational apps for kids you may not have thought of before
For sorting and color matching
Learning to sort colors is an important fundamental for preschoolers to master, and this cute rainbow color-sorting printable (PDF) at Engaging Toddler Activities is an easy way to let young kids practice. To match the colors, grab whatever you have in a craft drawer —   fluffy pom-poms, dot stickers, markers, toys or even blocks.
Though my kids' pick would definitely be M&Ms.
For counting practice
The Imagination Tree has so many wonderful Montessori-esque educational activities for preschoolers, and I love this beans and flower pots counting activity if your kids are just starting to grasp math basics. She has great tips for how to use it, from simple matching numbers on the pots (or use paper cups) to the beans you put inside, to sorting, sequencing, and starting kids on the concepts of addition and subtraction.
For fine motor skill development
I'm working on some fine motor skill development with my 3-year-old, and this simple Feed the Turkey fine motor skill preschool activity over at The Busy Toddler has been a big hit with her! Check out the post to see all the educational benefits of letting kids do this activity alone. But of course, you can also sit with your child and guide them to choose the big puffs or the small puffs, choose puffs by color, and so on.
And, of course, you can just use plain cups and bowls — or one a kid decorates themselves with stickers or scribbles — instead of a jar decked like a turkey. That turkey is cute. But I promise, kids will find this educational activity fun no matter what.