Failure is hard for kids, but it's essential to their growth. That's why teaching growth-mindset for kids has become so popular lately in parenting circles. Parents are increasingly moving away from helicoptering (yay!) and instead, giving their kids the freedom and encouragement to try new things, put in the effort, learn from their mistakes, and think big — because growing is all about pushing past perceived limits by developing your abilities.
(If you want to learn more, check out researcher Carol Dweck's TED Talk about growth mindset. It's now been viewed nearly 8 million times!)
So, as the new school year is starting up, I wanted to recommend some of my favorite growth mindset books for kids.
I think they would also make great gifts for teachers to keep in their classrooms, to encourage students who are feeling timid, or to reassure those kids who are scared of failure. And frankly, some of us adults could use this lesson too.
CMP is an rstyle affiliate
Related: 3 clever new puzzle and activity books to keep hands busy and minds sharp
A classic for nearly a decade now, Beautiful Oops! by Barney Saltzberg is one of my favorite books for kids about making mistakes. The message — that our oops moments can actually be the beginning of our masterpieces — is told through the metaphor of art. But talking through the idea with kids will help them see that growth mindset applies to sports, theater, writing, science, music, or any other area where their passions lie.
JiHyeon Lee is one of my hands-down favorite children's book author-illustrators. Her worlds are magical, and her upcoming release Door (available for October, pre-order now) is as captivating as ever. The main character in this wordless book is a young boy who stumbles upon a door, and he has to make the decision whether he's up for the adventure that's behind it.
Lee's latest book expands kids' mindsets and shows them that the world is a marvelous place where anything is possible — as long as they have a spirit of curiosity and exploration.
Jabari is afraid of the diving board, and he's good at procrastinating. But the title of the book Jabari Jumps by Gaia Cornwall, gives away the ending. Not that it spoils a thing.
If your kid is facing uncertainty or fear over a new goal in their lives, then this highly-lauded picture book for young readers just might help them see that mustering up the courage to try something new — even just once — could just be the tipping point toward a new passion.
Related: Why we need libraries: Twitter claps back against a truly stupid op-ed
Parents of kids who are always right, this book is for you. I wasn't sure what to expect from Marcy Campbell and Corinna Luyken's cryptic title Adrian Simcox Does NOT Have a Horse  but this book is a gem. The main character isn't Adrian Simcox; it's the girl with dark hair who is absolutely, positively convinced that Adrian is lying about his pet horse. Her mother, however, is brilliant and gentle in the way she brings her daughter around. In fact, I want to be a mother just like her. For stubborn kids who tend to lean toward right over kind, this story is an eye-opener.
Related: What Can a Citizen Do? Why Dave Eggers' new picture book is required reading for all kids.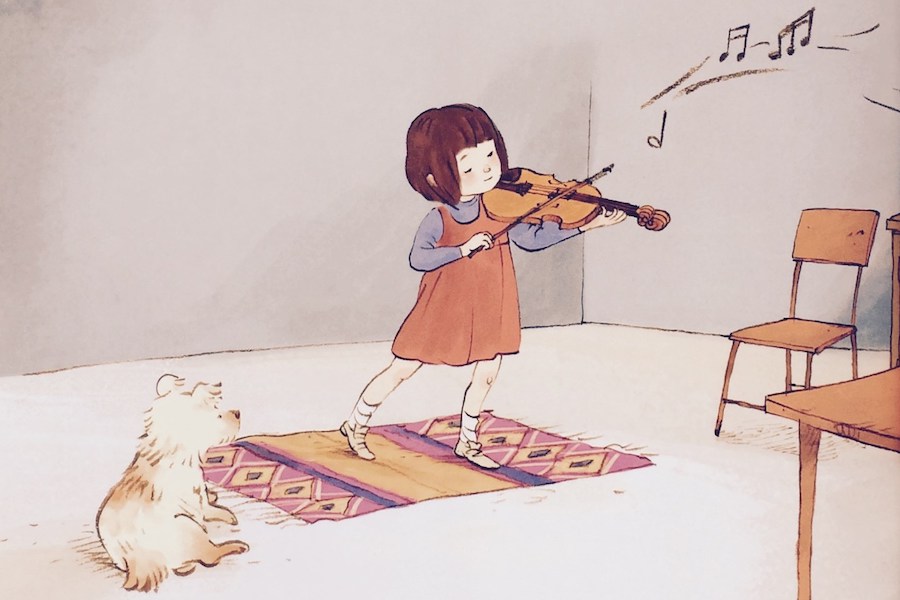 Practice, practice, practice at the things you love. That's the lesson my kids picked up from the critically acclaimed Hana Hashimoto, Sixth Violin by Chiere Uegaki and Qin Leng. Hana wants to be like her grandfather, who excelled at the violin. She's not as good as he is, but she's willing to try. And when it comes to growth mindset. trying is always the key. Whatever the result.
Part of having a well-developed growth mindset is understanding that people can change. And The Bad Seed by Jory John and Pete Oswald helps demonstrate this lesson in a very funny, quirky, full-of-personality story about a bad seed (like, literally a seed) who maybe isn't so bad after all.
The Book of Mistakes by Corinna Lyuken is a breath of fresh air. As with Beautiful Oops!, it teaches readers what wonderful, beautiful things can come from the mistakes we make in our creative journeys. It's a fantastic book for perfectionist kids who tend to be a little too hard on themselves. Or, for those kids who flat-out quit if they don't get things right the first time.
Related: A trio of fantastic STEM-inspired picture books that celebrate curious children.
Another book about conquering fears, The Thing Lou Couldn't Do by Ashley Spires focuses on a girl who is afraid to climb a tree, even though her friends have such big, fun plans for that tree. She wants to want to climb it, but her fear takes over. If that sounds like a familiar story in your own, home, then this is a lovely book for your young readers.
I was so excited to learn that Kobi Yamada and Mae Besom have released their bestselling kids' books into a boxed collection called What You Do Matters. It includes all three of their popular titles — What Do You Do With an Idea?, What Do You Do With a Problem?, and What Do You Do With a Chance? — which is great, because you want all three of them. These stories encourage kids to believe that, even though they're young, their ideas matter and are worth pursuing.  If your kid is a creative dreamer, they'll love these books as much as my kids do.
For a more how-to approach toward growth mindset kids, the Mindful Mantras series by Laurie N. Wright — including I Can Handle It!, I Will Be Okay!, I Can Handle Special Occasions!, I Will Try, and I Believe In Myself — may sound a little on-the-nose from the titles, but it's really a great collection. These books are for kids who are truly struggling with anxiety, fear, and trying new and uncomfortable things. It's okay; the world can be a scary place for some of us. But these books will help them to cope with those anxieties thanks to some new mantras (as you might have guessed), and come out successful on the other side.