We always love fun Halloween craft projects for our preschoolers and little kids, because it's one way to get them excited about Halloween that's (generally) non-caloric. And we're all about keeping it real with easy crafts because, hey, we're busy this time of year!
So check out thee fun and decidedly easy Halloween craft for preschoolers which only require minimal help from you. Those are the kinds of crafts we love.
Top Images: Sunny Day Family, Handmade Charlotte, Crafty Morning, Kids Craft Room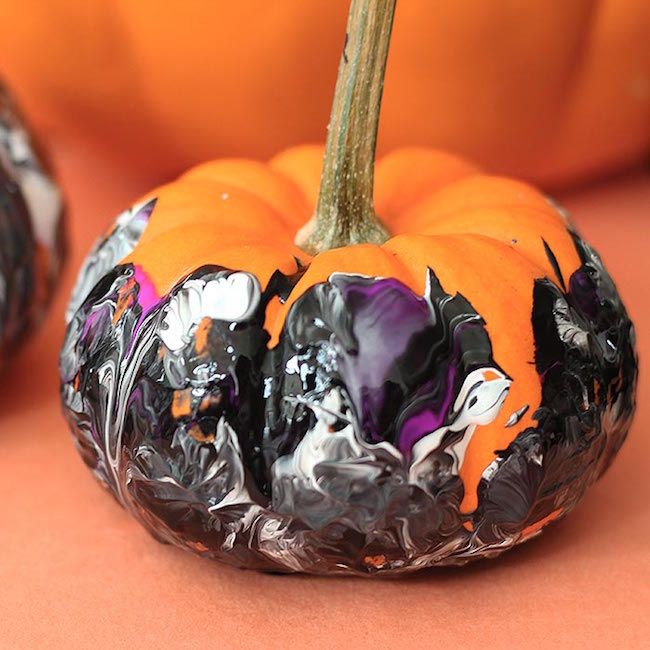 This easy Halloween craft for preschoolers really is as simple as it gets: let your kids paint their own pumpkins with this tutorial at Sunny Day Family. They'll have a blast, we promise.
Related: 15 not-so-scary but totally fun Halloween crafts for kids
We have to admit, we're suckers for a cute footprint or handprint craft, and this easy ghost footprints Halloween craft for preschoolers from Crafty Morning is adorable. You could even make a whole bunch of them to string up as a garland for your Halloween decor. Cute!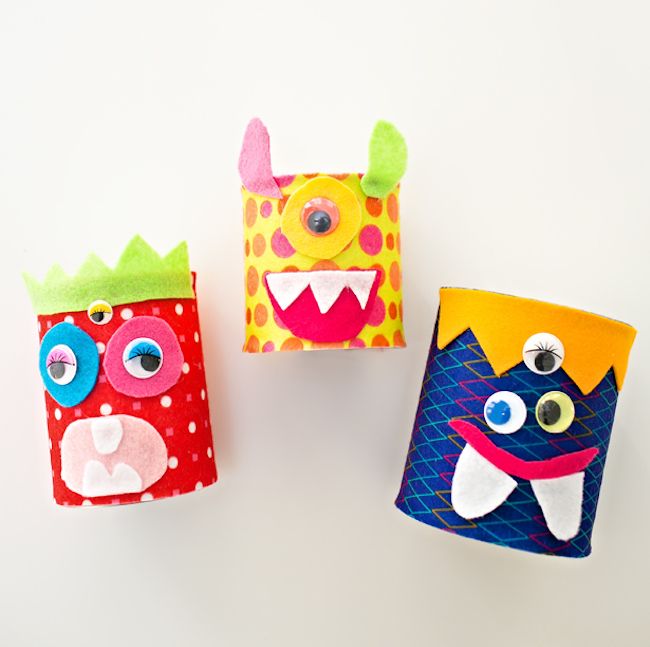 These silly felt monster cans Halloween craft at Hello, Wonderful is so charming and easy for Halloween. You probably already have all the supplies you need at home, and if you're short on felt, you could easily swap in construction paper. When you're finished, use the cans to hold fresh flowers, pens and pencils, or the obvious — leftover Halloween candy.
Related: 9 more easy Halloween crafts for preschoolers

In our post about fun Halloween papercraft projects for kids, we shared this wonderful free printable Giant Haunted House Coloring Page from Mr. Printables which is a perfect easy Halloween craft for preschoolers — or kids of all ages really. In fact, it's perfect for families with kids of varying ages, and if you're lucky, it may take them right up until Halloween to finish it.
This cute paper cup bat Halloween craft project for preschoolers can be found at Kids Craft Room. I love that it moves and down when you pull the string, which makes it that much more engaging than a regular old paper cup craft. Plus, it's like an engineering experiment which makes it an extra clever STEM project for homeschooling parents.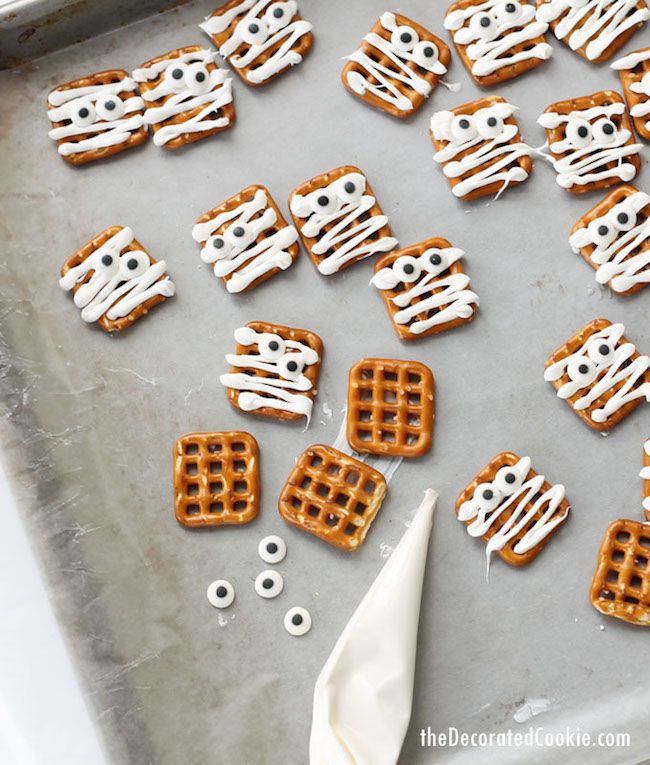 We love crafts we can eat, and these DIY pretzel mummies at The Decorated Cookie have been a favorite of ours for a few years now. While older kids can do it on their own, if you're crafting with kids as young as toddlers you can prep the station and help them DIY these themselves. Even if all they do is add on those fun edible eyeballs.
Related: 7 Halloween treats so easy, they won't scare away parents
If your kids are still obsessed with slime (aren't they all), I think they'll love this safe, Borax-free Witches Brew slime tutorial at Sugar Spice and Glitter, complete with eyeballs and spiders. It's only three ingredients, making it a perfect easy Halloween craft for preschoolers to add to your bag of tricks.  And be sure to check out our own post on natural, Borax-free homemade slime recipes for even more ideas — just play with the colors, and add your own creepy crawlers to Halloween it up.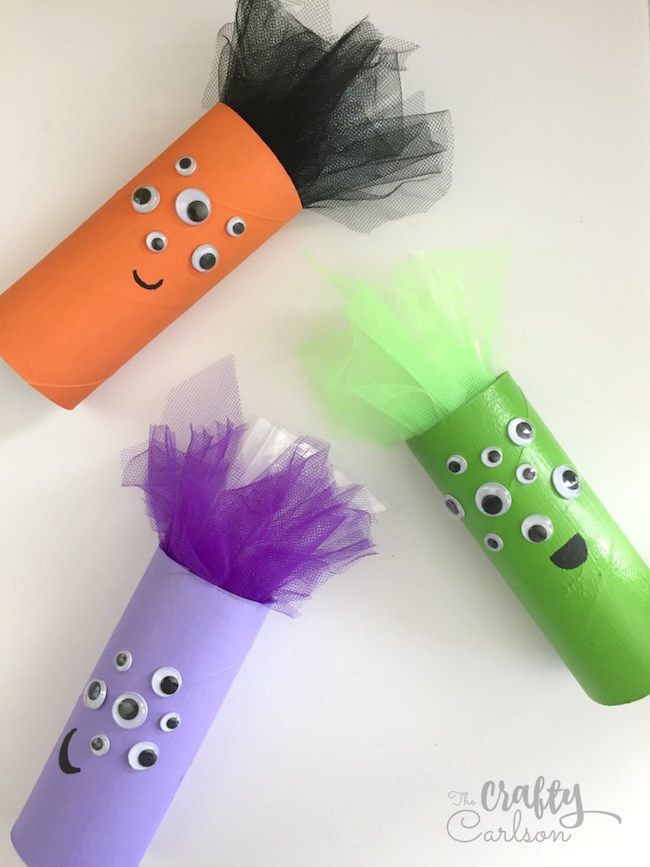 Another reason to save up your toilet paper or paper towel rolls is to make this silly monster tubes Halloween craft spotted at The Crafty Carlson.They're cute as decor, or you can also fill with non-candy Halloween treats — we even have 20 suggestions for you that you can make or buy.
Related: 17 fantastic Halloween printables to make your Halloween party an (affordable) smash!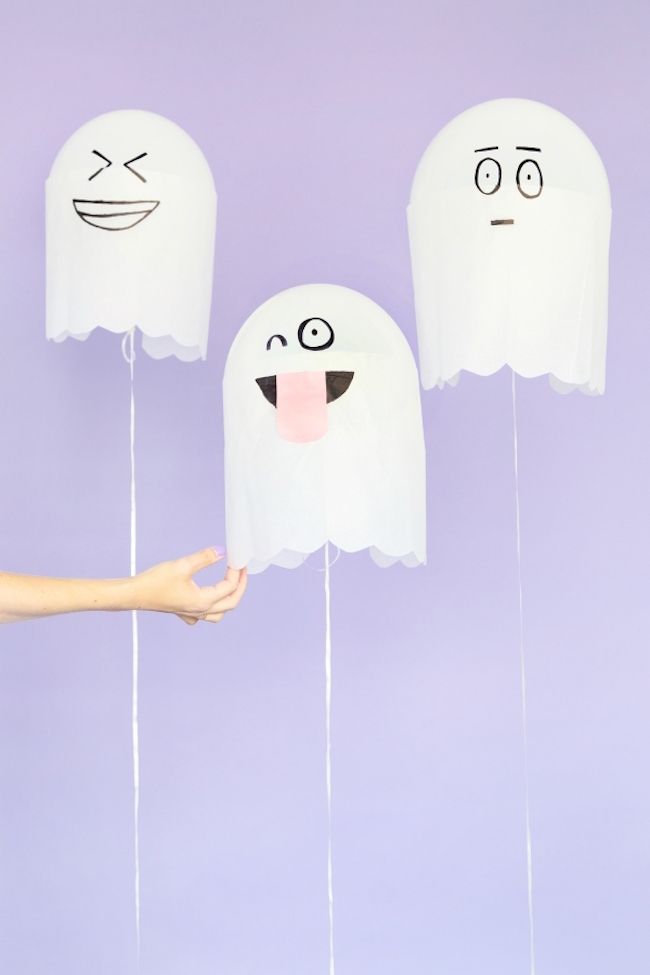 We love easy Halloween crafts. Have we made that clear yet? Which is why we love this easy ghost balloon Halloween craft at Studio DIY. I promise you'll be shocked at how simple they are to make, and as long as you can supervise your preschooler with a Sharpie, they'll have a blast.
If your little kids are the kind who like to put everything in their mouths, then help them whip up a batch of this taste-safe pumpkin spice play dough from Crayons and Cravings. We love crafts that double as play things and this one should keep your preschoolers nice and busy!
Sometimes the best crafts are the simplest, and we know some preschoolers who can entertain themselves for hours — without much parental attention —  simply with coloring pages. So be sure to check our excellent collection of free printable Halloween coloring pages for kids, including this adorable Hello Kitty.
How clever is this DIY Halloween bats craft for preschoolers at The Joy of Sharing? They're made with a spoon and paper and just a few other simple items.  Great for preschoolers to practice their cutting and gluing skills to make these cuties.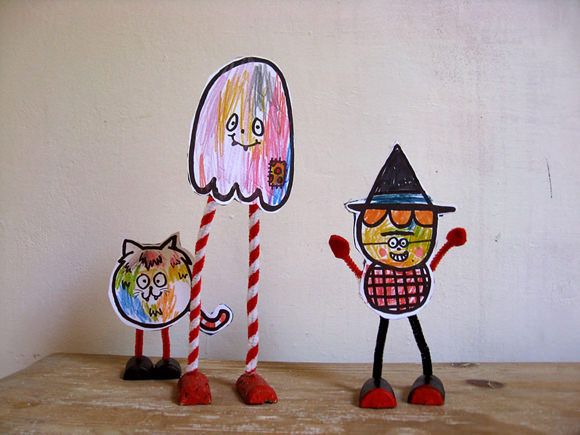 I'm always into an easy printable craft, and these DIY printable color-your-own Halloween puppets at Handmade Charlotte are so cute for preschoolers. Just add pipe cleaners to turn them into fun puppets, ready for a show. I just love the opportunity for open-ended creativity that these present.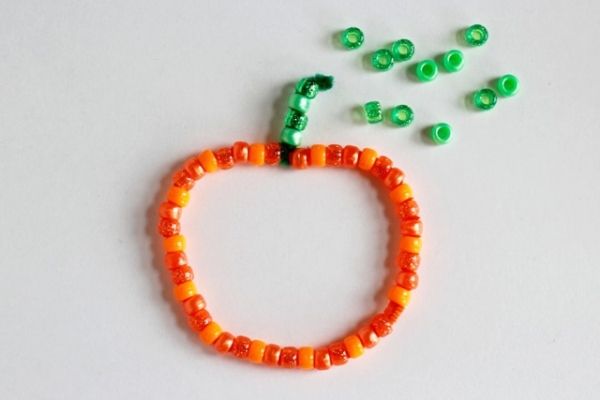 Learning to string beads is a great fine-motor skill for young kids, and this pumpkin beaded pipe cleaner craft at Creative Child is a terrific option for an easy Halloween craft for preschoolers. Your younger kids can just string the beads and let you shape them, though older kid can DIY on their own completely. They even make a fun gift for your kids to give to their friends or siblings for the holiday! Not that we need to turn this into another gift-giving holiday.