Our family of four with two teenagers recently returned from a five-day trip to Paris. While we did hit most of the major attractions — the Louvre, Notre Dame, Versailles, and of course the Eiffel Tower — we also found some fun, less touristy places to visit with tweens and teens.
Not only will they help you skip the long queues of the big Paris tourist destinations, but they'll help make your trip extra special.
Another fantastic thing about traveling with teens in Paris: Kids under 18 usually get free or discounted admission to lots of attractions!
If your teenagers are older — or look older — just be sure to carry your Passport or a school ID as proof of age.
Take a Paris Highlight Tour by Boat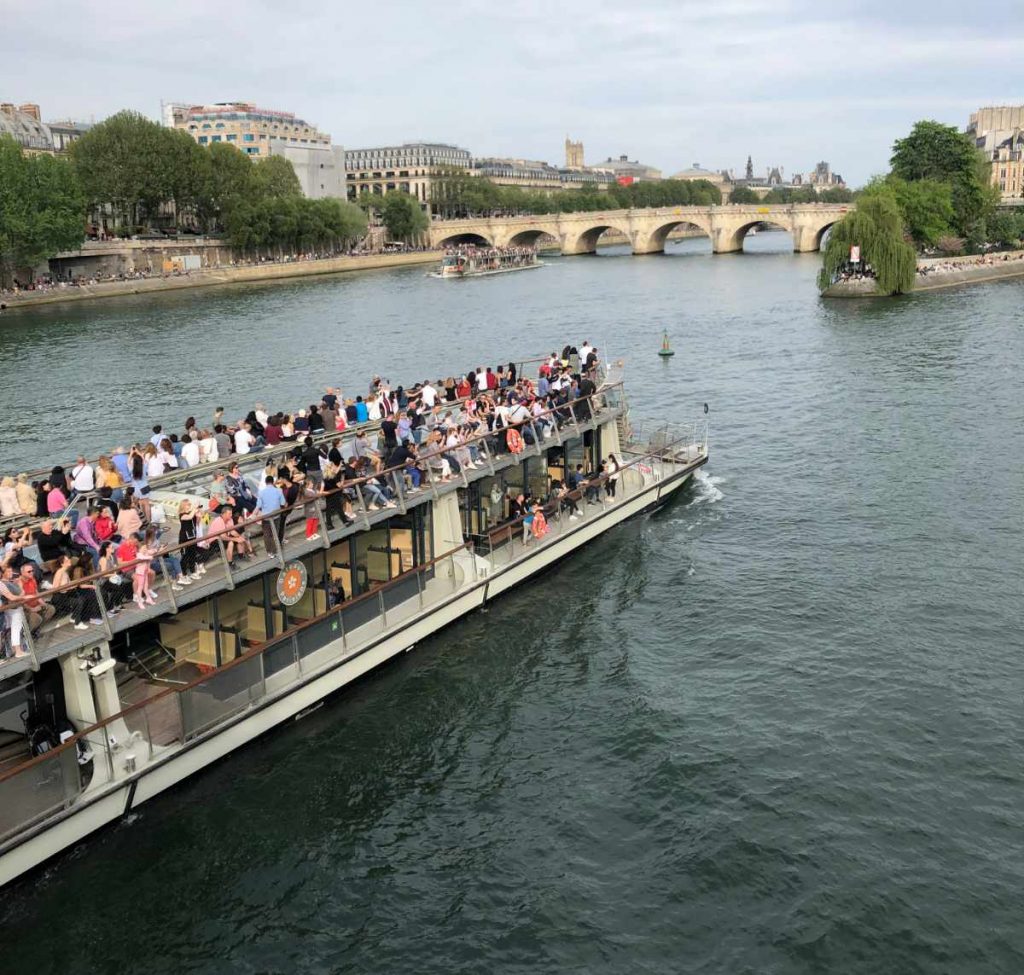 Paris is a great walking city, of course, but want to get the lay of the land without wearing yourself out?  Try a one-hour boat tour like the Bateaux Mouches or Bateaux Parisiens.
What I like about the Seine boat tours is it gives teens a little break from parents, and a chance for everyone to rest our feet.
The boats are huge, and kids can wander around, sit separately from siblings, and grab a snack from down below. If it starts to rain or the weather is bad, there is indoor seating.
(Bonus: Be sure to embarrass your kids by waving at people as you pass under the bridges.)
The trip includes some commentary on the architectural highlights along the river—churches, bridges, museums and palaces. The tours run all day from a variety of departure points on the Seine, but my recommendation is to take a nighttime cruise.
Pro Tip: Plan a nighttime excursion that will let you see the Eiffel Tower right at 10 p.m. when the five-minute light show happens. If you start from Notre Dame at 9:30 p.m., you'll get to the Tower right on time. The show isn't the most amazing thing ever, but it is kind of magical to see if from the boat on the Seine.
Explore the Dark Underground of the Paris Catacombs
Photo: Travis Grossen on Unsplash
In the 18th century, local cemeteries were literally overflowing with bodies and disease was a concern. The solution: moving all the remains to an old mine shaft. Eventually, it became a mass grave of more than 6 million people. Decades later, the haphazardly placed bones were organized into patterns along the walls, then opened to the public as the Paris Catacombs.
Pro tip: The Catacombs are becoming more popular, and it's a small space, so queues to get tickets can literally take hours. I highly suggest you book your tickets online in advance.
Related: Barcelona with teens: 6 tips to make your family vacation worth the investment
Catch a Quiet Break at Shakespeare & Company
If you have a bookworm teen like my 15-year old, the Shakespeare and Company English-language book shop near Notre Dame is a reader's dream come true.
This shop is inspired by the original bookstore and lending library that was closed during Nazi occupation, and was where Ernest Hemingway, Gertrude Stein, TS Elliot, James Joyce and Ezra Pound once frequented.
It is a well-done "copy," and still a charming place.
You'll find floor-to-ceiling shelves with new English language books, from children/teen books and poetry to science fiction and local favorites. Upstairs is their collection of used books, plus comfy seating, and an old piano.
Pro tip: Shop early in the day when it's relaxed and empty enough to offer space to browse and even places to sit. By the early evening it gets so packed, there's a security guard there to keep a headcount!
Ride Through St. Germain on the Electric Scooters
© Linda Kerr of Travel Teening for Cool Mom Picks
Another alternative to walking are the 40,000 electric scooters available to rent for transportation or just for fun. If you want instant, inexpensive entertainment for your teens, give this a go!
They're scattered about the city, like bikes are in cities around the US. Just download the app from one of nine different companies, unlock the scooters and go. Take them to your next destination and leave them for someone else to ride later. Be sure to drive in the bike lanes and not on the sidewalk which isn't allowed.
Pro tip: Consider renting scooters to peruse the smaller streets in neighborhoods like St. Germain, where fewer cars and fewer people make your scooter adventures feel like a fun activity for teens and not mere transportation.
Related: Tips for travel with tweens and teens: More fun, fewer eyerolls
Explore the Galeries Lafayette, Beyond Shopping
Galeries Lafayette is essentially a giant department store. However European department stores, like Harrod's, are very different from what we have in the U.S. and feel more like a collection of boutiques rather than one monolithic store.
Even if you're not shopping, you can get a look at the incredible art deco glass dome — like, it's take-your-breath-away incredible. Go up to the third floor and you can take a free walk on a glass walkway, 16 meters above the ground, just under the dome, for a closer look.
Currently, there's also a fun area under the dome on the second level that's basically a trampoline hovering about 30 feet off the ground (photo above). It's free for everyone, and my teens loved taking selfies from there. Because only a few people can go out a time, there is a queue, but don't worry, strict time limits help it move quickly.
Galeries Lafayette also offers tons of great events and activities. There's a macaron baking class on Monday, Tuesday, Wednesday, and Fridays at a far more reasonable price (€49) than some of the others I have seen. Also check the schedule for fashion shows or wine tastings (for the adults, of course) on various days.
Pro Tip: Be sure you make your way up to the top floor of Galeries Lafayette before you leave. Department stores have great souvenir shopping, typically on the top floor or basement level, where you can buy more interesting gifts for friends and family besides what you find on the streets.
Visit Palais de la Cité: The Conciergerie & Sainte Chapelle
Photo: Mitya Ivanov on Unsplash
I've written about how much I like walking tours in European cities to get insider info from a local. In Paris, our guide stopped in front of the Conciergerie, a castle-like fortress on the northern edge of  Île de la Cité and it's remarkable.
This royal palace turned government building turned house of justice (AKA prison) is the oldest remaining part of the Palais de la Cité, and surprisingly, the inside remains fairly well preserved. Marie Antoinette was held here before she was beheaded and the exhibits featuring her are amazing — plus it's inexpensive, and kids can imagine the transition from Versailles to a jail cell.
Notre Dame may get all of the attention, but the Sainte Chapelle Cathedral ranks as a favorite in all of Paris (including by our Editor Liz).The windows are simply spectacular, because the walls are made entirely of glass.
Pro Tip: Sainte Chapelle is right next door to the Conciergerie, and if you pay €5 extra you can have admission to both, making it cheaper than doing each separately.
Take an Authentic French Cooking or Baking Class
If you're traveling to Paris with teens who like to do things and not just see things, consider a baking or cooking class. I mean, it is Paris!
The macaron baking class at Galeries Lafayette is a great place to start, but if you plan in advance you can find plenty of cooking and baking that teens might like — even if they wouldn't normally think to take a cooking class.
Check out the offerings from La Cuisine Paris, Cook'n With Class which has a dedicated family class, L'Atelier des Sens (now ChefSquare), Le Foodist (the macaron yield from their pastry class shown above), and Les Secrets Gourmands de Noemie.
Pro Tip: Always ask if they have a discounted price for teens. And if you don't have French speakers, just be sure the classes are taught in English.
The bottom line: Paris has enough activities and sights to keep a family busy for weeks, which makes return trips exciting. Mix in a few of these off-the-beaten-path activities in with the Louvre and Sacré Coeur if your schedule allows and it will keep things interesting and fresh. When you're traveling with teens, that's always a good thing!