We've had quite a few readers ask for some trick-or-treat-signs for candy to help keep a socially distanced Halloween. This is a time that we may want to hand out candy but uh, maybe in a less-contact way. And hey, we found some great ones, most of them affordable printables.
The good news: Halloween is usually outside. While the CDC recommended that we find alternatives for Halloween in 2020, 2021 is looking a lot more promising. In communities with low Covid numbers, trick-or-treating seems like it will be back on, even when officials think it's a better alternative to keep some socially distant trick-or-treating, rather than moving kids to crowded indoor parties.
For those of you opting out, that's totally fine, and we've shared some fun trick-or-treat alternatives.
But for those of you who are planning to ply our neighborhood kids with caloric goodness in a safe and socially distant way, we've got some Halloween "take one" (or more) signs for candy during Covid that will help. Or, for those who sadly need to be under quarantine and can't welcome people to your stoop, we also found some signs to let kids know your haunted house is off-limits this yea
Also be sure to look at these clever candy chutes that parents are setting up to deliver candy without hand-to-hand touching.
Just be sure if your kids are going out, they're being safe in all the ways we know how by now. That includes wearing a Halloween costume that incorporates a face mask.
Let's make this Halloween scary in all the right ways, parents.
CMP is an rstyle affiliate.
Updated for 2021
Related: Clever ideas for kids' Halloween costumes using face masks in 2020
Since kids typically walk all the way up to our front door for candy, it can get a bit clogged at the front door. So this year, I'll be setting up a cheap outdoor light to shine right on this cute social distancing Halllowen candy sign  from Details Beyond Design — and probably putting it out at the end of my sidewalk.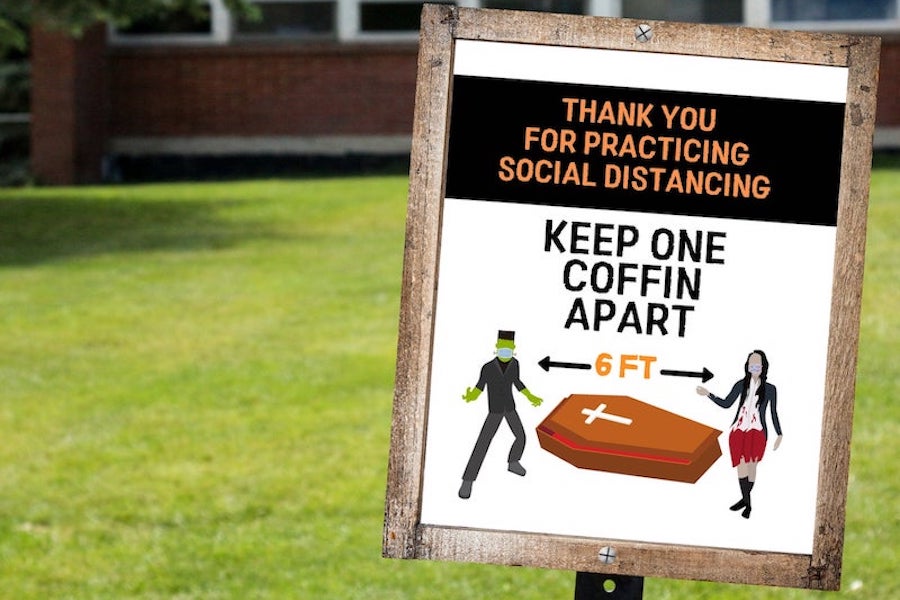 Another option to help kids keep their distance from those not in their trick-or-treating pods: This printable "Keep One Coffin Apart" trick-or-treat door sign from Inspired Sign Studio. It's totally cracking us up!  A perfect way to define 6-feet in perfectly morbid Halloween terms. Setting up an actually mini vampire coffin to hold treats is optional — but very cool!
Related:  Teen and tween approved Halloween craft ideas for kids who have outgrown the cutesie stuff
When kids see us having fun even while wearing our masks, it encourages them to be more diligent about wearing their own face masks too. I'd set out this Please Take One face mask Halloween printable candy sign at Details Beyond Design alongside some jack-o-lanterns that are wearing some pumpkin-sized masks too.  Plus, it's printable so it's cheap and easy to make.
Related: 8 fun Halloween face masks for kids that aren't too scary
Every Halloween, one of our neighbors sets up a delightful treat station at the end of his driveway, complete with cookies and hot apple cider. This year, I bet he could use this sanitizing station Halloween sign I found at Rio Paperie, so people can use some disinfectant first. (And maybe he'll trade the cookie tray for some individually wrapped treats.) It's also a good way to let kids know they can wash their hands before or after they ring your doorbell, if you want to put out a big hand-sanitizer pump on your own porch. Hey, it can't hurt.
Related: Halloween crafts, printable, and pumpkin decorating ideas for a Halloween at home this year
Sadly, if your family is sick or under quarantine this year, or if you have higher-risk conditions and can't have visitors to your door, you'll have to celebrate Halloween without passing out candy. And you may not want a ton of little fingers trying your doorknob or pressing your buzzer, for their own safety. So it's a good idea to let neighbors know that you aren't participating this year, especially if your house is one they always count on. For you, I like the See You Next Year/ Halloween Cancelled sign from Rustic Roots Metal Art, which keeps things positive but clear. Because as we all know, even a dark house — previously the universal signal for "don't ring my doorbell!" — doesn't always work as well as we'd like.