The best kids' bike helmet in the world won't do any good if your kid doesn't want to put it on, which is why yes, it matters if they think they have a "cool" bike helmet. We're here to help! I've spent hours searching the inventory from our favorite helmet brands (so you don't have to) to find the very coolest bike helmets for kids.
Our kids have given their thumbs up to all of these cool bike helmets too. For what that's worth. Because now that summer is here, our kids are looking for chances to bike, scoot, and skate to the park or pool with us, and this year more than ever,  we're all for getting them outdoors in any way we can.
(Though biking is nice because it helps wear them out, ha.)
And parents, you're in luck: a lot of these helmets come in adult sizes too. – Kate, with Christina
– This post has been updated for 2021 –
This post contains affiliate links, and purchases may generate a small commission that helps support our team at no additional cost to you.
Nutcase Bike Helmets for Kids
Nutcase bike helmets for kids are a longtime favorite of ours, for safety plus style. There are tons of affordable, cool bike helmet styles they offer for kids of all ages, like the fun Little Nutty bike helmets. (Supa Dupa Gloss shown here.) But if you've got a kid inclined to bike at night, we are so happy to discover the new Nutcase Vio Helmet (shown at very top) that combines a MIPS safety system with 360-degree LED lights! Rad.
Related: 6 comprehensive bike safety tips for kids, from a serious biking family who knows
Raskullz Bike Helmets for Kids
Will our kids ever be too old or cool for a mohawk bike helmet? We hope not! But even if they are, Raskullz makes the top-rated, safe, and always extremely cool bike helmets for our picky tweens and young teens, too.
Bell Bike Helmets for Kids
Next, we move onto the cool kids' helmets from Bell. Can't you just see this awesomeness speeding down the street? This Bell Lil' Rippper Youth Bike Helmet pattern is new for 2021, and so affordable at under $15! Plus you know, it's Bell. Really trusted bike brand and that means a lot.
Related: 14 cool skateboarding gifts for your favorite shredder.
Giro Bike Helmets for Kids
Another super safe bike helmet for kids at a terrific price are the bike helmets from Giro. This Scamp Youth Recreational Bike Helmet is fantastic for our littlest riders, score terrific ratings from experts and parents (and parent experts!) and the styles are cool too. Love how this pearlized pink helmet has a subtle doodle pattern to give it fun texture while keeping kids visible.
Torch Bike Helmets for Kids
My kids' faces when they saw these sporty Torch T2 helmets was priceless — clearly, they thought these were very cool. With both headlights and brake lights to keep them save, these kids' helmets are more than cool; they add a level of peace of mind for me when my kids are riding with their friends once the sun begins to set. Just know they're expensive, but I think it's worth it when it comes to a helmet.
Related: 10 of the coolest backyard water toys we've found, to help kids outside more this summer
Bern Bike Helmets for Kids
Simple and sporty, this Bandito Summer bike helmet for kids from Bern has been a favorite of ours for a while now. There are quite a few bright, solid color helmets too, which are smart for keeping your kids visible and safe.
Kiddimoto Bike Helmets for Kids
I know plenty of kids who love to play dress up all the time, and why should they stop just to ride bikes? This Kiddimoto goggles helmet helps them stay in character as a flying ace, while they are outside and active. They offer plenty of cool kids bike helmets though, from Stars and Stripes to a Union Jack, polka dots to florals, and even some solids.
Bell's Star Wars Bike Helmets for Kids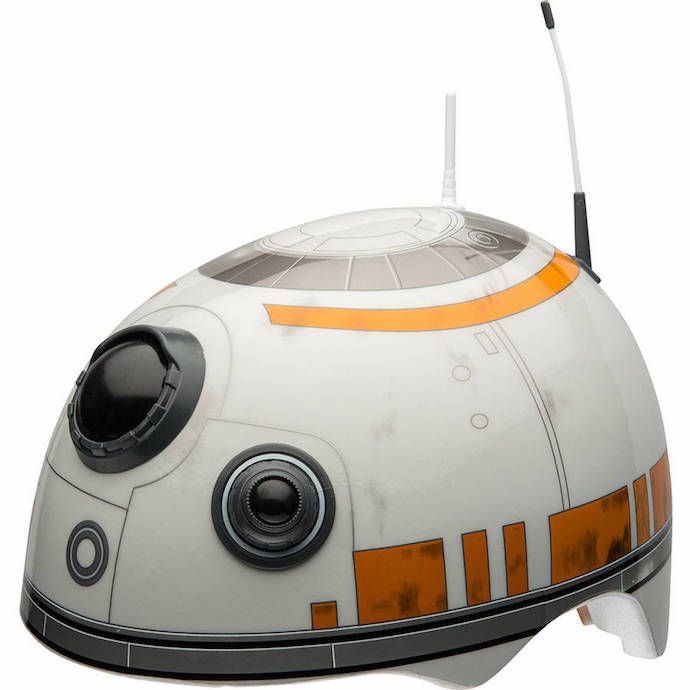 Since we're all still fully on the The Force Awakens bandwagon at our house, even after 5 years, this BB8 bike helmet by Bell is one I'm sure my kids will all want to wear — even the 11-year-old gave it a thumbs up. The 3D details make it look extra cool, along with the authentic look of those smudges of dirt. But, if your kids prefer R2D2, there's a helmet for that too.