For years, I've had tons of fun using plain pajama sets — like the ones you can find at Primary or Hanna Andersson — as the base for my kids' Halloween costumes. With some head-to-toe monochromatic pajamas, all I've had to do is add some detail — a DIY that's easy enough for me to pull off even with a busy schedule. I've cut strips of white duct tape to turn a basic black pajama set into a skeleton, and I've glued green triangles down the back of a red pair of pajamas to make a dragon.
What I love most about kids' Halloween costumes made with pajamas is that oftentimes, you can transform simple pajamas into Halloween costumes even without gluing, taping, or sewing onto the PJs themselves. Which means your kids can keep on wearing the pajamas long after Halloween is over.
If you're looking for fun, last-minute costume ideas that are easy to make and comfy for kids to wear, check out these awesome ideas.
At top: Baby Ghostbusters costumes | The House that Lars Built
This post contains affiliate links and some purchases may generate a small commission to help support our team at no additional cost to you.
– Updated for 2021 –
Related: 6 adorably easy Halloween costumes for babies, all from items they can wear again. Yay for that!
First off…pro tip. Primary is one of our favorite go-to for kids' basics that last, and because they offer kids pajamas in so many colors, it's a great place to start — but be sure to order in time to get them for Halloween! Their own blog even offers inspiration so you can build on what youre buying and get more use out of those pjs after Halloween. How perfect is this baby Serena Halloween costume made from a black baby dress or sleep gown! Or, use a pair of black baby footie pajamas and let the black baby tutu do the work. Just add a hair piece, and maybe some white booties or baby sneakers. They have full instructions on their DIY blog.
All you really need to pull off this prize-winning Nacho Libre costume spotted at Baby Gizmo from a photo contest they hosted a while back, are some pajama pants and red baby undies on top. And, a sense of humor, because this kid looks hilarious in the best way possible.
At The House That Lars Built, we found this fantastic idea to dress your kids as the crayons from one of our favorite books, The Day the Crayons Quit by Drew Daywalt. So brilliant. You can make this pajama costume even simpler by using solid color pajamas like the ones from Primary that we love, and buying party hats in primary colors instead of making your own. BTW, we'll be pinning this one for book character day at school too.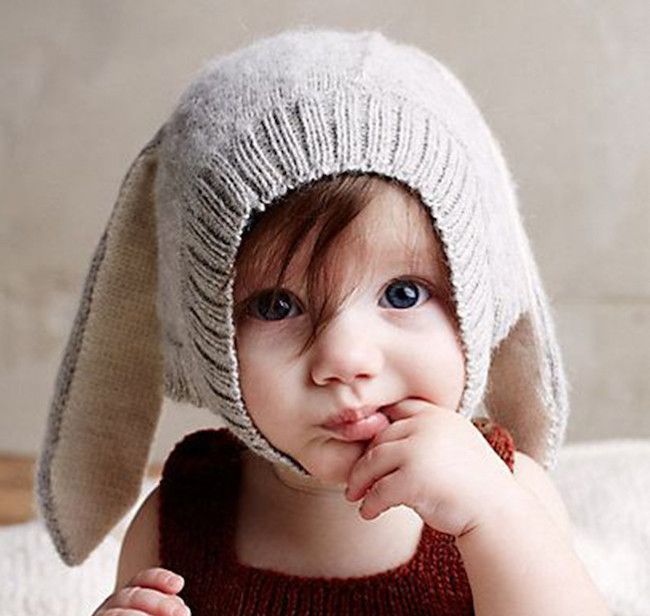 I've been thinking about this adorable knit bunny hat by Oeuf ever since I first saw it, and I think pairing it with a pair of grey pajamas and knit booties will turn your child into an adorable bunny for Halloween — or any day of the year, for that matter. This one isn't cheap, so for another option check out the bunny hat at Hanna Andersson.
I still have a soft spot for a Care Bears Halloween costume made from pajamas, especially when it's as easy as this one I spotted at Say Yes. And you don't even have to sew your own pilot's cap, as their tutorial suggests. You can find an affordable pilots cap at Hanna Andersson — just hot glue gun on some felt or fleece ears.
I'm dying over this adorable lumberjack costume at Little Inspiration (the site is now gone). Fortunately lots of shops, like Target, now sell buffalo check lumberjack style pajamas for kids.  Or, stamp a plain pair of red thermal pajamas from a brand like Hatley, or Primary, using black fabric paint. The black beanie, beard, and boots are really the signature musts of this look.
Related: 75+ last-minute Halloween costume ideas for kids and parents. Because what's *not* last-minute this year?
World's easiest Halloween costume made from pajamas  — well, besides a kid going to sleep? An emoji costume! A pair of yellow pajama bottoms and a yellow pajama top (or even a basic tee) does the bulk of the work, while felt or even construction paper cut-outs let kids show their emoji personality. We're even laughing at the poop emoji, which surely a lot of kids would choose. (Not to say their personality is poop!)
Our pro tip for those of you with new babies this Halloween — keep them comfortable. See what kind of baby caps are available at Hanna Andersson and work around it. Like this cute reindeer paired with coordinating brown footie pajamas from Primary is adorable. And because your baby will be cozy and warm while out trick-or-treating, everyone's night will be a lot more fun. (Trust us.)
We see a lot of Pokémon related costumes every year, but this Poké ball baby costume made with pajamas baby at Say Yes is the best we've seen yet. You'll need both red and white pajama sets to pull off this look, but with the holidays around the corner, we think you'll find more than one use for them.
Related: 9 really creative but still easy last-minute Halloween costumes for kids. Hey, we're busy too.
We've seen hundreds of sandwich-board style costumes on Pinterest, but this Dragon Loves Tacos siblings costumes at Hello, Wonderful is my absolute favorite. Use monochromatic pajamas as the base, and as soon as they return home from trick-or-treating, they can ditch the taco board and count their candy in comfort.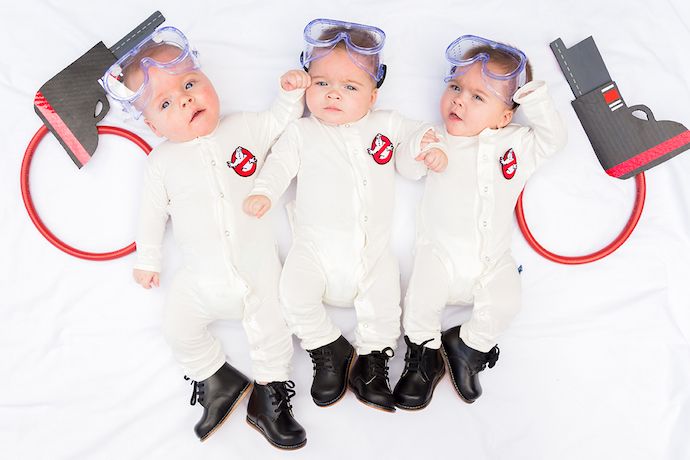 This idea for Ghostbusters costumes made from pajamas at The House that Lars Built is such an easy way to get a pop-culture fix without too much effort. I'd be tempted to add another kid in all green pajamas as Slimer. Even if Ghostbusters isn't your style, though, click through to her site — she has very easy tutorials to turn your littlest ones into superheroes, soda bottles, and (as shown at the very top) three blind mice, too.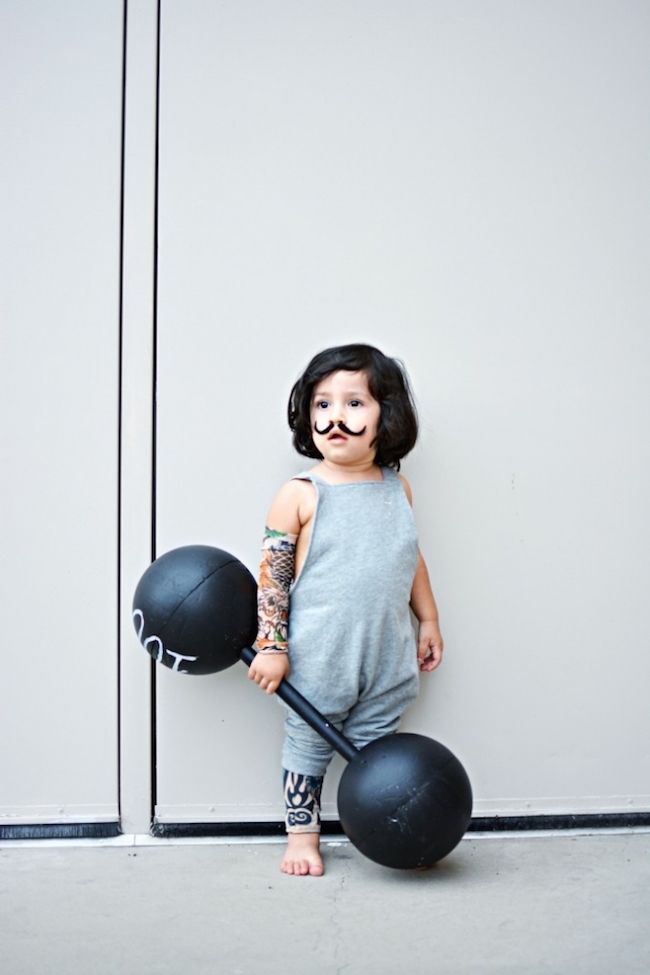 Who doesn't get a kick out of kids with fake mustaches on Halloween? (Because, adorable.) And if you add a fun tattoo sleeve to make this Strong Man (or woman!) costume we found (via the now retired Little Inspiration blog) —  it's even better. You can find pull-on tattoo sleeves on Amazon or local party stores. Or  for slightly bigger kids, you can easily recreate this look with a temporary tattoo marker — just note they may not wash off by November 1, but hopefully in time for Thanksgiving!