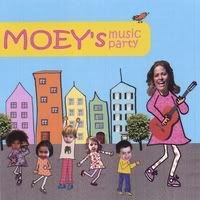 Melissa Levis, the Moey of Moey's Music Party, communicates to
toddlers the way I wish I could, especially when they are getting on my
nerves. Rather than tensely demand, "Share your toys!" this off-Broadway songwriter sings a bouncy song about sharing. Instead of shouting, "How many times do
I have to tell you to sit when you eat?" she cheerfully reminds kids to
slow down at mealtime, all with a sense of humor and a smile
in her voice.
I will assure you that the songs aren't preachy
or annoying at all, especially the girl-power anthem, Little Red Riding Hood. I have never seen Melissa perform in New York City where she
holds regular concerts for kids in Central Park and New York Public Library
branches, but I bet the kids have a blast dancing to her band's beats
and catchy lyrics.
Songs like I'm a New York City Kid will be a sure hit
even for those children who live far off in another direction. "What's a
Doorman?" my suburban preschooler asked. –Christina
Find Moey's Music Party kids' CD at CD Baby.