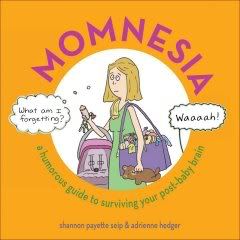 I reaped so many giggles from If These Boobs Could Talk that I couldn't wait to read Shannon Payette Seip and Adrienne Hedger's follow up book, Momnesia. The title alone was enough to make me nod my head in total agreement.
Momnesia features nearly 100 pages of funny lists like "Brain versus Breast," goofy cartoons that highlight classic Momnesia moments (purse in the fridge? Totally been there), and my favorite parts, hilarious short cuts like "Easy Outfits." (You can imagine.)
Regardless of how many kids you have and brain cells you've lost, you'll definitely find something to relate to, even if you won't admit it. Buy a few and store them away for when you need the perfect gift for a fellow mom. Just don't forget where you stashed them. -Kristen
Congratulations to Cindi H, lucky winner of an autographed copy of Momnesia!
You'll find Momnesia at our affiliate Amazon.com and visit the Momnesia website for more hilarious commentary.