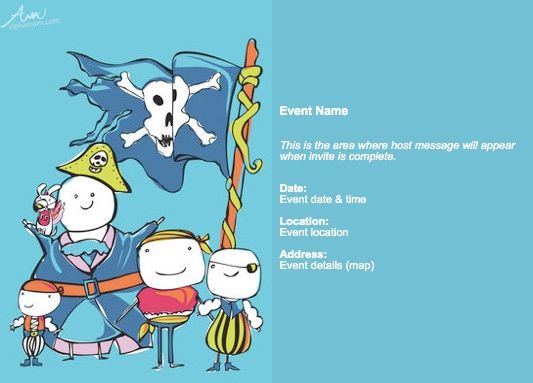 The only thing that could make Alpha Mom's new free designer online invitations made exclusively for
Pingg better is if they'd been available last month when I was
planning my son's birthday party. I can't believe how perfect the whimsical, smiling pirates would have worked for his sweetly naive "friendly" pirate party and honestly, they're far cuter and more attention grabbing than some of the more generic looking designs on other e-invitation sites.
Even though the ship has sailed on his party, these happy creatures can also be found on three other e-invitations, including an adorable Halloween Party design that I can use before the month is out. And, I know from working with Pingg in the past that their invitations and announcements are super easy to create (not to mention FREE), and they do a great job of keeping track of which guests are dragging their feet on the replying.
The cool chicks we've long admired at Alpha Mom will evidently be adding new designs to Pingg's site each month, especially for birthday parties, so I'll be sure to keep an eye open. Hopefully there will be something to fit the crazy theme one of my kids is bound to dream up. –Christina

Check out the new free Alpha Mom designer online invitations and ecards on Pingg and be sure to check back for new designs each month.