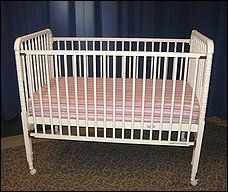 It's time to check your cribs yet again, mamas, as the Consumer Product Safety Commission (CPSC) has announced a recall of 2 million cribs, including some popular brands.

The list of recalled cribs includes Jenny Lind, Evenflo, and Delta (just to name a few).
Evidently babies can fall out of these cribs, or worse, get dangerously and fatally trapped.
Yikes.Thankfully no deaths have been reported, but if you have one of the
listed cribs, you'll want to get rid of it immediately. This isn't the
first time that drop side cribs have come under scrutiny, and according
to the CPSC, they're on their way to banning them completely.
Truth be told, we at Cool Mom Picks don't have problems with drop-side cribs — which is what a lot of the chatter seems to be about — provided the crib is well-made and you check it well and regularly to see if the drop side seems to be holding up over time or detaching from the rest of the piece.
Whether your crib is on the recall list or not, if you have a drop side crib, be safe and take a
peek at it to make sure your drop side is still securely attached. Then take a moment to pass the word along to
your friends and family. -Kristen
Get a complete list of recalled cribs at the CPSC site.