Sure, we've all had elasticized slippers for our babies, but
when was the last time your baby went out in hand-made, hand-beaded
leather stay-on moccasins made by First Nations women in Canada? Not
recently, I'm willing to bet.

These little moccasins from Quemeez moccasins are designed by Sunshine Tenasco, a mom of three, who
along with her staff on the Kitigan Zibi Indian Reserve in Quebec makes
every slipper by hand.
And (now here is where my heart melts a little more) for a tiny
extra fee you can even have the moccasins customized with your child's
initials.
The softest leather (they really are the most glorious baby
slippers I've ever felt), the most precious glass beads and traditional
Algonquin designs combine to make moccasins in sizes 1 to 10 that will surely become a
precious family heirloom. And that's something all the mass-produced
slippers will never do.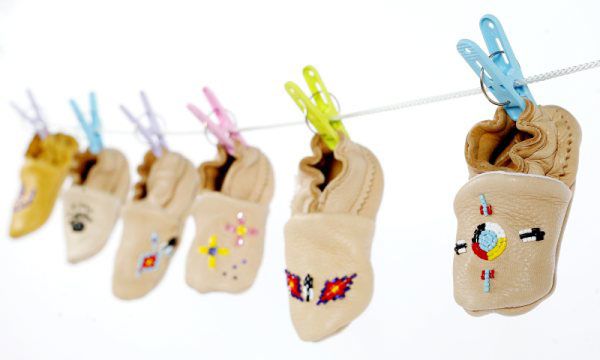 Just when you think you've seen it all in the world of baby shoes,
something unique and unbearably cute comes along and reminds you that
there are moms designing great new products every day. That's what Quemeez did for me. –Stephanie
Find exquisite handmade baby moccasins online from Quemeez moccasins