I still crack up when people find a blog post of mine about sleep and babies, and ask me for advice. Me? Me who still, five years later, can't get my kids into a normal bedtime routine? Me, who still has to sleep with a three year-old's feet up my nose most nights?
So I am ever grateful for those bedtime stories that get my girls excited to jump into bed–early, even–and the new Tuck Me In is certainly one of them.

Tuck Me In is a clever, conceptual, interactive children's book by dad (and ad agency refugee) Dean Hacohen, along with illustrator Sherri Scharshmidt.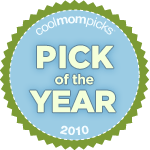 On each page a baby animal needs to be tucked in, and your child can flip the following half-page — which turns out to be a blanket — to cover up the tired little zebra or hedgehog, before moving onto the next. The tone is definitely more Sandra Boynton than Mem Fox, thanks in part to the whimsical illustrations. And my, what stylish sheets those animals have!
While year-old babies will adore the repetition and the page turning, even my five year-old thinks this book is just hilarious. Tuck Me In will be a pleasure to add to your bedtime repertoire with classics like It's Time for Bed or even Goodnight Moon. And frankly, less annoying for me to read over and over again.
Sounds like a good night for all. –Liz
Tuck Me In by Dean Hacohen and Sherri Scharshmidt is available from our affiliate Amazon