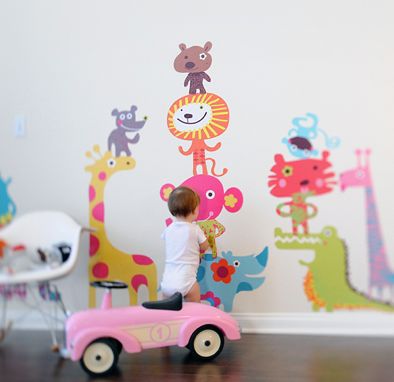 I'd always kind of held the opinion that if I'd seen one wall decal, I'd seen them all. That is, until Pop & Lolli wall decals came my way. And then I pretty much decided that I didn't need to see any others. Ever again.


These gorgeous (and cute and funny and adorable and stylish) fabric wall decals won me over not because of how great they look (and they do look awesome!), but because of how amazing they are in every other way, too.

They're easy to use — completely re-positionable and reusable — and
made from kid-safe materials, so you won't be putting any icky vinyl in
the room where your baby is sleeping. Plus, the adhesive is a safe,
water-based formula and the inks, while durable and UV-resistant, are
not filled with harsh chemicals. Got to love that.


I also love that for every set of decals purchased, (it's) chic to change will provide educational materials and resources to a South African child in need.

Okay,
okay, I love them because they're cute, too. Because, frankly, one look
at the great designs and I can pretty much guarantee you'll be scoping
out all the blank walls in your home that could use a little Pop (and
Lolli, heh) of color. –Stephanie P.

You can get your own Pop & Lolli wall decals on their website